Thursday, January 3rd, 2013
Hey, we're at the final entry in our BEST HONG KONG FILM PERFORMANCES reader vote, where we give out the award for the Best Performance Ever in a Hong Kong Film. Already the hopefuls are putting their best faces forward to ask that they get the top spot: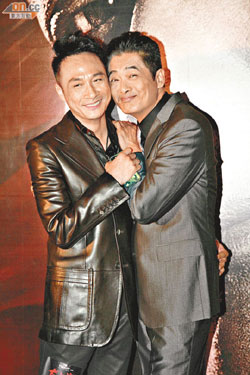 This is why Francis Ng and Chow Yun-Fat
should never work together

Quick recap: this BEST HONG KONG FILM PERFORMANCES list was determined by 83 readers, who voted for performances in Hong Kong movies that they felt should be recognized as the best. Voters provided lists of 5-10 performances, then we tallied them up and came up with a list of 311 actors and their roles. We pulled off the top 33 and labeled those "the best", and then we compiled the rest into a full list. You can find the complete list at the very bottom of this blog entry. Go ahead, look.
Also, if you're just joining us, you may consider heading back to the beginning and reading about the Honorable Mentions, Bronze Awards, Silver Awards, Gold Awards and the Best Actor and Best Actress before getting to today's Best Performance Ever. Yeah, it's kind of weird to announce a Best Actor and Best Actress, and then slide another actor or actress in above them and label them the "Best Ever", but that's what we've decided to do. Please do not question our august judgement.
Previous updates:
- Honorable Mentions
- Bronze and Silver Performances
- Gold Performances
- Best Actors and Best Actresses
We're not getting any younger, so let's hit the jump and end this thing.