Monday, June 30th, 2008
I should not call what I'm doing blogging, because I don't actually blog. I just post every month or so.
I would apologize for this long absence from Damn You, Kozo!, but that would assume that people actually read this thing. In many ways, LoveHKFilm.com is what it is because I assume nobody ever reads it. Our lack of attentiveness to our visitors is also why we're totally behind, and why many other sites have leapfrogged us in traffic, popularity, and online self-congratulation. It's also why I named this blog Damn You, Kozo!, because aside from completely usurping another person's real name and identity, Kozo simply can't keep up with the Joneses.
Bruce Lee said it best: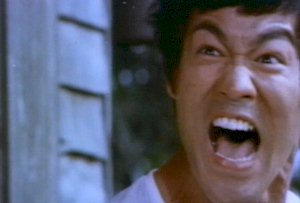 "DAMN YOU, KOZO!"
Ah, that feels better.
Anyway, in recent Hong Kong news, this person is getting married: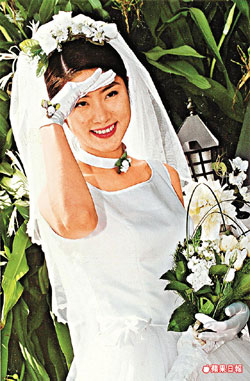 NOTE: Not an actual wedding photo
Everybody loves Kelly Chen - provided that you talk to the correct six out of ten people. Chances are that the four out of ten people who actually liked An Empress and the Warriors can be found in those six, and why not? The film features Kelly in heavy armor, plus the wonderful sight of Leon Lai spitting on Kelly's bare back: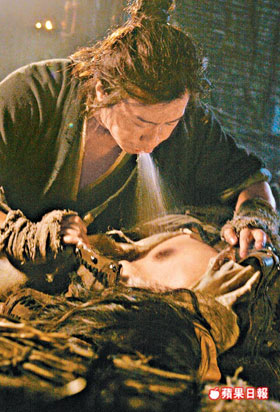 The magic of the movies!
This picture cracks me up: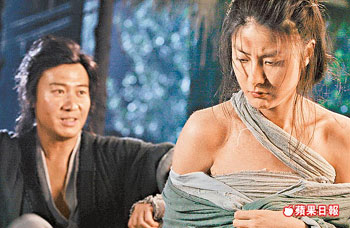 You could interpret this photo at least three different ways
About Empress, someone should really talk about the genius casting one day. Thanks to the triumvirate of Donnie Yen, Kelly Chen, and Leon Lai, every audience member is guaranteed to dislike at least one person in the starring cast. Could it have killed them to cast a single actor who doesn't have active detractors?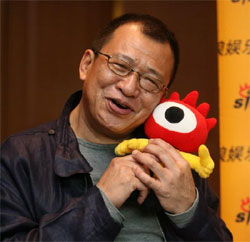 If you hate Hui Siu-Hung, you will go to hell
Empress and the Warriors also marks the first Mei Ah Blu-ray Disc. Ownership of a PlayStation 3 has put me on the Blu-ray bandwagon, and despite not being entirely enthused about Empress, I will be buying it. Other titles on my Blu-ray to buy list include the Infernal Affairs Trilogy, Chungking Express, and nearly anything with Tsui Hark's name on it - short of Black Mask 2 and Missing, that is. I'd still pick up The Legend of Zu.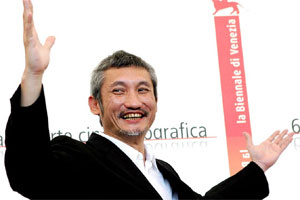 "Wow, I'm really sorry about Missing!"
He better be.
I doubt that the victory of Blu-ray over HD DVD will inspire a flood of Hong Kong catalog titles onto Blu-ray Disc. Such a flood did occur during the late nineties when DVD first hit the market, but even now, Hong Kong home video is beset by a terrible, terrible scourge that has destroyed home entertainment:


This logo is evil
Illegal downloading is the evil stepchild of the above, and is responsible for far more lost revenue, but I sincerely believe that crappy VCD quality - and its willing acceptance by Hong Kong consumers - is indicative of how the populace as a whole thinks of entertainment. Basically, everyone here is okay with watching movies with poor resolution, bad color, and zero features. Given that, is it a surprise that everyone's okay with watching the latest and greatest in Asian Entertainment on You Tube?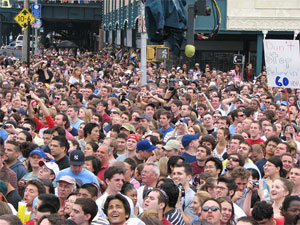 Everyone in this photo illegally downloads
Back to Kelly's concert: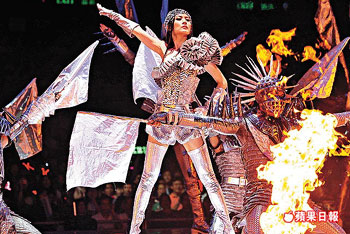 Probably one of Kelly's more conservative outfits
Kelly announced her upcoming marriage at the final show in her recent Hung Hom Coliseum concert series - a nice touch, since hers was the final appearance from a big star before the venue undergoes at least a year of renovation. I actually attended an earlier show (a.k.a. not the one where she said she was getting married), and here was my vantage point: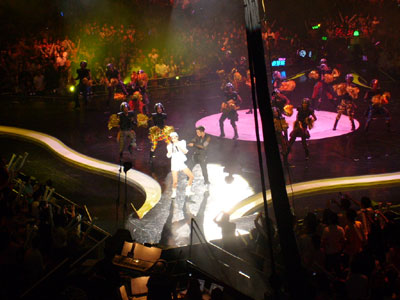 Kelly has always been a decent, if not spectacular singer - and really, she's much better at singing than acting. The main draw here was her eye-popping assortment of wacky costumes and themes, which ranged from the cute bear-headed thing: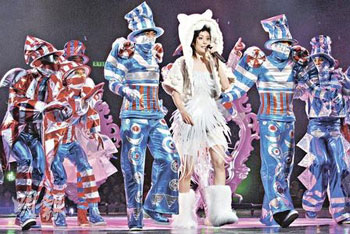 Love the boots
To the mermaid thing:
To the midriff-baring thing: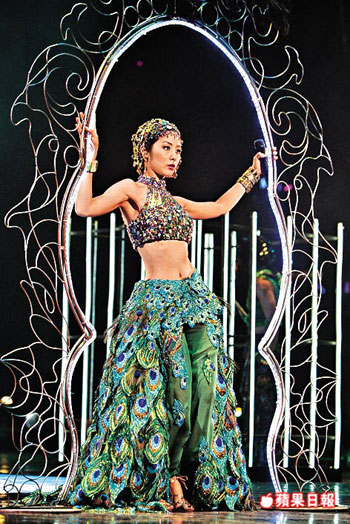 I think this was my favorite
To the white futuristic outfit with mega-huge goggles thing: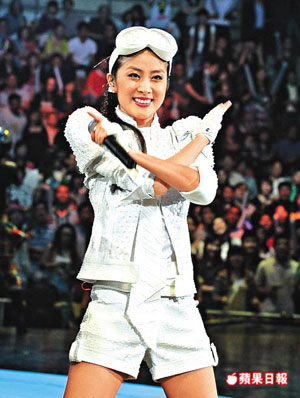 In the future we'll all dress like this
Here's one with Leon Lai as an accessory: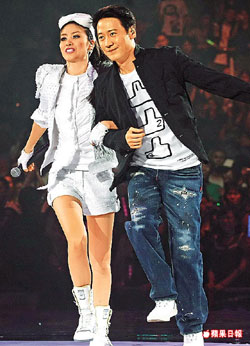 Too bad Donnie wasn't there
Special mention must go to Kelly for her various yoga poses and exceptional good humor, which was evident because she didn't act bothered by the people leaving their seats during her concert. For some reason, it seemed like every number was a new excuse for a bathroom break for the audience. Some people even got up to leave early. I felt like I was at a Laker game.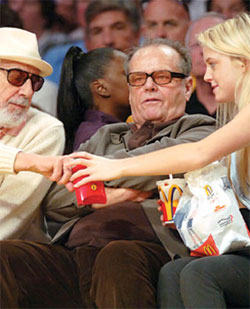 "Is this concert EVER going to get any better?"
In general, the concert was a fine diversion, but it was also curiously low-energy. Having attended a few other concerts in my time in Hong Kong, I must rate Kelly's as the most non-crucial of the bunch - at least, from an audience standpoint.
About her marriage, it managed to occupy all the newspapers for a good 2-3 days here in Hong Kong - a nice change, since the news was entirely positive, and had nothing to do with scandal, judgmental mud-slinging, or accidental exposure. Sadly, it's the exception to the norm over here.
Anyway, seeing Kelly allows me to check off yet another on my "Stars I Want To See Live, But Not Necessarily Meet" List. Now that Kelly is out of the way, my number one is sadly Leon because I'd like to see him, but yeah, meeting him is not a priority at all. If a meeting ever occurred, this could be my reaction: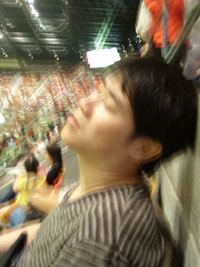 An actual photo from the Kelly Chen concert
If someone asked which celebrity is the one I would most like to meet, that's obvious: Ekin Cheng is still the number one. I hope it occurs one day, simply so we can take a picture and I can send a general "nyah-nyah" in the direction of those who think I don't like Ekin Cheng.
Ekin and Charlene Choi on the set of Storm Warriors: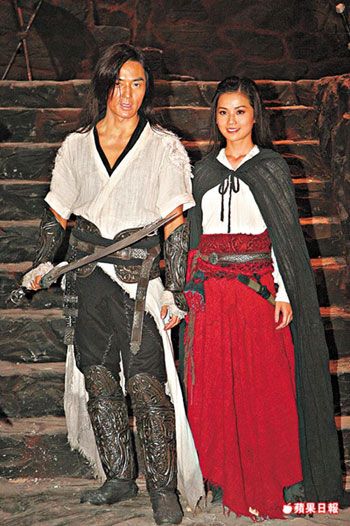 I think they're made of wax
By the way, I still have not written about my Aaron Kwok concert experience. It may never happen now. I'm sure he's all broken up.
Here's a pic of him anyway: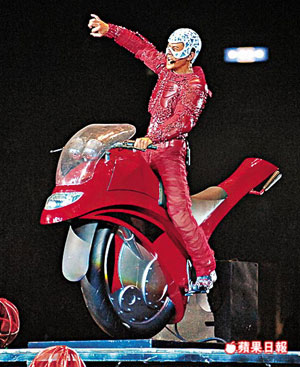 "Tetsuooooo!!!!!"
Aaaand one last photo of Kelly: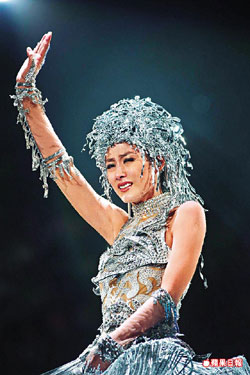 She has something in her eye
Photo credits: As usual, thanks to Apple Daily - with an assist from Ming Pao, Sina.com, plus the World Wide Web.