Saturday, February 14th, 2009
Zhang Ziyi wants to wish you an even happier Lunar New Year!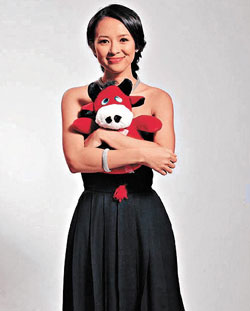 "This stuffed cow has seen me naked, too!"
In other news, the annual LoveHKFilm Awards will be announced Sunday, March 15th, 2009. I would tell you to mark your calendars, but because these awards are less important than the day-old donut sale at Dunkin' Donuts, I won't presume to do so. Instead, I ask that you drop by to see the results if you would be so kind as to deign us with your presence. You'd be surprised at how many people don't deign.