Wednesday, January 9th, 2013
Hey, you're still here! That's amazing, because even we're tired of how long we're dragging this thing out. This is Day 11 of THE BEST 200 HONG KONG FILMS EVER and we're here for numbers 5 through 3. Yep, only three films get revealed this time with numbers 1 and 2 left for another day. Sorry to split it up but you'll see why later. We hope.
Anyway, the Top Ten is shaping up to be a John Woo vs. Wong Kar-Wai showdown, with each auteur possessing two aces left to show in this final five. But the fifth film is one they should be watching out for. You know what it is.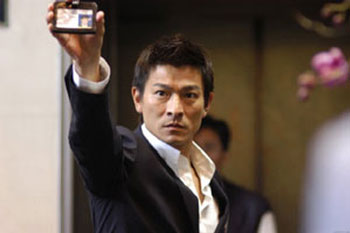 "Everybody freeze! Nobody leaves this room
until my movie gets another award!"
We do apologize that the films making up this TOP 200 list are so predictable. All told, roughly three-quarters of this list came from the eighties, nineties and aughts, and only a few movies from those decades were not featured on one of our previous lists. Wish we could have provided a better service with this vote and come up with a more comprehensive (read: with older movies) list. It's just a lost opportunity, like the stuff that happens in life or Wong Kar-Wai movies.
Enough talk. Use the links below if you have to catch up.
Previous Updates:
Numbers 200-171
Numbers 170-141
Numbers 140-111
Numbers 110-81
Numbers 80-61
Numbers 60-41
Numbers 40-21
Numbers 20-16
Numbers 15-11
Numbers 10-6
Jump for #5 on our list of the BEST HONG KONG FILMS EVER. And it is…