Sunday, May 23rd, 2010
It's been nearly a month since I attended the 12th Udine Far East Film Festival, but I have yet to post more than one or two photos detailing the trip. In past years, I've usually written quickly about the experience, but this year? It didn't happen. Besides a podcast I did over at Paul Fox and Kevin Ma's KongCast, all I did was put up one photo of LGM and Arnold Schwarzenegger. Here's a photo of me taking that photo: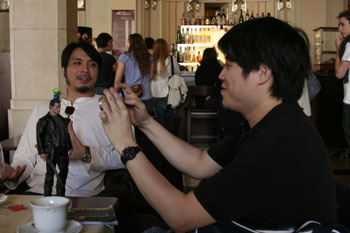 That's GALLANTS co-director Clement Cheng in the background,
wondering why I'm interrupting an interview to take toy photos.
Obviously, I act in a completely professional manner while I'm over there.