May 5th, 2009
A happy Cinco de Mayo to all — Mexican or non-Mexican because this blog recognizes the Confucian principle of "all within the four seas are one family".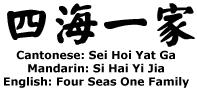 Speaking of Mexico, this swine flu coverage from the media is getting out of hand.  Last night, the news had a breathless story on "swine flu survivors".  Really?  Are you sure you want to drop the word "survivor" here?  Apart from thinking of contestants on a cheesy but fun CBS reality/game show, when I hear the word "survivor", I usually think Holocaust survivor or airplane crash survivor.  "Swine flu survivor" is a bit much — no?  Heck, I was involved in a bitter struggle with the Big C for more than a year and I don't go around referring to myself as a "survivor".
Whatever happened to a little something called perspective?  I'm writing this paragraph on Tuesday evening and, according to the World Health Organization website, there are currently 1,419 confirmed cases of H1N1 flu world wide — that's 1,419 out of 6.7 billion people or 0.000000211% of the population.  Yes, this flu is something people need to take seriously and watch carefully but is this degree of media coverage necessary?  I'm starting to think that, ultimately, there may be more harm to society from the media crying wolf than there will be from this flu outbreak.
Enough nonsense about the nonsense, let's celebrate the outmanned and outgunned Mexican army's victory over Napoleon III's French forces at the Battle of Puebla on May 5, 1862 with some links:
LINK OF INTEREST:
While we're on the topic of underdog victories, here's a link to an off-topic but interesting piece from The New Yorker:
Annals of Innovation: How David Beats Goliath
MOVIE REVIEWS:
HK Magazine reviews:
IN PRODUCTION:
Nicholas Tse Went all out for New Role
Vivian Hsu on Freezing Filming Set
CRI ENGLISH movie capusle: SHANGHAI (Chow Yun-Fat, Gong Li, John Cusack)
EAST WIND, RAIN: Wang Baoqiang Is a 'Xiao Kai' in Shanghai
Mainland TV: Four Generations under One Roof
Japan: Warner brings 'Death' to bigscreen
FEATURES:
Challenges keep Xu Jinglei Alive
Another Shot At Success: Electric New Paper feature on Mrs. Kozo aka Karena Lam Ka-Yan
Mainland Mission: Screen Daily feature on Peter Chan Ho-Sun
Bau Hei-Jing: The "eldest" best actress
A Heinous History: bc Magazine feature on I CORRUPT ALL COPS
It's Because We're Very Vain: Electric New Paper feature on Grasshopper
Cultural Revolution: Screen Daily feature on Polybona boss Yu Dong
Up Close: PUSSYCAT THEATRE
HK Magazine interview with actress/director Crystal Kwok Kam-Yan.  Ten years ago, she directed an intriguing movie called THE MISTRESS.  Definitely worth a look if you can find it on DVD.  There's an unique shot of a pig in the film that you won't forget.  It was a remarkable directorial debut for Kwok and it's a bit of a shame that she hasn't directed another movie.
High on Action: Feature on young Thai actors from the Thai film POWER KIDS
GENERAL NEWS:
New Bride: 61-Year-Old Liza Wang
Andy Lau's wedding is off, says HK media
Chow Yun Fat and other Hong Kong stars on the swine flu and Mexico
Nicholas Tse's Last Album takes off
PHOTOS: Nic Tse promotes his album with a little help from his old man
SARFT reminds you to avoid celebrity scandals
Wouter Barendrecht remembered in Hong Kong
OBITUARIES: Variety; The Guardian

PHOTOS: Xinhua News
Singapore: Jaime Teo plans showbiz comeback
Strong Showing: Article on the Singapore film industry
SEXY PHOTOS GATE:
Cecilia Cheung 'hopes to act again' after a year break
Gillian Chung performs on TVB charity show
JACKIE CHAN:
On Sunday, Jackie Chan made his first public appearance in Hong Kong since his infamous ramblings at a Mainland business forums last month.  Chan performed at an event celebrating the 60th Anniversary of the establishment of the People's Republic of China.  He left immediately after his performance and did not speak to reporters.
RELATED: Xinhua news photos
Jackie Chan wears a political jester's hat, too
Jackie Chan stages show at Beijing's Bird's Nest
PHOTOS: Jackie Chan performs
Jackie Chan Stars Concert in Bird's Nest
Jackie Chan: There's no place like home!
Rain joins in Jackie Chan concert
Jackie Chan, Yao Ming appointed ambassadors for 2010 Shanghai World Expo
Jackie Chan and The World's Largest Sushi Roll
CONCERT REVIEW:
Hail the Music Man: Lee Hom-Wang in Malaysia
OPINION:
City of sorrow: Competing film portrayals of the Nanjing Massacre
PHOTO GALLERYS:
Stalkin' The Stars: Faye Wong in Hong Kong 1, 2
Faye Wong landed in Hong Kong earlier this week for some shopping and to meet with her friends Tony Leung Chiu-Wai, Carina Lau Ka-Ling and Rosamund Kwan Chi-Lam
More Stalkin' The Stars: Zhang Ziyi shops for shoes in Hong Kong
Vivian Chow Wai-Man shoots a cosmetics ad
Joey Yung, Lisa S. (Daniel Wu's squeeze) at an event for Tiffany & Co.
Jessica Hsuan, Sunny Chan, Natalie Tong promote their TVB series JUST LOVE II
Zhou Xun: Expo Green Queen
Olympic diving star: Guo Jingjing
CHINESE PEOPLE BEING CONTROLLED:
Hubei orders public servants to smoke local cigarettes
FOLLOW-UP: China cigarette order up in smoke