Thursday, September 4th, 2008
With the arrival of September and people shuffling out of "summer mode" and back into "the routine", I'm delaying the TVB post one more time in favour of a post on something timely but a little offbeat for a HK entertainment blog: students going back to school after the summer holiday.
But first (TMJulie Chen), a couple of reader interaction tidbits to take care of:
- To Jo who asked me about the TVB series I'm going to post about, it's THE GREEN GRASS OF HOME (緣來自有機).  I'd like to say that I

watched it because I was curious to see how TVB handled the environmental themes but honestly it's because Christine Ng Wing-Mei, at the relatively advanced age (for a TVB starlet) of 39, is "still gettin' it done".
Actually, looking ahead, I may be delaying the TVB post one more time because I plan on seeing how Charlie Yeung Choi-Lei fares in the BANGKOK DANGEROUS remake sometime this weekend.  Of course, this means I'll have to somehow tear myself away from the TV and opening weekend NFL action.
- While writing this post, I started to wonder how "summer holidays" work in the Southern Hemisphere.  Do people in places like Australia and New Zealand synchronize their holidays with North America and Europe or do school kids down under get December or January or February off?  Yeah, I realize that I could easily get the answer from Google but I'm a lazy, lazy man.
On to the business of the day …
Even though I haven't attended school since the days Confucius taught classes on the Five Classics under the large scholar tree in his courtyard, I still get a bittersweet feeling when the calendar rolls around to September.  I think it's because the whole "back to school" rigmarole that takes place in the culture and the slight chill that creeps into the air in the mornings and the evenings signals that the lazy, hazy, carefree days of summer are over and that it's time to get serious again.
The "back to school" milieu also brings to mind the Sam Hui Kwoon-Kit song 《學生哥》 (lit. Student Brother) where Ah Sam exhorts kids, through a catchy tune, to study hard in school so that they can one day become independent.  It was released in 1978 on Hui's album 賣身契 (THE CONTRACT).  For those of you who aren't familiar with Sam Hui, he — along with James Wong Jim (黃霑), Joseph Koo Ka-Fai (顧嘉煇) and Lo Man (羅文, Roman Tam) — helped transform Cantonese music from the literal, classical Cantonese Opera form that dominated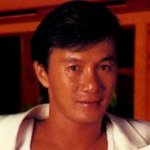 the HK music scene until the early-1970s to the colloquial, informal Cantopop of today.  While Wong, Koo and Tam did it primarily through television theme music, Hui helped popularize Cantopop through songs that spoke directly to Hong Kong people by addressing the issues of the day in the vernacular of the day.
Showing a wide artistic range, not only could Hui be topical [as shown in the song 《話知你 97》 (trans. Could Not Care Less About 1997)], he could also be philosophical [《世事如棋》 (trans. Life Is Like A Game Of Chess)], satirical [《打雀英雄傳》 (trans. Mahjong Playing Heroes — a spoof of the theme song to a 1970s TV adaptation of Jin Yong's LEGEND OF THE CONDOR HEROES)] and comical [with the aforementioned 《賣身契》 (trans. Contract Of Indentured Servitude), a song about how people enter into life only after signing a contract of servitude with God … or the Great Whatever of your particular religion].  Western audiences are most likely to know of Hui through the song 《最佳拍檔》 (trans. Ideal Partner) — the theme song for the ACES GO PLACES movies.  If you would like to learn more about Sam Hui, a substantial biography of Hui can be found at Sam Hui Online.
《學生哥》 shows Hui's philosophical and topical sides.  In it, he uses plain, everyday Cantonese to tell school kids to study hard so that they can make something of themselves in life.  I've done a rough translation of the lyrics (see below) and I've uploaded a clip of the song that you can check out here.  If you want to check out the song in its entirety, a four CD set of Sam Hui's greatest hits can be had at YesAsia for a fairly decent price of US$21.49.
 The lyrics: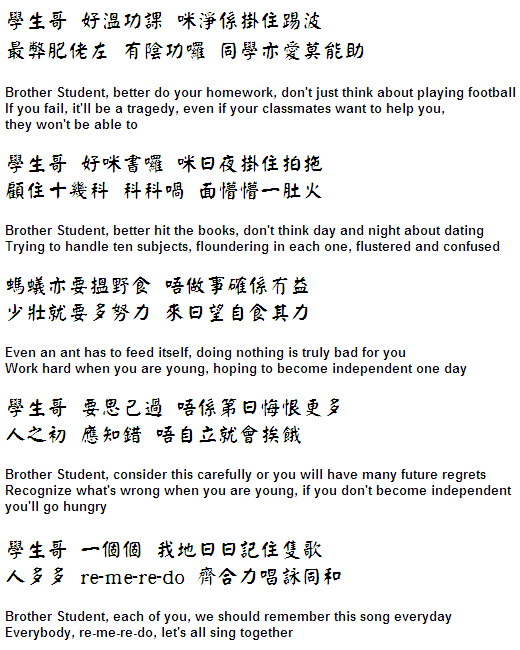 CHINESE LESSON OF THE DAY: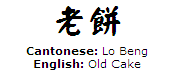 老餅 or "old cake" is Cantonese slang used to describe people of a certain age (namely old farts like me).  It's slightly more polite and affectionate than 老柴 (lo chai or "old firewood").
Image credits: TVB (Christine Ng), Polygram Records (Sam Hui)