Wednesday, July 8th, 2009
READERS, I CANNOT TELL A LIE …:
I've had to retire the "Because I'm Not On Twitter" sections of this blog because I'm actually now on Twitter.  Don't expect too much over there, I only joined to follow the Twitter feeds of the guys at PTI and The Sports Guy Bill Simmons.  I didn't realize until after I joined that I could actually follow them WITHOUT joining.  Then, I started getting notices that people were following me on Twitter so I started feeling compelled to tweet.  I think this is how people get sucked into quagmires.  They all start off with simple aspirations that get increasingly complicated.  You know, you start off just wanting to get your Dad's approval, then that leads you to ignore the findings of the CIA, which leads you to invent an excuse to invade Iraq, which leads to …
It's like the old woman who swallowed a fly, she had to swallow a spider to catch the fly, then she had to swallow a bird to catch the spider, then she swallowed a cat to catch the bird … what happened to her in the end?  Oh that's right, she died …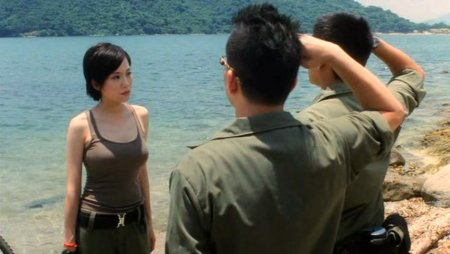 Here's a picture of Jo Koo in a tank top to distract you from today's grim blog post.
Sorry to start off this post on such a grim note but it seems we've been surrounded by death of late.  From Shih Kien to David Carradine to Michael Jackson to Alexis Arguello to that Nanjing drunk driving accident last week to Steve McNair killed in a murder-suicide on the weekend to the riots in Xinjiang.
Speaking of the riots, I wonder if the Kozo Entertainment Group's health plan covers treatment for post traumatic stress disorder because I think I may be getting PTSD from looking at the Chinese media coverage of the Nanjing drunk driving accident and the Xinjiang riots.  Unlike the Western media, the Chinese media and news blogs have no compunction about showing graphic images with nary a warning.  As a result, I saw some things in the past few days that I won't be able to scrub from my mind any time soon.
When I had my own site a few years back, I caught a lot of heat for posting a link to a picture of Leslie Cheung's body covered by a sheet next to a pool of blood.  It was, admittedly, a mistake.  I think this was karma's way of getting back at me for it.  The pictures of the Nanjing accident were especially grisly — the twisted, mangled corpses, the disemboweled pregnant lady … I initially thought some of those pictures were of the remnants of the smashed watermelon stand … if only …  I'm normally not a proponent of capital punishment but, in this case, not only should this scumbag be shot, his next three incarnations should be summarily executed as well.
Ah well, that's the price you have to pay when you're scouring the Internet for news links.  Sometimes curiosity gets the better of you and you click on a link you probably shouldn't click on.
If only I was involved with a hot starlet who allowed me opportunities to hang around and eat roast pork with the likes of Dante Lam, Michelle Ye, Richie Ren and Leon Lai …
Uh, oh.  Manny Kok — my Kozo Entertainment Group handler, uh, manager — is giving me the evil eye.  I better shut up.  Don't want to get "frozen". 

Anyway, my point is that because I'm now on Twitter, I can no longer use "Because I'm Not On Twitter".  I'm changing it to "Sesame Seeds and Mung Beans" after the Chinese phrase "芝麻綠豆小事" or "small, inconsequential matters/things like sesame seeds and mung beans".
The latest edition of "Sesame Seeds and Mung Beans" appears after the news links update which begins with …
BRUCE LEE:
Examiner.com review of the documentary HOW BRUCE LEE CHANGED THE WORLD
Plans for Bruce Lee Museum get off the ground, finally
Bruce Lee's former Hong Kong residence to be transformed into museum
MURDERER:
Aaron Kwok: New role boosts acting credentials
Crime and Complexity: bc Magazine feature on MURDERER director Roy Chow Hin-Yeung
Aaron Kwok promotes Longines watches at the premiere
Others in the photos: co-star Janine Chang, the lovely Maggie Cheung Ho-Yi, Ekin Cheng with members of Grasshopper
More Photos from the gala premiere
In addition to stars Aaron Kwok, Janine Chang and Eddie Cheung, Ekin Cheng, Grasshopper, Wong Yau-Nam, Josie Ho, William So Wing-Hong and Leo Koo Gui-Gei attended
FEAUTRES:
Date With Eason: The Sun Daily (Malaysia) on Eason Chan
Being Edison Chen: Bangkok Post feature on ol' EDC
RELATED: Sina.com High Definition Photo Gallery of store opening
HK Magazine Online feature on Gillian Chung
Mirror, Mirror …: bc Magazine feature on Wai Ka-Fai
A Filmmaker Finds Her Play Is the Thing: New York Times on Sylvia Chang
RELATED:
HK Magazine Online feature on Jeff Lau (KUNG FU CYBORG)
Dead Factory Blues: bc Magazine feature on Mainland director Jia Zhangke (24 CITY)
RELATED:
DOUBLE TROUBLE: Pop duo BY2 grateful for fans' support, including leering older men who pester them
PRODUCTION NEWS:
John Woo to make film about Flying Tigers:
Behind the scenes: Bodyguards and Assassins
Young Bruce Lees Wanted for Ip Man 2
Ron Ng, Sammul Chan feature in Michael Tse's movie for free
RELATED: Xinhua article
Opening lens ceremony held in Huangzhou for Feng Xiaogang's new film AFTERSHOCK
Chen Kaige Braces for Battle of Impressions
Shandong and Metan are 'Golden'
COMING SOON:
RELATED: Sina.com Photo Gallery
TRACING SHADOW: Mental makes a big move
RELATED: Photo gallery of Franics Ng and Pace Wu promoting the movie in Beijing
MOTHERLAND (Director: Doris Yeung;  Cast: Francoise Yip Fong-Wah, Kenneth Tsang Kong):
New Posters of "The Message" Released
New Film Release: MCDULL KUNG FU DING DONG
PHOTOS: Louis Koo in ON HIS MAJESTY'S SECRET SERVICE
RELATED: Photos courtesy Sohu.com
New poster for SOPHIE'S REVENGE (Zhang Ziyi, Fan Bingbing)
New "Ani-Men" Animation to Become Mini-Franchise
FOUNDING OF A NATION: All star blockbuster "Jian Guo Da Ye" opens official web site
GENERAL NEWS:
Rumours: Cecilia Cheung expecting again!
Kelly Chen's Active Bundle of Joy
Jetsetter Li: Earth is his home
Aaron Kwok: still passionate, but only about his music
Miriam Yeung forced to postpone wedding
Michelle Reis Now Says No to Surrogate Mother
Andy Lau:
Fan Bingbing Wins 'Plastic Surgery' Case
RELATED: Sina.com High Definition Photo Gallery of Liu Ye's wedding
Vivian Hsu Denies Relationship with Stephen Fung
Zhou Xun Plays Down Breakup at Public Appearance
Long-delayed 'Sniper' to Screen in Taiwan
Coco Lee's memories of Michael Jackson and Neverland
BUSINESS/INDUSTRY NEWS:
Raymond Wong launches Hong Kong production outfit Pegasus
Hong Kong's TVB set to take control of pay-TV unit
Star unveils slate of Chinese movie acquisitions
China media body gets new film boss
Bank of China to invest in media
OPINION: How the West can win in Asia
MOVIE REVIEW:
Review of MAGAZINE GAP ROAD (Jessey Meng, Elvis Tsui)
BEYOND HK:
South Korea: 19% of Actresses Forced to Provide Sex for Career
Stefanie Sun back with a bang after two years
Taipei Times Pop Stop on the Golden Melody Awards
Taiwan TV declines broadcast of A-mei's video
Vincent Fang to direct film insinuating Jay and Jolin's romance
Ethan Ruan Loves Older Women, Cheryl Yang's The Role Model of Girls
Z-Chen: Fish Leong unlikely to withdraw from showbiz after marriage
Mavis Hee insane? Music producer clears her name
Tank wants to hook up with Jolin Tsai
Harlem Yu: Perfect romance only happens on reel
AROUND TOWN:
Cecilia Yip Tung, Kristy Yang, Linda Wong Hing-Ping and Catherine Hung Yan
The ladies were among those who attended a charity event at a MTM skin care products store earlier this week.
Lin Chi-Ling, Pace Wu, Eunis Chan Ka-Yung, Lisa S. and others at an event for Swarovski
Gillian Chung did an interview for HK Commercial Radio on July 7th in which she was coy about her relationship with Juno Mak.  She does, however, plan on inviting him to see her upcoming play.  Also, she did not hear the news about Cecilia Cheung's supposed pregnancy but plans to contact her and wish her well.
Vivian Hsu was in Hong Kong last week to promote laser hair removal for Dermes
Ruby Lin and Aloys Chen at an event for Gucci
Kwan was a celebrity guest at a charity event for an education fund.  HK$1.7 million was raised.
Kelly Lin at an event for Bobbi Brown Cosmetics
Daniel Wu at a promotional event for a soft drink
AD WATCH:
Jolin Tsai and a cyber version of Jolin Tsai shoot an ad
Zhang Ziyi, Carina Lau: Celebrity Cheer for Launch of 'Lan' Jewelry
Hu Jing Shoots Clothing Ad While Four Months Pregnant
STALKIN' THE STARS:
Zhang Ziyi wears a surgical mask while shopping in Hong Kong
My cousin Tony met up with some friends on the night of July 4th.  He, reportedly, celebrated his 47th birthday recently by having a quiet dinner at home with his wife Carina Lau Ka-Ling.
PHOTO GALLERIES:
Crystal Liu Yifei's photo spread for the June-July 2009 Chinese edition of HARPER'S BAZAAR
Michelle Ye (FIRE DRAGON, VENGEANCE)
Mainland model/actress Zhou Weitong
Catherine Hung Yan and fiance Zhang Danfeng
Angelica Lee Sum-Kit poses for the July edition of Dairizi
Charlene Choi gallery on the Arabic version of People's Daily
CULTURAL NEWS:
China to spread the news in English
Chinese writers pen 'instant' Jackson bio
芝麻綠豆 (SESAME SEEDS AND MUNG BEANS):
Honest Croatian politician is not a breath of fresh air
Miniskirts, cleavage upset male South Koreans: survey
Image credit: Wong Jing's Workshop Ltd. (Still from THE VAMPIRE WHO ADMIRES ME)