Friday, June 26th, 2009
News on a couple of major productions that were announced this week: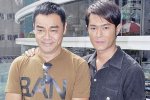 On June 23rd, China Star held an opening lens ceremony for their new project POKER KING (撲克王). The film stars Lau Ching-Wan as a gambling mogul and Louis Koo Tin-Lok as a gambling master. Stephy Tang Lai-Yan will play Louis Koo's love interest.  Also appearing in the movie are: Cherrie Ying Choi-Yi, Josie Ho Chiu-Yi, the lovely Jo Koo (Kuk Tso-Lam), Wong You-Nam and newcomer Jacky Heung — the son of China Star head Charles Heung Wah-Keung. The duo behind last year's LA LINGERIE, Chan Hing-Kai and Janet Chun Siu-Jan, will be behind POKER KING.
During the press conference, Lau Ching-Wan revealed that he is not much of a gambler in real-life as his gambling is limited to playing mahjong with friends and relatives during Lunar New Year and the occassional purchase of a lottery ticket.
As for Louis Koo, reporters seemed to be more interested in rumours that he was about to buy a HK$150 million luxury flat in Repulse Bay than anything related to POKER KING.  Koo admitted that he has looked at property in the area but that since it is a family matter, he does not want to comment further on the issue.  Back on the subject of the film, Koo has been preparing for his role as a gambling master by practicing card tricks for hours on end. He has practiced so much, his fingers have started to feel numb.
Stephy Tang, who plays Louis Koo's love interest in POKER KING, revealed that she has no "heavy romance" scenes with the Tanned One but she is nevertheless feeling very nervous because she has never worked opposite actors of the calibre of Lau Ching-Wan and Louis Koo.  While her character in the movie is a gambling addict, she finds gambling distasteful and would not want a boyfriend who likes to gamble.  Asked what else would take a guy out of the running to be her girlfriend, Tang replied: "I don't want a boyfriend who is obssesed with video games because I've no interest in that.  I'd really hate it if my boyfriend made me play video games with him.  He'd have to make a compromise."
Quick Notes and Thoughts:

Looks like it'll be an amusing movie.  I'll see anything with Jo Koo in it.

It does feel like a step up for Stephy Tang.

Jacky Heung … Boy, I don't know … Then again, the bar will be set pretty low.

This will be Cherrie Ying's second HK movie of 2009.  The first was the little seen KUNG FU CHEF with Vanness Wu and Sammo Hung.  This one will be higher profile.  After her run as a minor "It Girl" earlier this decade, she's been working mostly in the Mainland.

Related Links: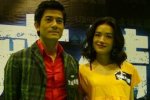 On June 24th, an opening lens ceremony was held at the Yuen Long district's Clarence Film Studio for the Universe - Enlight Pictures co-production CITY UNDER SEIGE (全城戒備).  Directed by Benny Chan Muk-Sing (CONNECTED), the actioner stars Aaron Kwok Fu-Sing, Shu Qi, Collin Chou, Zhang Jingchu and Jacky Wu Jing.  With a budget in excess of HK$100 million, the movie will be heavy on special effects and spend more than one year in post-production.  Producers hope to have it ready in time for a National Day 2010 holiday release.  Billed as "China's answer to X-MEN ORIGINS: WOLVERINE", the film tells the story of circus performers played by Kwok and Chou who develop super-strength after accidentally inhaling a gas.  Shu Qi plays a reporter.
Although a descendant of Lee Chum-Foon, the hero in Gu Long's Little Lee Flying Dagger book series, Aaron Kwok's character is an unremarkable, low-lever circus clown/knife thrower. Admitting that while playing a "down in the dumps" character will be a challenge, Aaron Kwok anticipates that working in front of blue screens will ultimately be the bigger challenge.
Reporters spent most of their time with Shu Qi asking about her love life but when talk centered around the film, the leading lady revealed that she was going to request that she be allowed to do her lines in Mandarin because she felt her Cantonese was rusty.  Unfortunately, when it came time for shooting, she was asked to do her lines in Cantonese.  When the subject turned to how many action scenes Shu Qi has in the movie, co-star Kwok joked: "She has many 'mind versus heart' action scenes".
CITY UNDER SEIGE is the first collaboration between Shu Qu and Aaron Kwok since STORM RIDERS in 1999. Asked for thoughts on the issue, Kwok replied: "I hope that the roots we laid down ten years ago will bear fruit for this project."
Collin Chou plays a circus troupe leader in the film.  His character and Aaron Kwok's character start off as "hing-dai" (兄弟) but end up as bitter rivals when the gas not only gives Chou's character super-strength, it turns him into a villain.  Commenting on his participation in the film, Chou revealed that, so far, it is the most satisfying filmmaking experience of his 25-year career because director Benny Chan has given him a lot of creative space and allowed him much input into the development of his character.
As she plays a cop in the movie, Zhang Jingchu was ready to engage in heavy training for action scenes.  However, preparation time for the film was limited so she will be a "projectile weapons expert" and her action scenes will be done predominantly in front of a blue screen.
Shooting for most of CITY UNDER SEIGE should be completed this summer but, because of the long post-production process, shooting may continue until next April.
Quick Thought:

Sounds like it will be good but I fear that there's also great potential for sucky, bloated mess — especially with the heavy reliance on special effects.

Related Links:
BECAUSE I'M NOT ON TWITTER:
Rest in Peace: Ed McMahon, Farrah Fawcett and, shockingly, Michael Jackson …
Accuse me of having the mindset of an old Italian woman if you must but these things really do come in threes …
Setting aside, for the moment, the legacy of the self-proclaimed King of Pop, an interesting study of new media versus old media is emerging.  TMZ.com, of all places, was the first to break the story yet no one in the traditional media is giving them props for the scoop.  Conversely, if the TMZ report had turned out to be false, I'm 100% sure that the traditional media would be lining up around the block to slag TMZ and dismiss it as a "blog" or a "celebrity entertainment website".
To many, Michael Jackson is going to be remembered as "the King of Pop".  Others will remember him as a "freak" or an "alleged pedophile".  I think my mental epithet for him will be "tragic figure".  The guy had all the talent in the world yet suffered through a messed up childhood and an even more messed up adulthood.  This is tragedy on a Shakespearean level.  It rivals that of Othello, Macbeth, King Lear and Hamlet.
Favourite Michael Jackson songs: "Don't Stop 'Til You Get Enough", "Rock With You", "Smooth Criminal" and "The Way You Make Me Feel".  To be honest, I don't think the songs from THRILLER have aged that well.  It could be that I hang out with a bunch of creeps and degenerates but no one I know thinks, anymore, that "Beat It" is a cool song.  Whenever the subject of the song comes up in mixed company, someone inevitably cracks a masturbation joke.
Favourite Michael Jackson video (YouTube link):  It's actually not one by Michael Jackson but a spoof video about Michael Jackson from the folks who used to do IN LIVING COLOR.   Before today, I hadn't seen it in sixteen, seventeen years but the first line of the second chorus still cracks me up.
"Yeah but how does this affect ME?": Feeling incredibly old today.  Ed McMahon, Farrah Fawcett and Michael Jackson were icons from my youth — especially Farrah and Micheal Jackson.  THRILLER was the first album I bought with "my own money" and I believe, at one point, I owned Farrah Fawcett's famous poster.  (It was either the Farrah poster or the Loni Anderson poster.  Maybe I had both?)  Anyway, nothing makes you feel older than hearing news that an icon from your youth has passed.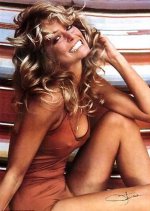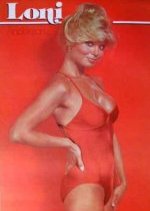 Laugh at me now young ones but — hopefully not until many, many years later — you'll be feeling aged when the Jackie Chans and Sammo Hungs of the world depart to join Bruce Lee, Shih Kien and Kwan Tak-Hing up in the sky for the greatest martial arts cast ever assembled.
Image credits: Sohu.com (Louis Koo, Lau Ching-Wan), Sina.com (Aaron Kwok, Shu Qi), Life Magazine (Farrah Fawcett)