March 5th, 2007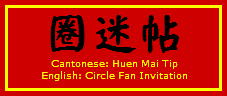 Before I begin, a big "thank you" to everyone for welcoming me back to the "Internet Forest" with such warmth and good will. A special thank you to Webmaster Kozo over at LoveHKFilm for helping me get the word out.
A few words about some of the reactions to my first post: I hope that you guys aren't expecting to come here and find news about recent happenings in the entertainment circle. I have to fill the fourteen-month hole in my entertainment circle knowledge before I can begin talking about the latest events. The HK entertainment database in my brain ends at around the time of the Lunar New Year 2006 release of FEARLESS in HK. The rest is a blank slate. The only things I know about the period between January 2006 and March 2007 are:
The deaths of

Bau Fong

,

Kwan Hoi-Shan

and

Bill Tung Piu

News on four of my favourite 1990s-era actresses from TVB:

Jessica Hsuan

(Suen Huen) leaving TVB for an independent manager,

Maggie Cheung Ho-Yee

getting Graves' Disease,

Fiona Leung Ai-Ling

getting in a car accident while filming a "religious" video in Australia and

Mariane Chan Miu-Ying

still going strong in the

business world

.

Cecilia Cheung Pak-Chi marrying Nicholas Tse Ting-Fung and now, apparently, pregnant with his child

The Yumiko Cheng Hei-Yi de-pantsing incident

The Gillian Chung Yan-Tung/Easyfinder fiasco

Isabella Leong Lok-Si being "frozen" by EEG for "bad behaviour"

Ekin Cheng Yi-Kin shaving his head bald to play Huo Yuanjia for a television series

The Lydia Shum Tin-Ha health crisis. For those of you who don't know: Last summer, Lydia Shum was asked whether or not her daughter, Joyce Cheng Yan-Yee , had laser surgery to remove acne blemishes from her face. In response, Shum boldly said: "… 做過一次雷射就仆街死!" (if she did laser once, I'll f***ing die right now!). Soon afterwards, she was hospitalized for weeks with serious health problems involving her liver. Apparently, she's fine now but — call me Chinese-superstitious — it's another warning from karma, the Universe, God, Buddha, the Great Whatever, etc. to be careful of what you say and how you say it.
. . . and that's all I know of the past four-hundred-some days. So, I now formally invite you to help me restore my HK entertainment database by pointing out things that happened in the last year that you found interesting. They can be significant (Jackie Chan became a monk, shaved his head bald, sold all his assets and donated the proceeds to the monastery) or whimsical (Athena Chu Yan admits in an interview that she has "feelings" for a guy who ran some website called HK Entertainment News In Review but it disappeared and now she has no way to get in contact with him). If you found it interesting, I'd like to know about it. You don't have to go into chapter and verse detail — just say: "Joey Yung Tso-Yi is dating Jack Donaghy" or "Edison Chen is starring in the remake of Tracy Jordan's WHO DAT NINJA?". I will look up the rest on the Internet.
In the meantime, here are some of the storylines I plan to research in the near future (if you know what's going on with any of the following, please don't hesitate to give me some details in the comments section):
What's happened to Sammi Cheng Sau-Man and Miriam Yeung Chin-Wah? Has their time at the top passed? I know Joey Yung Tso-Yi seized the Queen of Cantopop title last year but what about the movies? A quick check doesn't reveal any big projects coming down the pipeline for either of the women. Is it over for them already?

What's going on with Jackie Chan? Is he still undermining his son's career by publicly criticizing him? Is his box office prowess continuing to decline? Has he done anything embarrassing to himself in the past year?

Is TVB still going strong? ATV isn't much of a threat but is the availability of more entertainment choices eating away at TVB's dominance like specialty channels, DVDs, video games and the Internet have done to network television here in North America?

More on TVB: Were there any breakout hits last year? Are people still interested in the Miss Hong Kong Pageant? Is TVB feeling any pressure from the huge Mainland television productions?

What's going on with Athena Chu Yan, Nadia Chan Chung-Ling (I still refuse to refer to her as Nnadia), Flora Chan Wai-Shan, Yoyo Mung Ka-Wai, Ruby Wong Cheuk-Ling, Maggie Siu Mei-Kei, Jo Koo (Kuk Tso-Lam), Niki Chow Lai-Kei, Fiona Yuen Choi-Wan, Fennie Yuen Kit-Ying, Christine Ng Wing-Mei and Michelle Reis (Lee Ka-Yan)?
What were some of the better movies of 2006? Were there any LOVE BATTLEFIELD/CRAZY N' THE CITY-type sleepers? I talked briefly to Kozo about this and he suggested ELECTION, ELECTION 2, EXILED, BATTLE OF WITS, MY NAME IS FAME and ISABELLA as essential viewing. He also suggested that I might enjoy THE HEAVENLY KINGS, DRAGON TIGER GATE and ROB-B-HOOD. Does anyone have any other suggestions to add? If you plan on making a recommendation, please keep in mind that my local Chinese video store went out of business while I was sick so now I have to buy every movie I want to see. As a result, please put your recommendation in one of two categories: "must see" or "intriguing and somewhat interesting but it can wait". I've already dropped $40 for HEAVEN DRAGON THE EIGHTH EPISODE (the CCTV adaptation of DEMI-GODS AND SEMI-DEVILS) and $100 on an order for ELECTION, ELECTION 2, EXILED, BATTLE OF WITS and ISABELLA so the DVD budget is stretched a bit tight. I'm also eyeing the Pearl City DVDs of MISSING CINDERELLA and DEAR LOVE (as a kid, I used to love watching the late night airings of 1950s/1960s black-and-white romantic comedies starring Cheung Ying and Ha Ping — like Mary Tyler Moore during the DICK VAN DYKE SHOW days, Ha Ping was quite the hottie back in the 1950s/1960s).
Thanks in advance for your tips and suggestions. I look forward to chasing down leads and catching up on some HK movie viewing.
A note on one of the comments from the last post: How does an English-only fan get into the wuxia genre? At this point, I'd say it's kind of difficult. There are a couple of English translations available for purchase: "The Deer and the Cauldron" and "Flying Fox of the Snowy Mountain" have been translated into English. However, they aren't exactly the best examples of the wuxia genre. "Flying Fox" is mediocre and introducing yourself to wuxia by reading "The Deer and the Cauldron" is like introducing yourself to Clint Eastwood's cowboy movie career by watching UNFORGIVEN instead of THE GOOD, THE BAD AND THE UGLY or A FISTFUL OF DOLLARS. Moreover, fully translating wuxia into English is quite challenging. There are a lot of concepts that simply don't have English equivalents. I'd say your best bet is to try and buy one of the DVD sets of wuxia novel TV adaptations. I believe the CCTV adaptations have English subtitles and TVB has released English-subtitled versions of their classic 1980s adaptations of LEGEND OF THE CONDOR HEROES and RETURN OF THE CONDOR HEROES.