March 10th, 2007
I was going to write an entry on ISABELLA and its young star Isabella Leong Lok-Si for today's post but that would mean I'd have to talk about an actress who was born after 1980. As one of your fellow readers chided me for in an e-mail about my last post, all the actresses I mentioned were, as Jessica Simpson would say, "ancient". I even mentioned one, Ha Ping, who was born in 1937 — 1937! In my defence, I did mention Joyce Cheng Yan-Yee (born 1987) and came close with Niki Chow Lai-Kei (born 1979). In the future, I promise I will write posts extensively slurping the likes of Crystal Liu Yifei (born 1987), Katrina Bwden (born 1988) and Sarah Carter (born 1980) but, for now, I'll stick to my old-fogeyism and talk about items I recently discovered on some favourite actresses born before 1975 — even though it puts me perilously close to crossing the threshold between being called 哥哥 ("gor-gor" or brother) and being called "uncle".
Here we go:
Ruby Wong Cheuk-Ling

is now Mrs. Ruby Yu Cheuk-Ling. Reportedly, she got married in Las Vegas during the summer of 2005 to a non-entertainment circle personality named "Mr. Yu". This probably spells the end of her acting career.

Blasts from the recent past:

Carrie Ng Ka-Lai

, Yvonne Yung Hung,

Kathy Chow Hoi-Mei

(not to be confused with Kathy Chow Man-Kei, model/sister of Niki Chow Lai-Kei),

Loletta Lee Lai-Chun

(

Lee in action

) and Christy Chung Lai-Tai were all contestants last year on LET'S SHAKE IT (舞林大會) — a Mainland television station's version of DANCING WITH THE STARS. (Click links to see promotional stills of the actresses.)Other HK personalities that participated included: Law Kar-Ying, Shing Fui-On (I guess Baat Leung-Gum aka Bobby Yip King-Sun was busy), Michelle Mai Suet, Lawrence Ng Kai-Wah, Wong Hei, Elvis Tsui Kam-Kong,

Karen Mok Man-Wai

,

Gigi Leung Wing-Kei

and EEG starlets: Yumiko Cheng Hei-Yi, Charlene Choi Cheuk-Yin, Gillian Chung Yan-Tung and Joey Yung Tso-Yi.

While it's nice to see Carrie Ng actually doing something (I don't think she's been in a film or made a significant television appearance in more than five years), it's a shame that one of the better actresses of the 1990s — she won the HKFA Best Supporting Actress award for her performance in Jacob Cheung Chi-Leung's vastly under-appreciated

THE KID

— can't get good work.

Related LET'S SHAKE IT links:

Official site

(as with most Mainland sites, it's very slow),

promotional poster

, Elvis Tsui (

1

,

2

,

3

),

Joey Yung

, Charlene Choi (

1

,

2

) and

Gillian Chung

(

YouTube video of Gillian Chung dancing

).

As far as movies are concerned, it appears Sammi Cheng Sau-Man continues to be missing-in-action. Meanwhile,

Miriam Yeung Chin-Wah is working on a Milkyway Image film called HOOK ON YOU with Eason Chan Yik-Shun

. The romantic comedy has the two playing fishmongers. Sounds cute. By the way, Miriam Yeung spent part of 2006 working on a Mainland television series.

Fennie Yuen Kit-Ying is not doing much besides getting photographed going out to various spots with friends. As far as I can tell, her latest appearance was in an August 2006 episode of the TVB show BEAUTIFUL COOKING (

video highlights from the show

). Sadly, her skin-and-bones look at the taping (

1

,

2

) has re-ignited suspicion that she's suffering again from an eating disorder. Also, there were rumours that she is involved in a same-sex relationship. Related link:

Fennie Yuen photo gallery courtesy Sing Tao Net

.

Michelle Reis (Lee Ka-Yan) is supposedly going to marry a rich tycoon sometime this year but he, uh, has to finalize his divorce first. They've been seeing each other for several months and have, reportedly, already made wedding plans. I'm not a fortuneteller but I could see this coming (Michelle Reis marrying a rich guy not the "have to get divorced first" part) since about, oh, 1993.

Pinky Cheung Man-Chi

is wrapping up her contract with ATV then exploring opportunities elsewhere.

… and, finally, on a few actresses born after January 1, 1975: Yoyo Mung Ka-Wai, Niki Chow Lai-Kei and

Fiona Yuen Choi-Wan

are all working for TVB in various capacities. On the personal front: Yoyo Mung is involved with Kozo's boy Ekin Cheng Yi-Kin. Niki Chow is rumoured to be dating TVB co-worker

Kevin Cheng Ka-Wing

while Fiona Yuen is supposedly going out with some Canadian dude. Unfortunately, the Canadian dude is not me.
And now for some non-actress related items:
Heavenly Kings Round-Up: It appears Andy Lau Tak-Wah is still the hardest working man in the entertainment circle while Leon Lai Ming is making more news for being in a relationship with Gaile Lok Gei-Yi than anything else (he has, however, a concert series coming up in April). Aaron Kwok Fu-Sing got some dap for his performance in AFTER THIS OUR EXILE while Jacky Cheung Hok-Yau had

problems with a domestic worker

in between appearances at various events that included the recent Asian Games.

Would some kind soul do me a favour and save me the effort of looking up how THE PROMISE and THE BANQUET were received last year? Did they get acclaim or did they stink the joint like previous bloated and over-hyped attempts for international prestige? Are they worth watching? Surprisingly, I've seen THE PROMISE on the shelf of my local Blockbuster.Also, anyone know what's up these days with Stephen Chiau Sing-Chi?
Bringing a close to today's post:
Some things never change. Back in December, when I heard about Yumiko Cheng Hei-Yi's "wardrobe malfunction", I thought it was much ado about nothing. I mean, you didn't really see anything, so what's the big deal — right? Of course, at that point, I hadn't been exposed to Chinese-language media for ten months so I had forgotten some of its idiosyncracies and its fascination with things like "revealing points" and "accidental exposures". It's hilarious that this photo of Charlene Choi Cheuk-Yin (courtesy PhoenixTV.com) qualifies as an "accidental underpants exposure" (露底):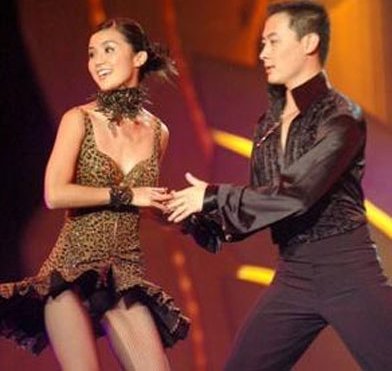 This just goes to show how sexually-repressed Chinese culture still is in the 21st Century. Then again, it's only been 95 years since the Qing Dynasty ended (February 12, 1912) so "one step at a time". After all, China is only just now trying to get a man on the moon (something the Americans did almost 40 years ago) so it'll probably be thirty some years before a young Chinese starlet shaves her head bald, smashes a car with a golf club and goes in-and-out of rehab, four, five times a day. I was going to use an Anna Nicole Smith analogy here but well it's, uh, already sort of happened in the entertainment circle milieu. Remember Pauline Chan Bo-Lin?