June 29th, 2009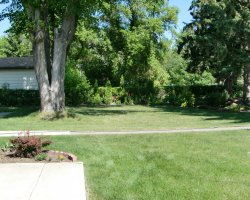 Coming to you today from the south garden of my mother's palatial estate rather than the ol' home office …
PRODUCTION NEWS:
Dante Lam to direct 'Dragon Tiger Gate' sequel
Focus Films launches Fight with 'Fists'
Vincent Zhao Wenzhou to play Beggar Su in new Yuen Wo-Ping film
Zhang Yimou starts shooting Coen brothers remake
Photos: Production and set design for THE MESSAGE
First Bites: LITTLE BIG SOLDIER … JACKIE GOES BACK IN TIME
COMING SOON:
MULAN: Ancient heroine hits Shanghai Film Festival
FEATURES:
Charlene Choi:  THIS HALF IS GETTING HOTTER
MORE AH SA: Choi misses Twins' Chung 
bc Magazine feature on writer/director James Yuen Sai-Sung:  A Sort Of Love
A New Calling: bc Magazine feature on Tats Lau Yee-Tat
Lights, camera… film school: Article on Hong Kong Baptist University's Academy of Film
HK Standard on David Carradine and Shek Kin: Kung fu icons kicked
Asian Movies All Over the Map: New York Times on the New York Asian Film Festival
Best wishes for a hugely successful event.  One of these years, I've got to get myself out to New York City for the event.
MOVIE REVIEWS:
Review of WRITTEN BY: Wai Ka-Fai's latest starring Lau Ching-Wan and Kelly Lin
bc Magazine reviews PLASTIC CITY
The Holllywood Reporter reviews the Mainland film PARK SHANGHAI
SEXY PHOTOS GATE:
Edison Chen not ready to return to showbiz
Edison Chen not ready for lead roles after scandal
For Edison, fans queue overnight
Gillian Chung avoids bumping into Edison while in KL
Gillian Chung's secret to slimmer legs: Botox
I thought botox was used to make things look fuller not slimmer.  Anyway, there's plenty of evidence out there to show that you shouldn't be messing with the stuff.
Leon Jay Williams: His big Jump forward
Taiwanese actor replaced Edison Chen in JUMP
GENERAL NEWS:
China Film Association Names Best Chinese Films of 2008

A funeral was held for veteran HK actor Shek Kin on the evening of June 25th at the Hung Hom district's Universal Funeral Parlour.  Among those in attendance were Connie Chan Bo-Chu, Nancy Sit Ka-Yin, Gordon Liu (Lau Ka-Fai), Ken Lo Wai-Kwong, Alan Tang Kwong-Wing, Wu Fung, Kenneth Tsang Kong and Ng Man-Tat.
The next morning, Shek was cremated.  His ashes were then buried next to those of his deceased wife at the Pok Fu Lam Christian Cemetery on Hong Kong Island.
Shek died of kidney failure on June 3rd.  He was 96 years old.
RELATED LINKS:
Taipei Times Pop Stop: Shu Qi on marriage and motherhood, A-mei and more
Carina Lau once rejected Tony Leung's proposal
Nnadia Chan sued for failing to pay manager
New Straits Times entertainment round-up: Nic Tse; Frankie Lam and Kenix Kwok
Zhou Xun Breaks up with Stylist Boyfriend
RELATED: Flashback of Zhou Xun and Li Daqi's Five Years in Love
Karen Mok back with Digital Album
RELATED LINKS:
Jackie Chan Promoted Patriotic Song in LA 
Grasshopper on being Cool Dad: Be the child's idol!
'Taking Woodstock' to Screen in Woodstock
Chinese censors tinker with 'Transformers'
China Web boycott called to mark filter debut
GOLDEN MELODY AWARDS:
Jay Chou, Eason Chan sweep Melody Awards
Eason Chan, Jay Chou win Mandarin pop music awards
Taitung aboriginal settlement boasts eight Golden Melody Awards
Jay Chow, Sandee Chen crowned at music awards
Stefanie Sun: Her thigh steals the thunder
Crowd Lu: Crowd winner
Jay Chou challenges the fairness of Golden Melody Awards
Awards Preview: Only the best
Zhong Yong-feng: The poet behind the music
BEYOND HK:
Taipei Film Festival:
Jay Chou and Jolin Tsai just friends
Fish Leong accepts marriage proposal
Stage collapses at Jerry Yan's autograph session
Claire Kuo a former slave to debts
Taiwanese actor Ethan Ruan: My KISSES speak volumes
Maysian Lim (aka Masia One): I don't want my kids asking: 'Why is Mummy naked on a car?' 
Xiang Yun finds warmth in family ties
STALKIN' THE STARS:
Reportedly, Chen — whose child is due in August — is opting for natural childbirth because she does not want the scars that a C-section entails.

Yankees cap … I wonder if she can even name three players on the Yankees.  Oh well, at least it isn't one of those pink hats. 
AROUND TOWN:
Maggie Siu Mei-Kei shows off her shoulders while at an event for Easy Pha-Max health care products
Lynn Xiong at an event for Rimodesio
Michelle Yeoh at an event for luxury moblie phone maker Vertu
Ruby Lin promotes Estee Lauder nail colour
Charlie Yeung Choi-Lei attends the opening of a Causeway Bay area restaurant
AD WATCH:
A press event formally unveiling Cherie Chung Chor-Hung's ad campaign for Reenex skin care products was held on June 25th. Inevitably, Chung was asked if the campaign was the "first step in a comeback to the entertainment circle".  Her response:
"I never said that I had left so how can there be a comeback?  All along, if a good brand had asked me to be their spokesperson, I would have done it.  Right now, I have no plans to get back into movies.  Although many directors have contacted me about it, at this moment, I want to be a part of the audience more than I want to be a part of the movie.  Right now, I've found happiness in my life.  I don't need to be involved with life on the silver screen to get it.  Although it's just a normal person's lifestyle, it's more than enough."
RELATED LINKS:
Lin Chi-Ling and Lin Chi-Ling's legs sell some shoes
Zhang Ziyi goes to New Zealand to shoot a jewelry ad
Bossini joins forces with Smiley World and Charlene Choi to promote the Bossini "Be Happy" clothing line
RELATED: Bossini press release
PHOTO GALLERYS:
Fan Bingbing Covers COSMO July Issue
Fan Bingbing Cherishes Memories of the Past
CULTURAL NEWS:
Hong Kong Disneyland to expand
TV staff rapped for June 4 footage
芝麻綠豆 (SESAME SEEDS AND MUNG BEANS): 
Jackson, Fawcett, McMahon: The "Celebrity Death Rule of Three"
Unique tribute to Michael Jackson by Columbian artist Anubis Vrussh (WARNING: Not safe for work)
* * * * *

Is it just me or does anyone else feel uninspired by this year's 10 Miss Hong Kong finalists?  Are these really the ten best "jade babes" that the Hong Kong nation has to offer?  Makes me wonder if the Pageant is losing its lustre or if TVB just doesn't have the pull that it once had.
If I were a rich tycoon's heir, I'd have my sights set on #4 Sandy Lau Sin-Ting.  Did I say that out loud?  Uh, I mean if I had more than just a passing interest, I'd be cheering for Miss Lau.  There's a little Jo Koo-quality to her looks that I find compelling.
Miss Hong Kong 2009 will be crowned on August 22nd, 2009.
RELATED LINKS:

* * * * *
A quick thought on the Shek Kin item above.  I can't remember how we got onto the subject but, one time, I had a long discussion with one of my pals about "death portraits".  We couldn't decide if the death portrait should be a photo of you in your prime or a recent photo.  Take, for instance, Shek Kin's death portrait.  Being confronted with the picture of an old man may be disconcerting to those who remember him in their mind's eye as the villain in ENTER THE DRAGON.  On the other hand, it may be disconcerting to family members to see a photo of a young man when they're used to seeing the old man.
You see, it's quite the mind-bending conundrum.
Yeah, it's not all Patriots versus Steelers, Ronaldo versus Messi, STAR WARS versus STAR TREK, Peking Duck versus General Tso's Chicken, Jo Koo versus Karena Lam talk at the ol' home office.
By the way, the correct answers are: Patriots, Messi, STAR TREK, Peking Duck and, of course, Jo Koo.  Always, Jo Koo.