April 11th, 2008
Previously:
The blog post series previewing the upcoming Hong Kong Film Awards continues with a look at the Supporting Actor category. The nominees are:
Nick Cheung Ka-Fai (EXODUS)
Ronald Cheng Chung-Gei (MR. CINEMA)
Louis Koo Tin-Lok (PROTEGE)
Andy Lau Tak-Wah (PROTEGE)
Chow Yun-Fat (THE POSTMODERN LIFE OF MY AUNT)
5. Louis Koo Tin-Lok (PROTEGE)
I've been a fan of Louis Koo ever since he got involved in a love triangle with Nadia Chan Chung-Ling and Ekin Cheng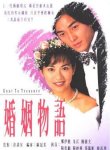 Yi-Kin in TVB's KNOT TO TREASURE (婚姻物語) so it pains me to say that the only award nomination the Tanned One merits for his performance as a scumbag junkie is for a Golden Durian Award and not a HKFA. I don't want to pile on by detailing why he doesn't deserve this nomination. Let's just leave it at "he was miscast" and the script does him no favours. The nomination is puzzling and the only explanation I can think of as to why Koo got nominated is that the people who are in charge of HKFA nominations got swept up by PROTEGE's drug culture and decided to shoot themselves up then, while high, nominated Louis Koo in this category.
All kidding aside, this spot should have gone to someone else. Perhaps Liu Kai-Chi for his work as Aaron Kwok's beleaguered cop friend in THE DETECTIVE or maybe even Eddie Cheung Siu-Fai for his performance as a "too clever for his own good" police inspector in KIDNAP.
4. Andy Lau Tak-Wah (PROTEGE)
In a comment to an earlier post, regular reader Eliza Bennet remarks that Andy Lau's performance in PROTEGE is just "Andy with white hair". I concur. It was "a'ight" but if you compare Lau's performance as a meticulous criminal to that of Tony Leung Ka-Fai's meticulous criminal in EYE IN THE SKY, you can see that Lau does not inhabit his character as well as Tony Leung Ka-Fai did.
3. Chow Yun-Fat (THE POSTMODERN LIFE OF MY AUNT)
Chow Yun-Fat's turn as a conman who tricks Ye Rutang with a cemetery plot buying scheme has received recognition from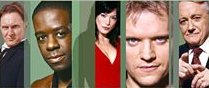 both the HKFA and the Hong Kong Film Critics Society. It has been described as "charming" but I think it's a little too broad and needed to be reined in. Maybe the exaggerated manner was deliberate and used to emphasize the naivety and vulnerability of the Ye Rutang character but it comes across as somewhat buffoonish. Then again, maybe it's just that I've become used to seeing my grifters calm, cool and collected like Mickey Bricks and his gang.
2. Nick Cheung Ka-Fai (EXODUS)
Wickedly profane, Nick Cheung leaves an indelible impression on viewers with his portrayal of a perverted loser who intrigues Simon Yam Tat-Wah's strait-laced cop with claims of an incredible conspiracy. It is the most memorable supporting performance of 2007 and would likely have won running away if not for …
1. Ronald Cheng Chung-Gei (MR. CINEMA)
The linchpin character in MR. CINEMA, Ronald Cheng handles his key role with impressive aplomb. Some may argue that there are moments where he is too boisterous but I think that those moments are designed to reflect the passion of Hong Kong people: be it in the pursuit of money, the rabid following of trends or the passionate pursuit of naked pictures of starlets on the Internet. The only knock I have against Cheng is that he should be competing for Best Actor instead of in this category where he is probably going to rob Nick Cheung of the Best Supporting Actor prize.
Image credits: TVB (KNOT TO TREASURE poster), BBC (HUSTLE promotional graphic)