October 27th, 2008
A scouting report on the Hong Kong entertainment circle content in the new Oliver Stone film W. for those of you who are interested but not interested enough to fight through the crowd going to HIGH SCHOOL MUSICAL 3 then sit through an 131 minute biopic about George W. Bush.
W.
Official Site: http://www.wthefilm.com/
Director: Oliver Stone
Cast: Josh Brolin (George W. Bush), Elizabeth Banks (Laura Bush), James Cromwell (George H. W. Bush), Richard Dreyfuss (Dick Cheney), Thandie Newton (Condoleezza Rice), Jeffrey Wright (Colin Powell), Teresa Cheung Siu-Wai (Reporter/"Miss China"), Maria Chen Chai-Ping (Military Aide)
Synopsis (from the official site): Whether you love him or hate him, there is no question that George W. Bush is one of the most controversial public figures in recent memory. In an unprecedented undertaking, acclaimed director Oliver Stone is bringing the life of our 43rd President to the big screen as only he can. W. takes viewers through Bush's eventful life — his struggles and triumphs, how he found both his wife and his faith, and of course the critical days leading up to Bush's decision to invade Iraq.

PRE-CONCEIVED NOTIONS: When I first heard about this film late last year, my inclination was to skip it.  I follow the news and, like Sarah Palin, I read all the papers so I've had my fill of George W. Bush and the American political scene with its 32-month long presidential election process.  But then, I read on Kenixfan's blog, A Pessimist Is Never Disappointed, that Gillian Chung Yan-Tung had a small role in the film as an exotic dancer.  Now, I definitely had to see the movie.
After a little research, I learned that Gillian Chung wasn't going to be the only HK personality in the movie.  Teresa Cheung (aka Teresa Chiang Siu-Wai, the former Mrs. Kenny Bee) has a small role as a reporter while Elena Kong Mei-Yi (江美儀) and Maria Chen (陳霽平 aka Maria Chan Chai-Ping) also, according to Chinese media reports, have bit parts.  Chung likely owed her part to the fact that Albert Yeung Sau-Sing's Emperor Multimedia Group is one of the financial backers of W. and is credited with being one of its executive producers.  Likewise, Teresa Cheung, Kong and Chen probably have parts through their involvement with Global Entertainment Group — another of the film's financial backers.
Armed with this information, bookmakers in the Republic of Sanneyistan set the over/under for "number of lines that Gillian Chung has in the movie" at 0.5.  I'm betting 50 Sanneyistan dollars on the under.  If a real bookmaker had that line, I have a feeling I'd make a killing on that bet.  What would I do with the winnings?  I'd head directly for Casey's Sandwich and Ice Cream Emporium where I'd buy more of their delicious, but seasonal, pumpkin ice cream.  It's really, really good but, alas, really, really expensive.  Honestly, I think it'd be cheaper to develop a crack cocaine habit.

AFTER THE MOVIE: No more beating around the bush.  Let's get directly to the only thing most of you care about: Gillian Chung's role in the movie.  Just one problem, Gillian Chung's part did not make the final theatrical cut so fans of Ah Gil will have to wait to see if she makes the extras on the DVD.  However, she did film scenes as an exotic dancer for the film.  In the first week of July, Chung did fly to Shreveport, Louisiana to shoot her part.  If you want photographic evidence, Twins fan Twins Evolution posted clippings from a July edition of a HK magazine showing Chung in her costume (left, click on picture for larger image).  He also posted a "stalkin' the stars" photo essay of Chung and her EEG handler spending two hours at a Shreveport Wal-Mart.  Related photos:
The back of Gillian Chung's costume
Gillian Chung in Shreveport with her handlers
Gillian Chung texting while in a Shreveport Wal-Mart
Gillian Chung shopping at Wal-Mart
Chung has yet to speak publicly about being left out of W. but Charlene Choi Cheuk-Yin, Chung's Twins bandmate turned media surrogate, downplayed the omission.  At a promotional event for Moov on October 15th, Choi responded to questions about Chung and W. by saying: "It doesn't really matter because the most important thing is the valuable experience she got just from working on the movie." ¹
As for the other HK personalities who had parts in the movie:
- Teresa Cheung (who doubled as an executive producer of the film): Has a couple of lines in an appearance as a reporter at a White House press conference towards the end of the movie.  Wanting to take her question but not knowing her name, Bush refers to Cheung's character as "Miss China".
- Maria Chen (aka Chan Chai-Ping, a contestant in the Miss HK 1995 Paegant won by Winnie Yeung Yuen-Yee): Appears as a military aide in a scene near the end of the film.  She has no lines as she stands behind Bush while he visits injured soldiers at a veterans' hospital.
- Elena Kong Mei-Yi: Filmed a scene as an "Asian reporter" but, like Gillian Chung, did not make the theatrical cut.
ABOUT THE MOVIE: W. is an Oliver Stone film so, technically speaking, it's very well made.  Even though the subject matter doesn't lend itself to flashy filmmaking, there are, nonetheless, some very cool-looking shots and transitions.  The acting is first-rate but uneven.  Josh Brolin captures not only George W. Bush's mannerisms but the force of his personality as well.  Buried under a wig and makeup, Thandie Newton is unrecognizable as she takes on a thankless role as Secretary of State Condoleezza Rice.  On the other hand, James Cromwell and Scott Glenn make no attempt to mimic the real George H. W. Bush and Donald Rumsfeld respectively.  Glenn's Rumsfeld is especially disconcerting.  It's hard to connect Glenn, who stands over six feet tall, to the diminutive 5′ 6″/5′ 7″ Rumsfeld familiar to everyone through years of news coverage.
Backed by the work of investigative reporters like Bob Woodward, James Risen, Ron Susskind and Jane Mayer among others², W. does not offer revisionist history like Stone's previous presidential films JFK and Nixon.  Instead, it offers a mostly straightforward depiction of George W. Bush's rise from legacy kid fratboy to the 43rd President of the United States.
The only questionable part of the portrayal is the film's contention that the primary motivation behind Bush's political decisions (be it running for political office or the invasion of Iraq) was to get approval from a cold and aloof father.  More time has to pass and more insight has to be gained before an argument like that can be made.  It's one thing to show information gleaned about closed door meetings from tell-all books, it's quite another to show supposition about what's in a man's mind and heart.  Perspective from the passage of time and insights from biographies have to emerge for the argument to become credible.  Otherwise, it's just speculation.  Still, the "daddy issues" aspects of W. aren't as preposterous as conjecture found in other historical dramas.  Take, for example, Borte going to a Tangut outpost to rescue Temudjin from slavery in MONGOL or Cao Cao going to war in RED CLIFF because he has the hots for Xiao Qiao.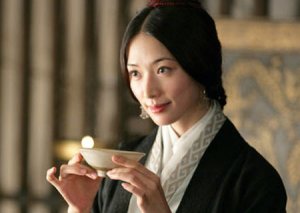 Whether you're for W. or against W. will depend largely on your interest in American politics, if you find the subject fascinating then there's enough in W. to keep you engaged.  If you're thawed towards American politics, this movie isn't going to unthaw you.  You'd probably be better off spending your money on expensive but delicious artisan ice cream made with in-season ingredients.
¹ Sina.com article "蔡卓妍丟行李險淚灑機場 力挺鍾欣桐好萊塢新戲" from October 17th 2008
² Simon Houpt, "Walking in Dubya's shoes" from The Globe and Mail, October 20th 2008
Image credits: Ixtlan Corporation (W. movie poster), Lion Rock Productions (Lin Chi-Ling)