May 25th, 2009
A Happy Memorial Day to all the American readers out there.  I know many people have issues with the military and its political masters but many of us rise and sleep under the blanket of freedom that the veterans and troops have provided.  Sometimes, you just got to put all the grievances aside and say "thank you" then go on your way because, as Colonel Jessop said on the stand, most of us probably can't handle the truth.
BECAUSE I'M NOT ON TWITTER:
- The promo cast pics for BODYGUARDS AND ASSASSINS look cool — especially the ones for Nic Tse and my other cousin Tony.  The only one that looks kind of cheesy, sadly, is Leon Lai as a beggar.  It looks like "Leon Lai is going to a Halloween party as a Rastafarian" more than anything.
- Toss Up: Who looked hotter at the Cannes closing ceremony: Shu Qi or Zhang Ziyi?  Shu Qi.  Hard to resist a girl who shows a little tongue.  It's also hard to like a girl whose lips eschew the simple pleasure of instant noodles.  (See below for relevant links)

- Why I need surgery to remove the foot from my mouth:
"Sanney, I'd like to introduce you to my friend Sabrina."

"Ah, Sabrina, like the teenage witch …"

Think it might have gone better if I had said: "Ah, Sabrina, like the chaffeur's daughter … "

Probably not.
* * * * *
From the comments on News Links: Mother's Day 2009:
glenn writes: Wow, you have a thing for Karena Lam! Or you are more infatuated with her than previously.
No, no, I don't have a thing for Karena Lam. It's just that she's now the boss's wife so proper respect must be paid.
laicheukpan writes: Since when did Karena Lam become Mrs. Kozo? 
Kozo recently told everyone that he went to "Italy" for a "film festival" but, c'mon, look at the picture of Kozo with Nick Cheung.  Was that really taken in Italy?  Or was it taken in the lobby of the Renaissance Kuala Lumpur Hotel where Nick Cheung was the best man at Kozo's wedding to his secret girlfriend of twenty years?  Look outside the window behind Kozo's shoulder, isn't that one of the Petronas Towers in the background?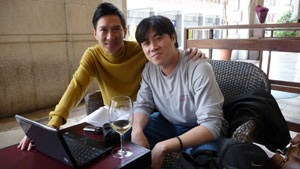 Enough nonsense, let's get to the links …
JOHNNIE TO AND VENGEANCE AT CANNES:
Hollywood Reporter Q&A: Johnnie To
Two Johnnies bid for Cannes glory
Johnnie To leads Asian charge at Cannes
Reviews:
Johnnie To poses with cast members at the VENGEANCE premiere
VENGEANCE star Michelle Ye Enjoys Cannes
MORE CANNES:
Asian directors show realism of gangland violence
Asian cinema gains traction as Hollywood takes a tumble
Ang Lee Partnership Gives Him Broad Film Focus
Taking Woodstock scenes really marijuana inspired
Ang Lee's 10-minute standing ovation
Asia's dark pics make a splash at Cannes
Cannes' red carpet is blood-soaked
Cannes wrap-up:
Sina.com slideshows of Cannes closing ceremony:
More Shu Qi and Zhang Ziyi:
Oops! Be Careful with Your Lipstick, Ziyi!
Chinese media continue to show their love for Zhang Ziyi
INGLORIOUS BASTERDS premiere: Michelle Yeoh, Shu Qi, Zhang Ziyi
IN PRODUCTION:
Decipher Confucius' Alleged Romance
More Production photos:  Sina.com, Oriental Daily News via Xinhua
John Woo: Fox in Chinese production with 'Ransom'
'Sophie's Revenge' nabs buyers (Zhang Ziyi's new romantic comedy)
BODYGUARDS AND ASSASINS:
DETECTIVE DEE promo logo released
Jiang Wen Will "Let the Bullets Fly"
Fortissimo picks up international rights to Yonfan's Prince of Tears
Retired Actress Brigitte Lin Returns to Martial-Arts Film
There's no new news in the article.  Same old speculation based on Yip Chun's rambling.  Nothing official yet.
FEATURES:
Simon Yam: Breaking The Boundaries
Malaysia Star feature on Tony Leung Ka-Fai and I CORRUPT ALL COPS
Variety's Hong Kong Cinema at 100 feature
Vanishing history `robs city of movie magic'
Carina Lau: Nude photos my lowest point
More Carina Lau: Actress Carina Lau ready for motherhood
Surviving a blacklist brought Tsai Chin new found freedom
MOVIE REVIEWS:
HK Magazine reviews NIGHT AND FOG
Taipei Times reviews TRUE WOMAN FOR SALE
GENERAL NEWS:
'Red Cliff' to Hit North America
Did Aaron Kwok accidentally expose himself during a concert?
Maggie Cheung Okay with 'Basterds' Cut
Director Chu: Lin Chi Ling is more than empty vessel
Charlene Choi: $100,000 for screen kiss
Wedding bells for Miriam Yeung?
Air stewardess complains about Zhang Ziyi's arrogance
Apparently, Zhang Ziyi does not eat instant noodles.
Faye Wong's shampoo advertisement exposed
Taipei Times Pop Stop: Jay Chou, Lee-Hom Wang, Stefanie Sun, Faye Wong
Fann Wong marries Christopher Lee
Zhang Yimou's Turandot Fervor a Riddle for Critics
JACKIE CHAN:
Jackie Chan plays the underdog
RELATED: SHINJUKU INCIDENT review
Jackie Chan takes on media "toughies"
Big Brother Jackie in South Korea:
OPINION: Jackie Chan, Gao Zhisheng, and the True Meaning of Bravery
PHOTO GALLERIES:
Maggie Cheung, Simon Yam and Qi Qi, Kathy Chow Man-Kei, others
On May 21st, Louis Vuitton opened their "A Passion for Creation" exhibition at the Hong Kong Museum of Art
Fan Bingbing graces Elle Magazine
Lynn Xiong (aka Aaron Kwok's secret girlfriend, actress who played Ip Man's wife)
"Guest Editor in Chief" Zhou Xun
RELATED: Photos courtesy Sina.com
Takeshi Kaneshiro wants you to buy Sapporo Beer
Vivian Chow promotes Elyze Body Rejuvenation Centres
Big S and Little S pose for P Style Image Studio
Karen Mok sells shampoo in Shanghai
Fan Bingbing, Tian Shin, others promote Forevermark diamonds
AMERICAN MASTERS HOLLYWOOD CHINESE:
A Chinese Legacy in Tinseltown
Asians still waiting for equality in film roles
Image credits: Kozo Entertainment Group (Kozo/Nick Cheung), Agence France-Presse (Shu Qi)