April 30th, 2009
Hi from Udine.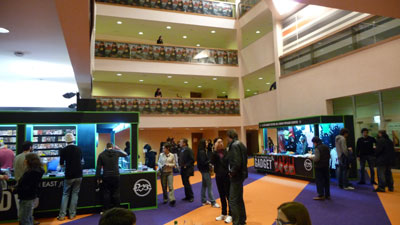 The lobby of Udine's Teatro Nuovo
Nearly through the Far East Film Festival and today was the most important day thus far: laundry day. In an effort to make everyone else's stay here far more pleasurable, I'm washing my clothes. This is proof that I'm always thinking about other people.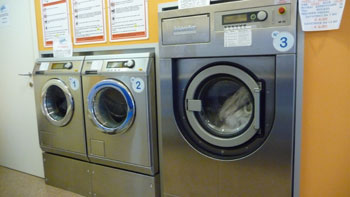 When I did this I could have been watching RULE NUMBER ONE again
The 11th Far East Film Festival is now over half over and unfortunately, the number of new Asian films I've seen thus far is rather low. Some highlights: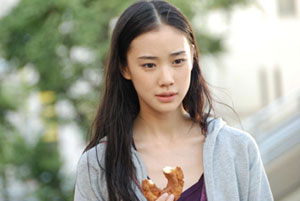 Yu Aoi in ONE MILLION YEN GIRL
The gentle road trip comedy ONE MILLION YEN GIRL is a lovely, if occasionally slow-paced little film starring the wonderful Yu Aoi. I enjoyed it mostly due to Aoi's subtle, emotional performance, and the glimpses of rural Japan locations were nice too. Not essential, but quite enjoyable.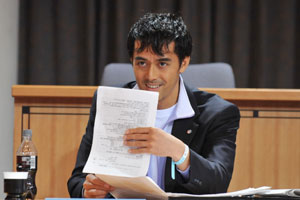 Smarmy Hiroshi Abe in THE TRIUMPHANT GENERAL ROUGE
Also, I've taken the time to see the sequel to last year's GLORIOUS TEAM BATISTA, titled THE TRIUMPHANT GENERAL ROUGE. Starring the same team of Yuko Takeuchi and Hiroshi Abe, it's a film that I'll likely be reviewing sometime on the main website. Featuring the year's best use of lipstick.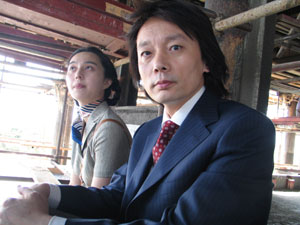 Fan Bing-Bing and a dead animal-wearing Ge You
in DESIRES OF THE HEART
Other than those two, the only new film I've seen is the mainland comedy DESIRES OF THE HEART, another candidate for site review. It stars two of my favorite ugly Chinese actors, Ge You and the awesome Guo Tao. Fan Bing-Bing also makes an appearance, but it's very small and her character image is purposely not pretty. If you're at the cinema only to catch Fan's glamorous looks, I'd suggest another viewing of CONTRACT LOVER.
I also tried to take in Miki Satoshi's new INSTANT SWAMP, but a nap attack at the theater did me in. When I woke, my row was completely empty. That's it for new films. A big fat three plus one aborted attempt. Conversely, the number of repeat viewings has been quite large. For second viewings, I've taken in ONG BAK 2, BEAST STALKER, FISH STORY, K-20 and THE WAY WE ARE. I almost saw DEPARTURES again, but that would have been my third time.
Recent HKFA Best Actor winner Nick Cheung and director Dante Lam showed up for a panel before the evening screening of BEAST STALKER and both were great guests.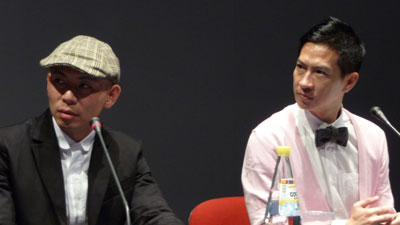 "No questions about fashion, please."
Thus far, the main portion of my time here has been spent viewing Ann Hui's terrific television work from the seventies, which was produced for TVB, RTHK, and the ICAC. I took in about ten episodes total - with the minor jet lag-induced dozing reducing it to probably eight and a half - and while quality varied, it was all certainly educational.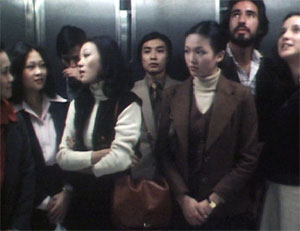 Carol Cheng and Damian Lau from Ann Hui's ICAC television work
Curated by good friend and FEFF Hong Kong consultant Tim Youngs, the selection of television work demonstrates Ann Hui's skill with and respect for characters and local Hong Kong issues, and were smart and very entertaining. These are great for anyone who likes Hong Kong for more than its genre works, and are daring for their made-for-television status. The ICAC films, made as essentially PSAs for the Independent Commission Against Corruption, are particularly fun, mixing true-life tales and education with some surprising characterization and a complex look at real issues and events.
Ann Hui also showed up for a panel. Here she is alongside Hong Kong Cinema historian and jack-of-all-trades Law Kar, plus Tim Youngs: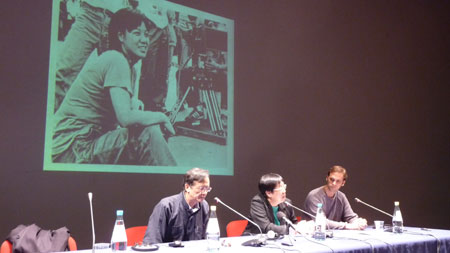 (left to right) Law Kar, Ann Hui and Tim Youngs
The ICAC episodes are also varied enough to be great fun - one episode intercuts a construction bribery case with Damian Lau's relationship woes, and even features a great TJ Hooker moment where an ICAC officer rides on a car hood. Another episode features a young Dodo Cheng as a new ICAC recruit who questions her job, noting its grey-shaded decision-making and how her new position alienates her from friends and acquaintances.
Another photo of Ann Hui from the panel: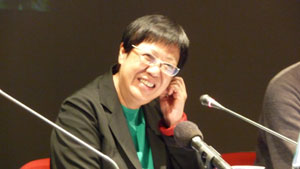 The Ann Hui television work screened in the smaller Visionario, which has much more comfortable seats than the opulent Teatro Nuovo. Anpanman likes the Visionario too.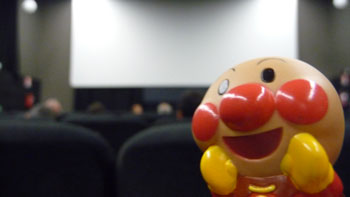 Anpanman is a big fan of Ann Hui
The ICAC films can be screened at the ICAC's website, but not with English subtitles. That I was able to see what I did was invaluable.
Coming up are a few more films. Perhaps the Korean films CRUSH AND BLUSH, THE ACCIDENTAL GANGSTER, and The SCANDAL MAKERS, capped off by a big-screen viewing of THE GOOD, THE BAD, THE WEIRD. Director Kim Jee-Woon is in attendance.
For China, I may take in Cao Baoping's 2006 work THE TROUBLE MAKERS. Japan offers Sion Sono's LOVE EXPOSURE and Takashi Miike's YATTERMAN. For Thailand, I'd like to check out the basketball-death match hybrid FIREBALL and perhaps the comedy-drama THE BEST OF TIMES.
Beyond that, I will likely just be relaxing here. Being here also affords me the time to step back and take a look at my shortcomings with what I do, e.g. my lack of knowledge on certain key portions of Asian Cinema, or simply my increased laziness towards LoveHKFilm.com. Being in Udine reminds me that I have A LOT of work to do if I want to continue with this whole online Asian film thing.
Alternately, I can just take it easy and put on some pounds: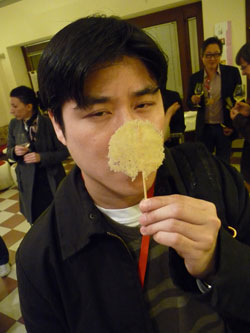 Mmmmm…fried cheese.
Pictures time! I did not visit Venice this year, so there are no shots of Yotsuba wandering the canals and meeting stray dogs. I've been stuck in screenings and at dinners, but luckily I have Anpanman to keep me company.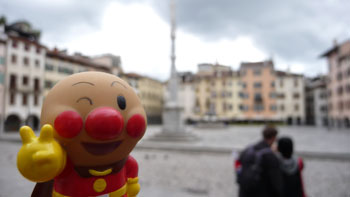 Anpanman does his Jackie Chan impression.
As is usual, food is a big deal here. Other than fried cheese, the local gelato is a key attraction. Anpanman helped me sample various flavors.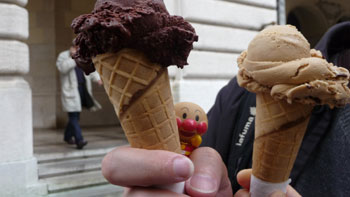 The "Pocket Coffee" flavor was quite good.
My impression of the local gelato selection: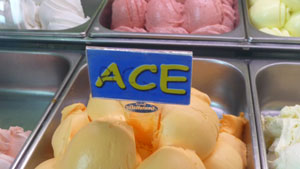 This is a flavor and not an adjective.
In this photo, Anpanman poses with a potato appetizer that looks like a stone: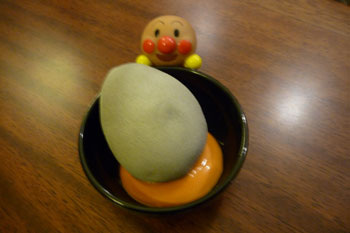 It comes with cheese sauce.
Finally, the requisite photo with a celebrity: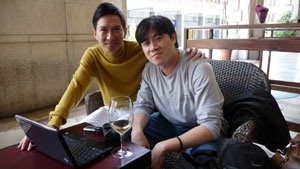 Nick Cheung and me

Not to be outdone, Anpanman takes a photo with a celebrity too: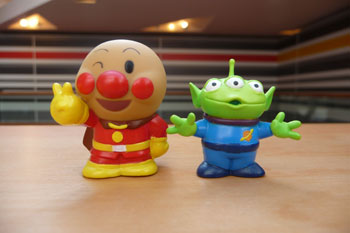 Anpanman poses with a Pixar supporting actor.
Visiting the Far East Film Festival is something I'd recommend to anyone. The audiences and Teatro Nuovo viewing experience are among the best I've seen, and the enthusiasm and love for Asian Cinema felt here are infectious. It's all a nice change from the usual cynicism that I get when attending cinemas in Hong Kong. Being here these past two years has been an exceptional privilege.
One final photo: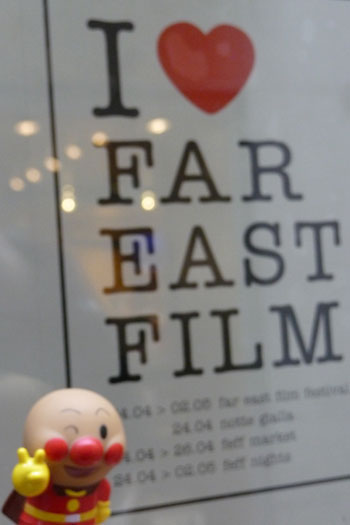 Hopefully, we'll both be back next year.