July 3rd, 2009
So last Wednesday I was walking down the street in Tsimshatsui and I happened upon this scene: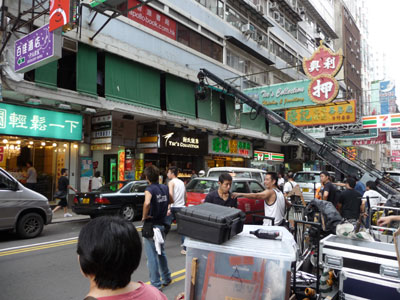 There's always a crowd in front of 7-11
Hey, they were shooting a film! I was genuinely surprised and hung around to snap some photos. Hanging out near the film set resulted in me being 75 minutes late for a date with a girl, but she understood. Unfortunately, I have been unable to confirm her understanding because she won't return my phone calls.
I'm sure Nick Cheung would have done the same thing: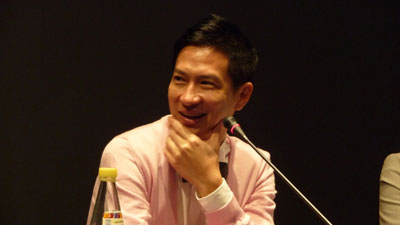 "I totally make women wait!
They are powerless to resist my debonair charm."
Actually, I'm lying. I was tipped off that Dante Lam (BEAST STALKER) was shooting his new film on that particular Wednesday in Tsimshatsui, and I took a late afternoon sabbatical to check out the set. Sad to say, I've been in Hong Kong over four years and I've never actually attended a Hong Kong film shoot. Now I can check this accomplishment off my list and move onto my next one: actually appearing in a Hong Kong film. I'm hoping when I accomplish this it'll involve squibs and Karena Lam.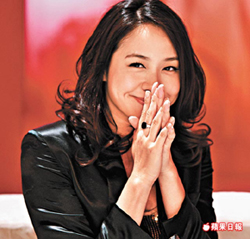 "Stop! You're embarrassing me!"
Going by the (probably tentative) Chinese title 《火龍》, translated as "Fire Dragon", this new film marks the latest from Dante Lam, who seems to be attempting a single-handed takeover of Hong Kong Cinemas since his BEAST STALKER success. Besides 《火龍》,  Lam has a number of projects lined up, including BEAST STALKER 2, reuniting Lam with Nick Cheung - which probably means we're talking a sequel in name only. Nicholas Tse may be in the project too, but only if he tones down his overacting.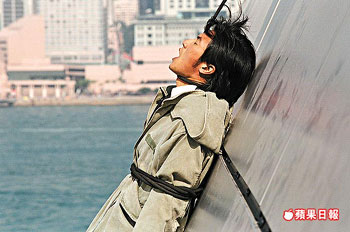 "I won't overact this time, I promise! Jackie, save me!"
Lam is also slated to direct a new take on THE FLYING GUILLOTINE for producer Peter Chan Ho-Sun, plus there's his "Best Actor" project, which is to star Nick Cheung, Francis Ng, Anthony Wong and Lau Ching-Wan. Recently, it was also floated that Lam will direct a sequel to DRAGON TIGER GATE. Obviously, Dante Lam intends on being busy through 2013. I hope he takes a break to eat.
Here's Dante Lam hard at work on the set: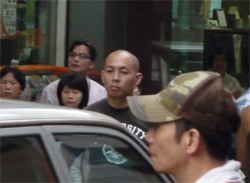 "Between takes, I drink Slurpees."
The first actor I spotted that day was a perm-sporting Richie Jen (or Richie Ren, depending on what movie's credits you're copying from). Richie emerged from the next door cha chaan teng (local cafe) and proceeded to shoot the scene, which involved he and a bunch of other actors escorting a criminal into an unmarked cop car.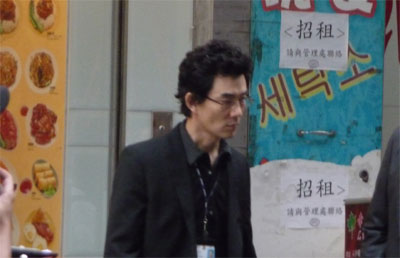 "I work this hairstyle."
It took about two takes before I realized who was walking behind Richie: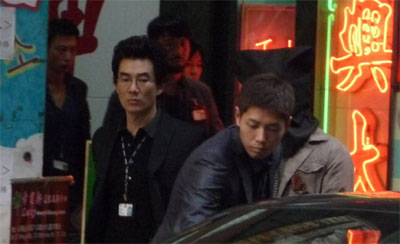 The evil presence behind Richie Jen once dated Shu Qi.
Behind Richie is his co-star Leon Lai, sporting his infamous (at least to local Hong Kong media) fake facial hair. While I can't say the beard looks convincing, Leon does look very in character as a rumpled cop.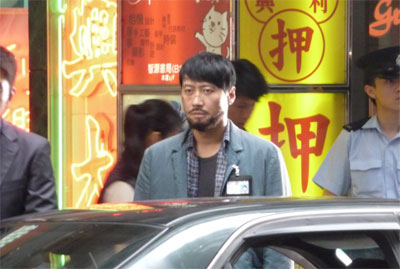 "Catch bad guys first. Shower later."
Facial hair and a lack of grooming seems to be Leon's new thing. Check out his look in this December's BODYGUARDS AND ASSASSINS: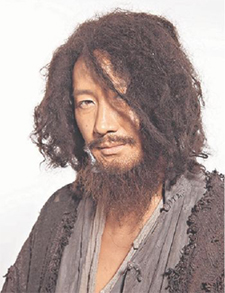 "Catch bad guys. Don't shower, period."
I think he's playing Jesus.
Also present for filming that day were Michelle Ye, who was sporting a new shorter haircut; singer Wilfred Lau, perhaps best known as fiery young triad guy in LADY COP AND PAPA CROOK; and the always awesome Liu Kai-Chi, who once upon a time won a LoveHKFilm Award for Best Overacting.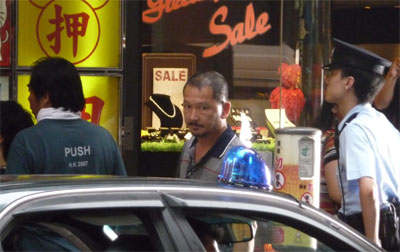 Liu Kai-Chi doesn't overact. He just improves movies.
Like all movie sets, the atmosphere was electric for all of five minutes before it became one long waiting game, with repeated take after take of guys getting into cars and driving off. Occasionally a big truck would drive through the set and they'd have to reposition the camera all over again. Frankly, I'm simply amazed that filmmakers can do what they do - that is, take the days, weeks or months of tedium and turn them into something that actually works as a motion picture. It's times like these that I feel guilty for panning films.
Then I think about GIVE LOVE and my guilt just disappears.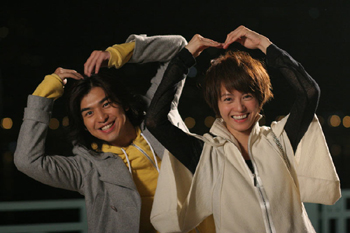 This photo screams quality filmmaking.
That's pretty much it for my personal set visit to 《火龍》. After a good hour hanging around on the street, I stopped into a cafe, had some roast pork and iced milk tea, sat around with Dante Lam and Michelle Ye, exchanged some words with Richie Jen, and shook Leon Lai's hand. Twice. He also said sorry to me for not saying "Hi" earlier, because I was busy cutting up some french toast. Really, this is all true and totally makes sense.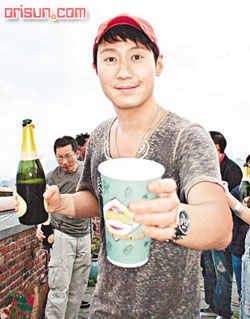 "Want some champagne with that french toast?"
Yep, just another Wednesday in Hong Kong. I can sum up my experience in one word: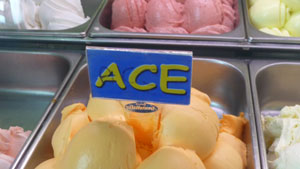 They make a gelato flavor for everything
Photo credits: Apple Daily, Orisun.com, Mei Ah Entertainment and the official LoveHKFilm Digital Camera.