Monday, October 24th, 2011
Had tickets to two films at the Hong Kong Asian Film Festival today, but I decided to push back THE RAID to watch the 10th anniversary digital remastered version of Pang Ho-Cheung's YOU SHOOT I SHOOT instead. So, this is the only film watched on Day 6:
Himizu (2011, Japan, Dir: Sion Sono)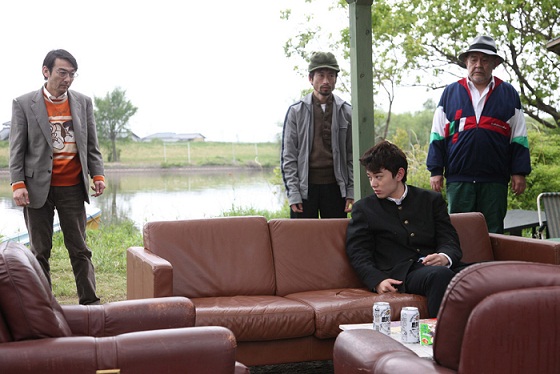 In the middle of the screening, I had to take a bathroom break and missed about 5 minutes of the film. However, I'm actually thankful that I had to take the break, because watching the film in one sitting is an extremely draining experience. From the extreme displays of emotions to the bombastic sound design, Sion Sono takes everything to the extreme in this drama about two tortured youths in post-earthquake Japan. At 129 minutes, HIMIZU is never boring, and it's often compelling. However, it also feels like it's about three hours long.
With that said, you'll either be totally immersed into Sono's storytelling style or feel completely alienated. I was the former, absorbed from the very first shot of the film, which shows lone figures wandering in the midst of the destruction caused by the earthquake and tsunami that destroyed a good part of northeastern Japan in March 2011. Many will be disturbed by the amount of smacking the lead actors take throughout the film, and you will have to be in tune with Sono's very dark sense of humor to ride along with it as well. Those who do will be rewarded by this bleak, but engaging coming-of-age tale.
It'll be interesting to see how Japanese audiences respond to the film come January, as it deals directly with how Japanese people are coming to grips (or not) with the devastating disasters. Some will be disgusted by how Sono portrays Japanese society, and some may admire him for the absurd, over-the-top social critique. Either way, it shows that just because Sion Sono is adapting existing work for the first time, he hasn't lost his edge as a rebel working in the Japanese film industry. A brave piece of work, but I wouldn't blame you if you have to wait for video.
Skipping two days due to a detour to the China Film Panorama and a night of rest. But next time: A tattooed assassin and a Taiwanese gymnast.