Friday, December 12th, 2008
- Thanks to the extra IMAX gross and opening on 76 screens, the sci-fi film The Day the Earth Stood Still dominated opening day box office in Hong Kong. It made HK$2.11 million, which puts it as probably the biggest opening day Hong Kong has had in since The Dark Knight (I forgot how big the opening for The Mummy 3 because I didn't blog at the time). It should have no problem making HK$10 million by the weekend's over.
Sadly, its domination also meant the other films losing screens and audience. Four Christmases could only open at 3rd place with HK$107,000 from 28 screens, though Reese Witherspoon and Vince Vaughn are not exactly big box office draws here. Even worse off is Tsui Hark's All About Women (half a good film, totally overlong). From a modest 19 screens, the comedy made only HK$60,300, which is even lower than Missing's opening from earlier in the year. Now it'll have to rely on the Mandarin speaking terroritories to make its money back, although that was probably the plan all along. That's all for the opening films, more on Monday when the numbers are out.
-Thanks to their three album releases this year - two of them compilations - Exile is the best-selling Japanese artist of the year, with 5.2 million copies of their releases sold. Arashi, however, also took the spotlight by having three singles in the top 10, while the biggest surprise is the game show-based "baka trio" Shuchishin having the 5th best-selling single in Japan this year.
- I was wrong about Thelma Aoyama and Soulja's Soba Ni Iru Ne as the best-selling single (although it was at 7th place). Instead, it was the most downloaded song for cell phones in 2008. Mind you, that's only the legal downloads.
- It's trailers time! Two new discoveries on Youtube. First it's the trailer for Andrew Lau's Look For a Star, starring Andy Lau (welcome back to modern films), Shu Qi, and Denise "HOCC" Ho. It looks pretty, and it'll probably open during Lunar New Year in Hong Kong.
Next is the second teaser for Casshern director Kazuaki Kiriya's Goemon, which finally has actual footage from the film, and looks like a period version of Casshern. But it looks pretty as well.
Also, many of you probably caught this already: The full Japanese trailer for Dragonball Evolution. No, it's not looking any better.
- The big thing at this year's CineAsia convention in India is digital projection, which is looking to be the next big thing especially with China's efforts to push that along with 3D films. On the other hand, 3D cinema only received a mixed reception, since Journey to the Center of the Earth seems to be the only true success story of the format in Asia so far (not sure if those 3-d animated films were successful because of the 3d or they were going to be successful regardless of the dimensions).
- I'm a few days behind, but in case you haven't heard, the comic-style Japanese comedy TV drama Nodame Cantabile is going to the big screen. Twice. The show was fun and all, but does it still need two feature films after a 5-hour TV special and a 11-episode drama?
Tokyograph article 1
Tokyograph article 2
Screen Daily article
Lastly, reader YTSL requested this, so here ya go: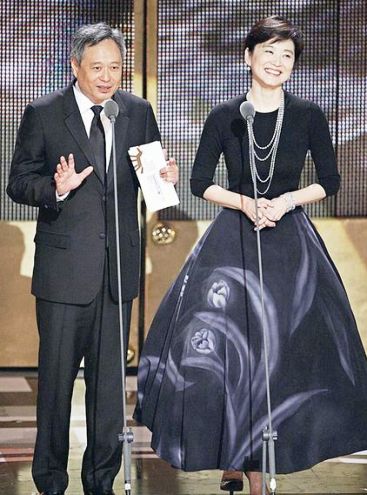 Ang Lee and Brigette Lin at this year's Golden Horse Awards. You don't need me to tell you who's who.
That's it for today. See you later in the weekend.