Thursday, September 1st, 2011
Back at the Chinese box office. Not many surprises, but still worth looking at:
- Last week, OVERHEARD 2 failed to beat the SMURFS in the 7-day chart (it opened on a Thursday), but now it gets its revenge as it held strong in the second week and overtook those pesky blue creatures on the chart. After 11 days, the white-collar crime thriller has already made 161 million yuan. With 82 million yuan made over its first full week, it looks it will break through the 200 million mark, and it's probably aiming straight at beating SHAOLIN's 212 million yuan gross to become the second highest-grossing Chinese-language film of the year, if not the 250 million mark.
Excluding ensemble guest star roles in films like BEGINNING OF THE GREAT REVIVAL, OVERHEARD 2 will also likely be the highest-grossing film for all three stars in Mainland China - Louis Koo (beating ALL'S WELL ENDS WELL 2011's 167 million), Daniel Wu (beating HOT SUMMER DAYS' 131 million yuan), and Lau Ching Wan (beating, well, OVERHEARD 1). This is excellent news for Polybona, who served as sole distributor of the film and now has the biggest hit of the company's history. This is also another victory for producer Derek Yee, who has been adjusting his crime film formula for the Mainland as director/producer since PROTEGE, to increasingly higher box office gross on each outing. Guess who lost? Those who had to sit through TRIPLE TAP.
OVERHEARD 2 has also done extremely well in Hong Kong, passing the HK$15 million mark in two weekends, and it should have no problem hitting the HK$20 million mark.
However, one should look closer at OVERHEARD 2's numbers in China. Even in its opening weekend, the film averaged only about 45 admissions per show from a total of 50000+ showings. In its first full week, it only scored an average of 33 admissions per show. This suggests that the only reason OVERHEARD 2 is doing so well is that it's taking up all the screens, which is in turn caused by a lack of major competition for male audiences after MY KINGDOM moved out of the way to September 9th. With the weibo buzz on SOURCE CODE pointing to it having a chance at scoring moderate numbers this coming weekend, we'll see how OVERHEARD 2 does in its second full week.  Either way, it won't have any major competition for another week, so that 200 million mark won't be so hard to reach.
I had to add a disclaimer that OVERHEARD 2 had no major competition for male audiences because CARS 2 was actually supposed to be its major competition this past weekend. However, the Disney 3D film made only 42.95 million yuan over 5 days (WITH 3D premium prices) for a 27.37 admissions per show average. This is very much a flop-like gross for a Pixar film in China.
Speaking of flops, congratulations to the production company of Wong Jing's TREASURE HUNT, who probably still hasn't been able to cover Cecilia Cheung and probably Ronald Cheng's salaries with its 10-day gross of 18.25 million yuan (remember, half goes to the cinemas). PERFECT BABY, starring Deng Chao, Jane March (Yes, THAT Jane March), and some cute French baby, made a nice, round 10 million yuan over its first 4 days, which is not bad until you see its average admissions per show: 17.95.
Holdovers: SMURFS now at 225.1 million yuan after 19 days, HARRY POTTER 7.2 now at 396 million yuan after 25 days,and TRANSFORMERS 3 now at 1.08 billion yuan.
Oh, remember those "excellent, recommended films" dictated by the SARFT? YANG SHAN ZHOU has now grossed a total of 65.55 million yuan (that's higher than Andy Lau's WHAT WOMEN WANT), while WENTIAN is now at 55.1 million yuan. Sorry, POTTER, SMURFS, TRANSFORMERS, and probably even OVERHEARD 2.
Trailer park time:
- Today we have three new trailers: First up, it's the latest 1-minute trailer for Gordon Chan's fantasy romance MURAL (to open in China for National Day, but no HK release date planned), the 5-minute trailer for SEEDIQ BALE, and a trailer for the "Main Melody Film" 72 HEROES, starring Eric Tsang, Alan Tam, Tse Kwan Ho, and Liu Kai Chi. I know.  72 HEROES opens in China in mid-September. Don't even try and shove that stuff down here to Hong Kong, kthx.
- Speaking of SEEDIQ BALE, actress Chie Tanaka revealed that her role in teh film is actually quite small. More importantly, she revealed that SPEED ANGEL, which she co-stars in with Rene Liu, Tang Wei, and Cecilia Cheung, will be released in December.
- And speaking of Japanese cinema, the Montreal World Film Film Festival has once again given two major prizes to Japanese films - Masato Harada's CHRONICLE OF MY MOTHER for Grand Prix and Takahisa Zeze's LIFE BACK THEN for the "Innovation Prize". This is such an important award because the winners at the Montreal World Film Festival usually return to Japan and gain major critical acclaim. DEPARTURES was one of those films.
- Then, we move our focus to Korean cinema. CHRISTMAS IN AUGUST director Hur Jin-Ho is in currently prepping for the China-invested remake of DANGEROUS LIAISONS, and now there's word that Korean superstar Jang Dong Gun is in talks to join the cast. Nothing's set in stone yet, but this might signal at a pretty major Panasian cast for Hur's film.
And on a short version of I read Weibo so you don't have to:
- Vicki Zhao wrote on her Weibo that the shoot for PAINTED SKIN 2 has finished, and she posted this picture: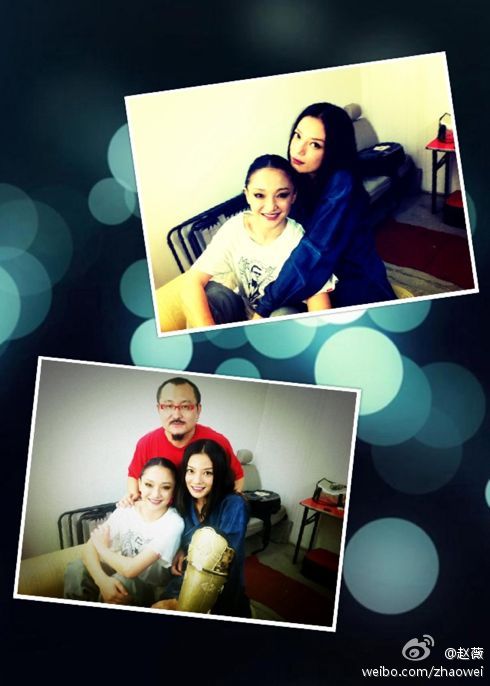 ]
This is obviously supposed to be an attempt to disprove reports that Zhao and co-star Zhou Xun have been feuding on set, especially the Apple Daily story about the two throwing chairs on the set at one point. I know at least one guy who isn't convinced by these pictures and think that they need to be more intimate to make their point clear. I am not that person.
Next time: Chinese/Hong Kong directors speak out, and more news!
I put sources down here so you'd know I didn't invent my own news: