Sunday, August 7th, 2011
Today is what is known as Chinese Valentine's Day. So what better way to spend the night than to write a blog entry?
Like many other places in the world, summer is when Hollywood shines in Hong Kong cinemas. With films like TRANSFORMERS and HARRY POTTER dominating literally more than half of the city's multiplex screens, it's hard to imagine any big local/Chinese-language films having the guts to compete.
However, there have always been a few tentpoles that is able to attract audiences over the years - INITIAL D, STORM RIDERS, INVISIBLE TARGET, and RED CLIFF. Even in 2010, we saw a good share of Chinese-language (co-production) blockbusters (regardless of their quality) like STOOL PIGEON, TRIPLE TAP, CITY UNDER SIEGE, AFTERSHOCK. Even BREAK-UP CLUB made a nice chunk of change for a film in its genre.
And now, here we are in 2011. Between June 1 and September 1, Hong Kong cinemas only have these Chinese-language films getting wide releases: MICROSEX OFFICE, TREASURE INN, BEGINNING OF THE GREAT REVIVAL, BEACH SPIKE, LOVE IS THE ONLY ANSWER, WU XIA, FORTUNE BUDDIES, OVERHEARD 2, SUMMER LOVE, and THE WOMAN KNIGHT OF MIRROR LAKE. By this week last year, AFTERSHOCK and BREAK-UP CLUB already managed to break the HK$10 million mark at the box office.
On the other hand, from June 1 to August 6, 2011, none of the Chinese-language films listed above managed to reach that mark yet. Even WU XIA, the most likely candidate, will likely only gross HK$8 million when its theatrical run is over.
So, what the hell happened? Not to undermine GREAT REVIVAL and TREASURE INN, but there has been a clear lack of tentpole this year here in Hong Kong, with audiences all flocking to Hollywood films for their fix of spectacle, dimmed 3D projection, and pretty foreigners. Instead, we get low-budget Hong Kong productions made for audiences under the age of 25. While we saw LA COMEDIE HUMANIE do moderately well last year, the only adult-skewing comedy Hong Kong has to offer this summer is MICROSEX OFFICE.
It's China's fault.
Opening mid-June, BEGINNING OF GREAT REVIVAL essentially cleared the path for most Chinese blockbusters in Chinese cinemas, including Hong Kong-China co-productions. Granted, Lunar New Year and December are actually Chinese cinema industries' strongest periods, but at least we got Benny Chan's big-budget mutant movie and Derek Yee's "I'm selling out to China" action films in 2010.
Instead, China opened smaller, local-oriented productions like LOVE FINALLY, THE DEVIL INSIDE ME, PRETENDING LOVERS, and MYSTERIOUS ISLAND, with WU XIA being the big tentpole in July. There was also the big-budget, China-oriented fantasy REST ON YOUR SHOULDER, which flopped due to it being distributed with little promotion and it sucking.
Instead, MYSTERIOUS ISLAND scored big, making 80 million yuan all thanks to young audiences not interested in WU XIA and a young starlet named Mini Yang. Even the PRETENDING LOVERS made a decent amount of change at 31 million yuan, which is not bad for a film starring Huang Bo and a director who got so fired that he was literally just credited as the "pre-production director".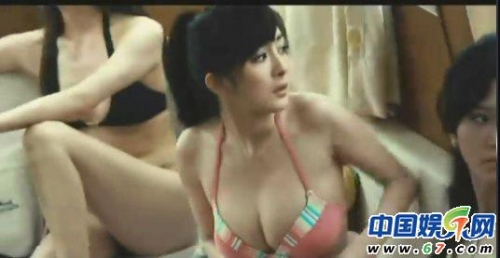 Yes, this immense talent(s) put more asses in Chinese cinema seats than Jordan Chan and Hiro Hayama combined. Really.
However, what appeal do films like MYSTERIOUS ISLAND, PRETENDING LOVERS, and REST ON YOUR SHOULDERS have for us Hong Kongers? None - as PRETENDING and REST have yet to have any Hong Kong release date, while MYSTERIOUS ISLAND only got a small, seven-screen release (Mei Ah probably wasn't even interested in booking more cinemas than seven). As a result, cinemas needed low-budget comedies like SUMMER OF LOVE, BEACH SPIKE, LOVE IS THE ONLY ANSWER, and MICROSEX OFFICE to fill the gap. I suspect that the combined budget for these films don't even pay Donnie Yen's salary on WU XIA.
It's Hong Kong's fault. 
As mentioned earlier, Barbara Wong's BREAK UP CLUB was the surprise hit in summer 2010, and even MARRIAGE WITH A LIAR managed to turn a profit in  Christmas 2010. What's a film investor to do but to invest in films that attract vapid, young consumers who have to leave the house, but need an air-conditioned venue to pass the time? That's where BEACH SPIKE, LOVE IS THE ONLY ANSWER, and even SUMMER LOVE (which ironically opens 6 days before the school year starts) all come in.
However, what the producers didn't anticipate was that many films avoided the double-whammy of TRANSFORMERS and HARRY POTTER, allowing the two to take up so many screens that it could fit in all the audiences that wanted to flock to them. Also, producers didn't realize that the demographic they were trying to appeal to was also the most likely demographic that would download these low-budget films on their computer/iphones/MP4 players because, well, they look like they deserve to be played on those platforms. In fact, these films were made at such a low budget that LOVE IS THE ONLY ANSWER is already considered successful at its currently HK$5 million gross.
While people like to blame China and its money for the lack of Hong Kong-oriented productions worth watching, it was also Hong Kong audiences who marginalized themselves with their viewing behaviors and tendency to turn to the cheapest way to get anything. When BODYGUARDS AND ASSASSINS made 320 million yuan in China, it only made HK$15 million in Hong Kong. When OVERHEARD made 86 million yuan in China, it also made just HK$15 million. Where were Hong Kong audiences for films like ISABELLA, WRITTEN BY, GALLANTS, ONCE A GANGSTERS, and ACCIDENT? When Chinese audiences became so much more receptive to films by Hong Kong filmmakers than audiences of their own home, can you blame these Hong Kong filmmakers for having to look up north? Hong Kong filmmakers are trying to make a living, too, and they will go where they can survive, because seriously, when will Andrew Lau and Gordon Chan ever make a film for its artistic merits?
Before you get ashamed of having Patrick Kong using labels like "support Hong Kong cinema" as a selling point for his next crappy idol-driven romantic comedy, ask yourself, what have you done to prevent that from happening by supporting the good films that ought to be representing Hong Kong cinema?
It's Hollywood's fault. 
Comic-book heroes, magical wizards, and fightin' robots are all that we've seen here in Hong Kong this summer, and it's not only because the audiences asked for them - it's because the distributors demanded it. Distributors of major Hollywood blockbusters here in Hong Kong, knowing their clout over multiplexes, reportedly force cinema chains to follow terms like not cutting shows in the first week and demanding them to carry 3D versions in order to cash in on the higher ticket prices. Instead of lowering the number of 3D screens for a more balanced ratio between 2D and 3D versions, these films simply took up even more screens to fit in limited showings of 2D versions.
In fact, the reason that WU XIA had to open three weeks late in Hong Kong was because it simply wouldn't be able to withstand TRANFORMERS and HARRY POTTER, and We Pictures felt it needed a two-week gap to even make a dent. That's how afraid we are these days.
No matter whose fault it is, I think it's pretty accurate to say that Hong Kong cinema in the summer of 2011 has sucked. It's a vicious cycle - you make movies that no one wants to see, then no money comes back to you. You have no money to make the next movie, so you go to another place that'll have money for you. Perhaps this may also shed some light on why the blog has such a heavy China focus now - While Apple Daily puts up daily reports of scandals from Miss Hong Kong, Chinese reporters are busy going to one press conference after another, actually reporting news about THE FILMS. Regardless of how many shady practices are going on behind the scenes of those press conferences, at least people are actually informing people about the movies, not the gossip.
Of course, there's also the idea of scheduling to deal with, but that'll be a focus story some other time.
- Speaking of press conferences, CRAZY RACER/STONE director Ning Hao has finally unveiled his latest film to the press. His most expensive film to date at 50 million yuan, HUANG JIN DA JIE AN is another heist film, this time taking place in 1930s Manchuria. That means expect double-crosses, nice period set designs, and of course, evil Japanese people. While the cast is mostly new actors with little experience, Huang Bo also will have a small role in the film.
As for NO MAN'S LAND, his desert heist film that is still stuck in distribution limbo, Ning Hao only said that production on the film has finished a long time ago, and that the production company is responsible for its distribution. This is why he felt he was free to move on to another film.
Meanwhile, insiders tell me that those who saw it said NO MAN'S ZONE is great, but it's likely that it'll be stuck in censorship limbo for a while.
- Here in Hong Kong, director Herman Yau also unveiled his latest film, produced by prolific local producer Ng Kin Hung (GIRL$, HI, FIDELITY). It's a romantic comedy starring Chapman To, Elanne Kwong, and Tien Niu. Chapman and Elanne will be playing husband and wife, so you already know it's a comedy. The film just began shooting, and knowing Yau's efficiency, it's probably in the editing room already.
Seriously, though, it'll probably be out by the end of the year.
- Both Zhang Hanyu and John Woo's representative have pretty much confirmed that John Woo will be shooting a film based on the sinking of the Taiping instead of FLYING TIGERS at the end of the year. In addition to Zhang, Korean actress Song Hye-Kyo will be co-starring as Zhang's wife. With a real-life ship sinking and a love triangle as its core, it's no surprise that this is being dubbed as the "Chinese TITANIC".
- In more production news, I reported earlier about Chen Kaige's next neorealism project will start shooting in September. More details have emerged, revealing that it'll be a drama about internet bullying that's based on an internet novel. The film will be shot while sets are being built for his big-budget fantasy project, and insiders say that the small-scale film will star Ge You and Yao Chen.
- I also reported earlier that director Wang Quan'An's latest will not be making it to Toronto and Venice. At a retrospective of his films in Beijing, Wang revealed that he has completed editing a rough cut of his latest film WHITE DEER PLAIN. Initially five hours long, Wang managed to cut another hour out of the film after his honeymoon with wife/the film's star Kitty Zhang, and the current four-hour cut is being submitted to censors. After it's approved, Wang will likely take another crack at cutting it to a manageable length. The film will be released in October at the earliest.
Meanwhile, Wang's award-winning APART TOGETHER still hasn't been distributed in China in cinemas nor video (though it was screened at the retrospective). What's the hold up??!!
- Those who still care about box office: HARRY POTTER 7.2 finally opened in China, and unofficial figures put it at a 48 million yuan opening day. That means it'll beat 7.1's first weekend gross of 81 million yuan in two days. It won't beat TRANSFORMERS at this rate, but it'll probably make around 400 million yuan, which means it will also beat BEGINNING OF THE GREAT REVIVAL at the box office. Meanwhile, a Weibo insider also noticed a huge surge in the box office for YANG SHAN ZHOU (one of the propaganda films) on the day of HARRY POTTER's opening. Make what you will out of that on your own.
- The head of Xiangtan City's Bureau of Radio, Film, and Television in Hunan Province wants to make a big-budget outdoor production of a Mao Zedong biopic, and he wants some western production values for his play. To achieve his goal, he took to his Weibo (he has a verified account), and literally wrote this:
"Can anyone help provide the contact information for Canadian director James Cameron? His films TITANIC and AVATAR set new records at the box office records. The recently-established Shaoshan Red Culture Tourism Group is currently looking for collaborators to produce a big-budget outdoor production of ZHONG GUO CHU LE GE MAO ZEDONG (Literally "China Made a Mao Zedong"), and I want to hire him as a creative consultant. Please provide, please repost. Thanks!"
Within a day, the message was reposted 37,000 times, with 15,000 comments, most of those ridiculing the poor government official of trying to be funny.  Finally, a netizen posted a phone number for what he claims to be James Cameron's production company.  However, Lightstorm Entertainment said they haven't heard anything about this possible collaboration.
In case you don't know, Xiangtan is the hometown of several Chinese Communist Party founders, including Mao himself.
Next time: THE HORROR, oh, THE HORROR in China, and more.
Sources: