Tuesday, April 15th, 2008
Welcome to an extended Tuesday edition of The Golden Rock. By extended, I mean it's taking me 2 days to compile and write this entry.
- In Hong Kong weekend box office (the link you click on will probably have been updated for Monday box office already, though), Daniel Lee's Three Kingdoms is at the top again with HK$924,000 from 40 screens on Sunday for a 11-day total of HK$13.99 million. That not only means that the film didn't lose much of its business from last weekend, but also Daniel Lee can now make more crappy and overdubbed historical epics. Sylvia Chang's Run Papa Run saw a pretty big boost in business over the weekend, making HK$813,000 from 30 screens for a weekend total of HK$2.65 million. The Pang Brother-produced (one of them) horror flick scare 2 die hangs in there with HK$91,000 on 14 screens that are probably not playing it 5 shows a day.
As for foreign flicks, John Rambo made HK$526,000 from 28 screens for a 4-day weekend total of HK$1.74 million. Step Up 2 the Streets is a real sleeper hit with another HK$482,000 from 27 screens on Sunday and a 11-day total of HK$6.07 million. British comedy Run Fat Boy Run couldn't go far with only HK$99,000 from 10 screens for a 4-day total of HK$350,000. Small Irish film Once is still doing OK with HK$52,000 from 4 screens for a 11-day total of HK$460,000.
- In Japanese box office attendance figures, a Masked Rider movie made its way to the top (which I'm sure is something that can only happen in Japan….on a quiet weekend), while Cloverfield drops by one place along with Enchanted. Meanwhile, Curse of the Golden Flower managed to open in the top 10, even though it's opening a year and 4 months later than everywhere else in the world. I guess the appeal of Jay Chou didn't reach Japan. More when the numbers are out.
- Since only very few Spring dramas have premiered in Japan, we'll get to the drama ratings report next week.
- I first read it up on the Hong Kong Film blog, and it was also reported as the entertainment headline on Apple Daily: Johnnie To's English-language film debut, the remake of the French film Le Cercle Rouge, is a go to start shooting in June. It will be starring Liam Neeson, Orlando Bloom, and Chow Yun-Fat. However, To confirmed that he has only signed Orlando with the other two's deals in the works. The film will be shot in Macau and Hong Kong with a budget of USD$40 million dollars. Now you may scream in excitement.
- A Filipino film about the Manila squatter slum has picked up multiple prizes at the Singapore International Film Festival, including Best Asian film. Last week, it was reported that four films at the festival were banned for their possibly undesirable content.
- Despite calls from both a major figure and the shrine in question asking for their footages to be deleted, Yasukuni distributor Argo is refusing to make the cuts and is now consulting with lawyers about said requests. Fight the good fight, y'all.
- Here's something that I don't think a lot of people ask for, but will probably get anyway: Japanese consumers can now spend about US$4,500 on a 3D TV……to watch one hour of 3D programming currently being broadcast everyday. In the future, Kimura Takuya's hair will fly towards you during those Gatsby commercials.
- Speaking of celebrity advertising, learn English at ECC, or Takeshi Kitano will come and stick chopsticks up your nose. Why not ECC, indeed.
- How's this for an unlike pairing? Bad girl Anna Tsuchiya will be providing her vocal talents to the new Anpanman movie.
Anna Tsuchiya: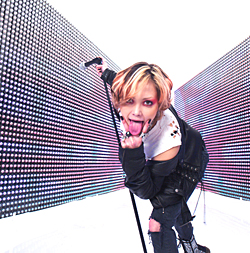 Anpanman: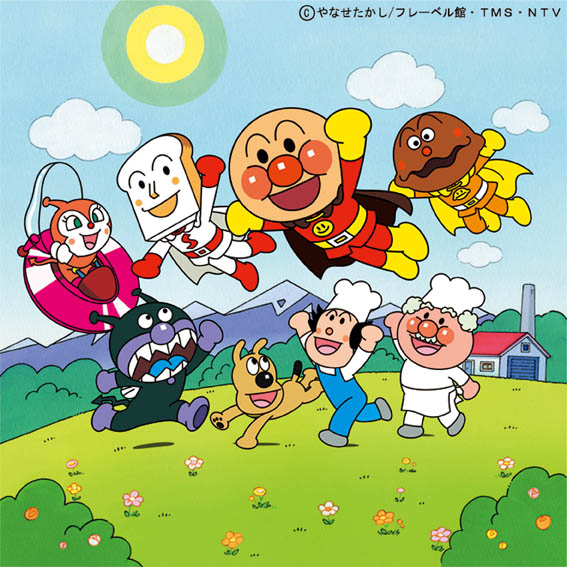 Who wants to take bets which one Anna is doing?
- Cine Quanon, a fairly major indie distributor in Japan, will be closing their theater in Seoul. No word on whether they will reopen at another location.
- If you all remember, the upcoming Japanese drama adaptation Sushi Ouji was greenlit before the series even aired, and the ratings ended up being fairly unspectacular. Without even bothering to find out how that went (the film will open this Saturday), Shochiku went ahead and greenlit the sequel to their new film Tsukiji Uogashi Sandaime before it even opens in June. Apparently, they hope to turn it into a modern "Taro-san" film series. I know Japanese people love fish and everything, but does that apply to paying 1800 yen every year to see a movie about it?
- A little more rational move by Shochiku this week is their decision to distribute HD-recorded Kabuki performances not only overseas, but also on commercial flights.
- In Hong Kong TV, there are only 2 free-to-air networks: TVB and ATV. TVB tends to take up about 80%-90% of viewership, which means ATV is just there because it has to be there. However, ATV finally scored a small victory Sunday night, when their Chinese channel showed a James Bond movie. It got a 11 rating, which is already better than the average ATV rating. Meanwhile, TVB's Chinese channel was showing Wong Kar-Wai's 2046, which only got a 10 rating. Yes, that means James Bond beat Wong Kar-Wai, which is a little sad from a film fan's point of view, but happy from a fan of a little competition in the TV industry.
- After hitting one disappointment after another, Viz Media (buy their Japanese movies DVDs, people! They actually got good movies!) has found a new way to distribute Death Note in North America - by making it a limited event.