Thursday, November 13th, 2008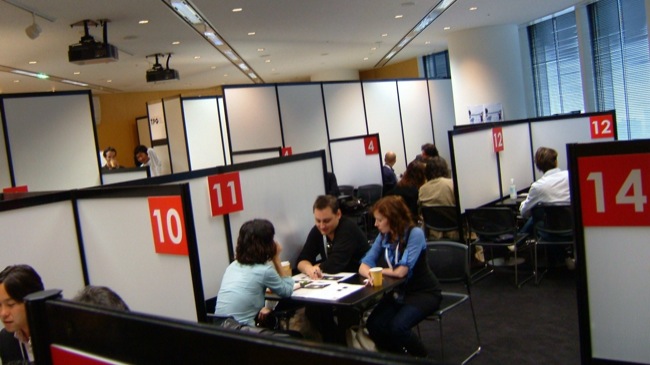 A picture of meetings going on at TPG. See more at Kenneth's blog. Used with permission.
This semester, I got to study under writer/director Kenneth Bi again. Recently, he took a week off to go to Tokyo for the Tokyo Project Gathering, where filmmakers bring their latest potential projects and meet with investors from around the world. Many multi-national co-productions begin this way, and since there's so much talk about film markets around here, I decided to see what it's like to pitch a script at something as nerve-racking as the TPG.
Part 1 (128kbps MP3, 11.0mb, 12:06)
Part 2 (128kbps MP3, 13.3mb, 14:38)
Music from the Still Walking Original Soundtrack.
Many many thanks to Kenneth Bi for talking to this small-time blogger not just once, but twice. And I hope the second time is just as informative as the first for you out there. It sure was for me.