January 2nd, 2009
It's now 2009 here in Asia, and that means it's time to wrap up the year.  This year was a huge moviegoing year for me, having finally had the chance to go wild at film festivals and spending lots of time at the theaters, as well as my movie critic work. And since I'm leaving my Hong Kong film thoughts for the LHKF awards, here are my thoughts for things that LHKF doesn't cover.
Remember, this is only one man's opinion, and that man doesn't nearly watch as many movies or listen to as much music as he should anyway, so take it with a grain of salt.
BEST PANASIAN MOVIES VIEWED IN 2008 (which means some might've been released in 2007). In no particular order:
The Chaser (Korea) - An exciting and powerful serial killer movie that shows Korea still has emerging talent.
Fine, Totally Fine (Japan) - Hilarious and crude without losing its simple charm, this is Japanese comedy at its best.
Life is Cool (Korea) - This is how you do a gimmick without getting lost in it: by remember to tell a story first.
God Man Dog (Taiwan) - Compelling cinema that has a surprisingly bright charm coming from out of left field in the third act. This was the beginning of the Taiwanese cinema resurrection for me.
Tokyo Sonata (Japan) - Compelling and haunting, this family drama was sorely undermined by the Japan Academy Awards. Then again, maybe it was the third act that didn't work for them.
I Just Didn't Do It (Japan) - A straightforward legal drama that uses truth to provoke audience response. An excellent shift of tone by Masayuki Suo.
The Magic Hour (Japan) - Classy and still funny, Koki Mitani's follow-up to Suite Dreams is less ambitious, but still very funny and even more touching.
After School (Japan) - Kenji Uchida's forward-backwards comedy-mystery sometimes appears clever for clever's sake, but clever is clever, and it'd be unfair to dismiss that.
Milkyway Liberation Front (Korea) - Funny and surreal, this is a indie Korean comedy that would only work for those who know about the movies. Doesn't mean I didn't find it funny.
Yasukuni (China-Japan) - A documentary that shows the controversial Yasukuni Shrine as is, even though most of its staff is Chinese. As balanced as one can get for a Yasukuni Shrine movie made by a Chinese filmmaker living in Japan.
HONORABLE MENTIONS:
Radio Dayz (Korea)
Girl Scout (Korea)
All Around Us (Gururi no koto) (without subtitles, which is the only reason why it's here and not higher)
Parking (Taiwan)
Gachi Boy (Japan)
Detroit Metal City (Japan)
Suspect X (Japan)
Cape No. 7 (Taiwan)
Glasses (Japan)
The Rebirth (Japan) (Because I made through it without sleeping)
The worst
Shaolin Girl (Japan)
Cherry Tomato (Korea)
L:Change the World (Japan)
Open City (Korea)
Kung Fu Dunk (It counts because it's Taiwan)
(Dis)honorable mention - only because I never bothered watching a subtitled version and never watched the TV show:
Hana Yori Dango Final.
I have to say I was pretty disappointed with Hong Kong music this year, with not nearly enough good albums to make a good top 10 list. Hell, there's not even that many memorable songs to make a top 10 list. While HK pop fans were all ga-ga-ing about albums like Kay Tse's Binary and Leo Ku's Guitar Fever, I didn't think they were all that ear-catching. Then again, that might just be me.
Nevertheless, I still have a top 5 Hong Kong albums, and some honorable mentions:
HONG KONG MUSIC
Juno Mak - Words of Silence - Leave it the rich boy of Hong Kong pop to show how to do an album of Karaoke ballads.
Denise Ho - Ten Days in the Madhouse - HOCC's most ambitious album of her career is an album that's actually about something important, and we're all appreciative of it.
Khalil Fong - Wonderland - It came out late last year, but it didn't find its audience until this year. An excellent R&B album that happens to be in Chinese. Fong is the best Hong Kong-based musician you're probably not paying attention to.
Chet Lam - Travelogue 3 - Nice and breezy, and wonderfully folksy.
Fama- Richest in the World - Hong Kong's most fun hip-hop duo is back with an album surprisingly mostly produced within a week or so.  Easily the most entertaining HK pop album of the year.
Notable mentions:
Khalil Fong - Orange Moon
Kay Tse - Binary
Jan Lam - 30mething QK
24 Herbs
Eason Chan - Don't Want to Let Go
Bianca Wu - Still…A Wonderful World.
OUTSIDE HONG KONG:
Notable mentions:
Utada Hikaru - Heart Station
Jam Hsiao - Debut album
Jero - Covers
Orange Range - Panic Fancy
Kanye West - 808s and Heartbreak - this deserves a special mention for showing what happens when an egomaniac like Kanye West essentially takes apart his shell-like ego and expose all of his heartbreaks and tragedies in his music. It's really the perfect album who's hated Kanye's music before this. Just drop your bias against the auto-tune stuff and listen.
And now, the individual awards:
BEST DEBUT ALBUM (tie):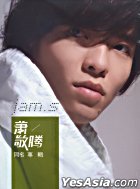 Jam Hsiao Debut album and Jero - Covers.
The former went from a Taiwanese idols show contestant to this year's Chinese pop sensation, while the latter made the fading enka genre relevant for young people again while sweeping all the major awards.
BEST CONCERT VIEWED IN HONG KONG (tie):
Fama
Chet Lam - One Man Live
Fama rocked the packed house, with their audience standing almost the entire time rapping along. You can't buy an audience like that with flashy stage lights; you earn it with talent and royalty.
Meanwhile, Chet Lam managed to run an entire 2-hour concert with only him and a looping machine. Meanwhile, he doesn't forget to tell touching stories and sing great songs.
BEST COMPILATION:

Denise "HOCC" Ho - Goomusic Collection 
With brand-new remixes and three solid new tracks, this is a compilation that tries to be good to the fans by providing things they may not have. It actually makes its existence almost OK.
BEST SOUNDTRACK (tie):
Fine, Totally Fine, Sparrow
The former album helped give a comedy a relaxing groove, and the other helped turn a stylistic Hong Kong film into a 60s French film. Both stood out while complementing the film they're written for.
MOST ANNOYING TRENDS IN 2008 ASIAN POP CULTURE:
Rewarding stupidity (Japan) - One of the most dead-on Western perception of Japanese game shows was on the Simpsons, when the Japanese game show host said that the difference between Western and Japanese game show is that one rewards intelligence while the other punishes ignorance. While that is still the case for Quiz Hexagon II, where the team that fails a challenge having to dunk one member into water, some of its worst players have been put together into pop music units by Fuji TV. Instead of six dumb talentos scraping by a living, they're now pop sensations that have no business in having any kind of musical careers. The male group - Shuchishin - even scored the 5th best-selling single in Japan this year, which surely says something about the taste of the Japanese general public.
Irresponsible criticisms on the web (China, South Korea) - In China, web bullies have gotten so powerful against anyone that disagree with them that people are making comparisons to Red Guards and Cultural Revolution. In South Korea, hurtful messages about celebrities reportedly helped drive one to suicide. These cannot be fixed with limiting internet rights and taking away internet annoymity. It starts with educating the people.
Disclaimer: This blog has, over the course of the year, given fairly harsh criticism. However, there has been no particular effort to hide who I am, and I have asserted that they are purely my own opinion, nor did I ever make any unreasonably hostile comments or threats against the people I criticize.
BEST TRENDS IN ASIAN POP CULTURE:
MTVs for songs without the singers (Japan) - Some of this year's biggest hit songs feature popular pop stars' voices, but not their faces. Instead, these videos tell complete stories with actors, and they actually work as their own short films. They seemed to have been a Korean trend, and now, it's moved to Japan.
It's been done with songs like March 9th by Remioromen a few years ago:
And it's been a huge thing in 2008 Japanese pop songs such as Exile's Ti Amo (the newly-awarded Song of the Year):
Or GReeeeN's Kiseki (my vote for the most touching MTV of the year):
Or the surprise pop hit Kimi No Subete Ni by Spontania and Juju:
Either Japanese music video directors are all trying out to be film directors, or these are all done by the same guys. Either way, they do what they're supposed to do - express the feeling of the songs - and yet, they can tell something that resembles a complete story that works without being as melodramatic as the Koreans. Well done.
Resurgence of Taiwanese films (Taiwan) - It's not all thanks to Cape No. 7. In addition to the mega-blockbuster, Taiwan has produced some fine films this year not made by Hou Hsiao Hsien. Parking was a great dark comedy with a touch of film noir that marked a promising film debut, while God Man Dog was an excellent ensemble film. Hopefully, the young directors of these films can balance art and commercialism and bring back Taiwan as a formidable cinematic force in Asia.
EEG making respectable movies (Hong Kong) - This year (let's count January 1st, 2009 as well), Emperor Motion Pictures, who once released movies like Bug Me Not!, the Twins Effects movies, and is still trying to release Jeff Lau's The Fantastic Water Babes, were responsible for Run Papa Run, The Beast Stalker, Connected, and Chen Kaige's Forever Enthralled. Even though Connected was not a particular great motion picture, it was at least more respectable than say, Twins Effects 2. Hopefully, EEG will just leave the pop star fodder to Gold Label and stick to making good Hong Kong movies that just happens to have Chinese money. I wish I can say the same about their music and management division, but that's a different award…..
BEST DISCOVERY
The PIA Film Festival (Japan) - It started last year when I watched Ryo Nakajima's This World of Ours. As more PIA films started coming to Hong Kong, to the point that the Asian Film Festival gave it its own retrospective, I began to respect this fesival for staying alive every year, despite losing money and having difficulty finding sponsors every year. I also admiring them for not letting financial difficulty stop them from discovering good films and making good films with their annual scholarship films. This is a film festival worth discovering, and its award films are worth searching out for.
WORST DISCOVERY
Jazz Hip Jap. A parody of the worst In Living Color soundtrack of all time. I don't know why it's still on my shelf.
THE GOLDEN ROCKS OF THE YEAR
These are the thing or the people who have made the biggest impression over the year and deserve all the recognition they can get:
Cape No. 7 - The one film that has been credited for resurrecting an entire film industry and got people to care about Taiwanese films again. It's not great, but it is an immensely entertaining film that has seemed to really connect with people. And if it did finally get Taiwanese people back into the cinemas, then good for them.
Jero - a young African-American, 1/4 Japanese man goes to Japan and becomes a singer of his grandmother's favorite genre of enka. He opens the year telling people that his dream is to get on Kohaku Uta Gassen for his dead grandmother. His debut single is the no. 16th best-selling single of the year in Japan. He wins multiple newcomer awards, including one at this year's Japan Record Awards.
On December 31st, 2008, he appeared on Kohaku Uta Gassen and sang with his mother in the audience.
What success story coming out of 2008 Asian entertainment has a better ending than the one of Jerome White Jr.?
SPECIAL LIFETIME ACHIEVEMENT AWARD
This award goes to someone whose entire career has dominated newspapers and internet news throughout 2008. And by entire career, it means his career is already over: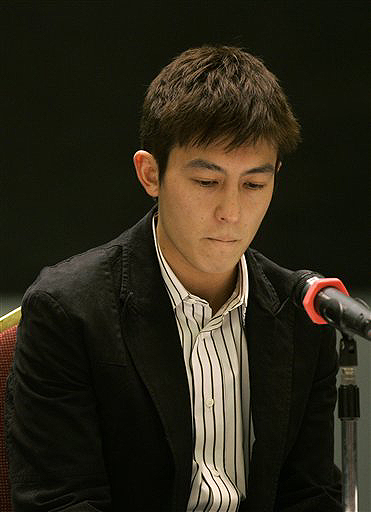 Any man who could ruin Hong Kong's most popular pop duo, get on international gossip headlines, and bring this blog its largest amount of traffic for getting too friendly with his camera and too stupid to just throw away the computer full of those pictures ought to get some kind of recognition, especially since this will be the most contribution he'll make with his career in this lifetime.
That is, unless he makes it in Hollywood. But it won't be LoveHKFilm's problem by then anyway.
And so wraps up a busy year in Asian entertainment. Please remember not to take these awards seriously, as they are just one partially-informed man's opinion. If you feel I missed out on anything worth mentioning in 2008, feel free the comment.
A good New Year to all!