Wednesday, August 3rd, 2011
Like we always do at the beginning of the week, we're looking at Chinese box office:
- As expected, the TRANSFORMERS dominance continues in China, with the robot fightin' blockbuster taking another 369 million yuan for a grand total of 770 million yuan at the Chinese box office. It's now officially the highest-grossing film in China in 2011, and the one billion yuan mark is not unlikely. However, business is slowing down, with 56.5 admissions per show. HARRY POTTER 7.2 (which is distributed by Huaxia, not China Film Group. Sorry about that) opens in China on August 4th, so expect the film to take a huge bite out of TRANSFORMERS' box office this coming weekend.
Like last week, the most interesting part of this week's box office chart is looking at how the so-called "excellent recommended films" that celebrate the Chinese Communist Party's 90th anniversary did. First, take a look at these charts: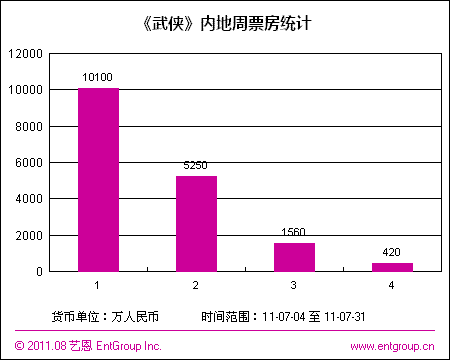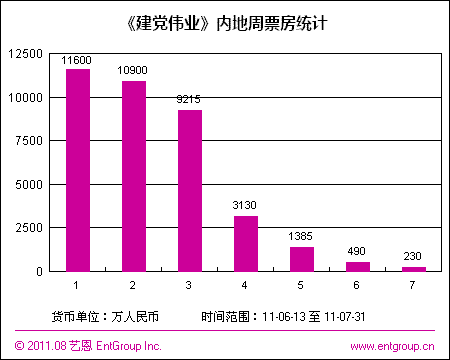 These are the box office gross patterns for WU XIA and BEGINNING OF THE GREAT REVIVAL, which shows a steady decrease in box office gross week-to-week. These can be considered normal trends.
However, take a look at these: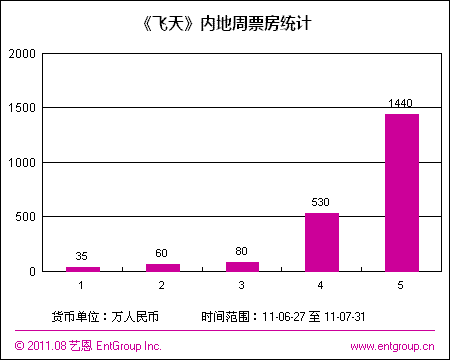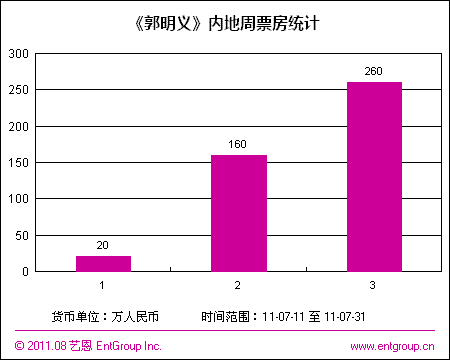 These are the box office trends for WENTIAN and GUO MING YI, respectively. Both are two of three "excellent recommended" films named in the internal memo  that I put on the July 21st Internal Memo Edition of the blog. It shows abnormal rising trends in their week-to-week grosses.
After last week's miraculous 600% jump, WENTIAN jumped another 215% this past week, making 14.4 million yuan in the last seven days from 4,578 screenings. It has an average of 88.77 admissions per show, which is even higher than TRANSFORMERS. GUO YI MING had a similar jump in its gross as well, jumping 162.5% with  58.2 admissions per show (compared to 42 admissions per show last week).
This past weekend was the last week before the so-called "Red Month" commemorating the 90th anniversary of the Chinese Communist Party ended, and with memos being issued to encourage cinemas, government departments, and the media to promote these films, it's no surprise they would see a sudden surge in the box office. We can either credit the jump to those shady ticket printing practices point out in the cinema chain internal memo, or organizations like the People's Liberation Army organizing group screenings. We'll likely never know the truth, but an industry insider on weibo predicts that such practices will continue to run until National Day in October. As the famous Department of Railway spokesman said a week ago, "You can choose to believe or not, but I believe it".
More party-approved movie grosses this past week: YANG SHAN ZHOU saw a 283% jump for a 63 admissions per show average. THE SEAL OF LOVE jumped 925% for a per-show average of 149 admissions AND an average ticket price of 55 yuan.
Another big box office story this past week is the surprising performance of animated film SEER, based on the popular Chinese online video game. The film managed to hit the no.2 spot at the box office with 27.6 million yuan over four days for a per-show average of 30.95 admissions. Opening in the middle of the summer AND cashing in on the popularity of the game, THIS is the Chinese animation miracle of the summer so far, and judging from its trailer, it probably didn't cost that much money to make. However, the film is being trashed by netizens on Douban, with an average score of 2.9 out of 10 and 61.4% of voters giving it one star. One comment even wrote that it's "recommended for children age three and below". Ouch.
Meanwhile, MYSTERIOUS ISLAND now at 86.3 million yuan, WU XIA now at 173 million yuan, and Wong Jing's TREASURE INN now at 103 million yuan.
- In Taiwan, the comedy KILLER WHO NEVER KILLS, starring pop singer Jam Hsiao and a bunch of Hong Kong actors, did fairly well in its moderate release over the weekend. The film, based on a novel by popular author Giddens, is partly funded by the Hong Kong government's Hong Kong Film Fund.
This is an interesting development, considering this is a film co-financed by the Hong Kong government that has a very clear Taiwanese identity. More about this film fund in a focus story in the future.
And now, some casting news:
- Speaking of MYSTERIOUS ISLAND, a big part of its success is reportedly due to the popularity of star Mimi Yang. An artist under contract at Mei Ah, she will be getting big roles in all the upcoming major Mei Ah productions. First, it'll be THE GREAT WUDONG, opposite Vincent Zhao. Then it'll be Alan Mak/Felix Chong's WIND SEEKER opposite Tony Leung (the film is still in pre-production, according to an inside source). Finally, it'll likely be BUTTERFLY CEMETARY, which is only in the planning stages right now. Go, Mimi….I guess.
- Nicholas Tse's next role will reportedly be a Chinese television drama in which he'll play an entrepreneur with depression, and that he'll be starting the shoot soon. This will keep him in Mainland China for a while. Anyone who doesn't know where I'm going with this should look at the tabloids.
- Donnie Yen reportedly has four additional films lined up already, including a comedy opposite Eva Huang (produced by director/actor Yang Zi…ahem…), the next Raymond Wong-produced Lunar New Year comedy, the ASSASSINS COUPLE film reportedly opposite Cecilia Cheung, and the one you all will care about, the next Jackie Chan production.
According to the report, he will be co-starring with Jackie in the action film, and he will be playing a master decoder (whatever that means). The 100 million yuan-plus production will start production around China in November.
However, his spokesperson said that Donnie is currently on vacation in the states, and that nothing will be confirmed until he returns to Hong Kong.
Moving into production news:
- Legendary talent manager Willie Chan and pop star-turning-actor Juno Mak have officially announced the start of their production company. In addition to the latest Wong Ching-Po film, Kudos will also be producing Stanley Kwan's upcoming adaptation of a novel by racecar driver/author Han Han, subject to censorship clearance.
-  In an event in Shenzhen, director Tsui Hark, with Polybona chairman Yu Dong's approval, revealed that he's planning to adapt Qu Bo's TRACKS IN THE SNOWY FOREST as his next project. The film, about People's Liberation Army soldiers hunting bandits in the snowy northeastern China, will likely go into production at the end of the year for a year-end 2012 release. The first choice for star at the moment is Jiang Wen, though nothing is confirmed at the moment.
And now, I read Weibo so you don't have to:
- An anonymous industry insider reveals that Jackie Chan's 1911 has been heavily cut to please Chinese censors. One of the rumored points of contention is that they want the film to skim over presence of "the other party's flag as a symbol."
Also, with 1911 having obvious symbolic meaning and SORCERER AND THE WHITE SNAKE having the backing of a major distributor, Gordon Chan's MURAL will likely be the loser of the National Day time slot this year.
- Wong Jing wrote on his weibo that fans have asked him why he hasn't done anything in the horror genre lately. With the shoot for his latest romantic comedy wrapping up, he said he may use his free time in August and September to shoot a horror double feature with director Patrick Kong. The 90-minute film will feature two 45-minute piece - one by each director. However, this post apparently did not go through his spokesperson, who says this project is not confirmed. So don't take it as anything more than spitballing by a director.
Next time: Hong Kong cinema this summer, and more news.
Sources:
Entgroup
Film Business Asia 1
Film Business Asia 2
Film Business Asia 3
Mtime
Sina 1
Sina 2
Sina 3
Note: box office graphs also from Entgroup.