December 15th, 2011
On December 15th, the biggest box office battle of 2011 in China begins with Tsui Hark's FLYING SWORDS OF DRAGON GATE and Zhang Yimou's FLOWERS OF WAR opening in Chinese cinemas (Derek Yee's THE GREAT MAGICIAN was slated to join the battle, but has since backed off to January 12th). It's the climax of what will be another intensely competitive year-end period in Chinese cinema (last year saw year-end king Feng Xiaogang surprisingly beaten by Jiang Wen). This entry will look at each of the major contenders, and why they will and won't be hits:
THE FLOWERS OF WAR
Release Date: December 15, 2011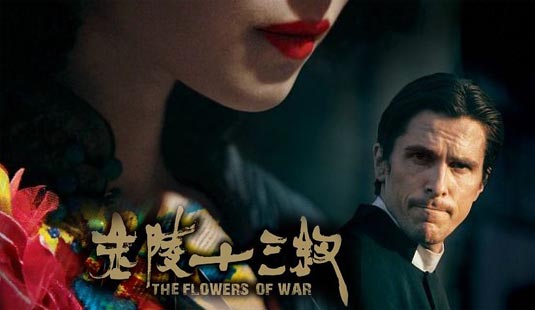 Why it'll be a hit: Zhang Yimou, one of the most acclaimed directors in the history of Chinese cinema, making the most expensive film in the history of Chinese cinema. Set in the Nanjing Massacre (or Incident, if you're in Japan), the film, which is also based on a popular novel is promising plenty of large battle scenes. It's also one of the first Chinese films to feature a major Hollywood star (Christian Bale) as the lead, and it's representing China at this year Best Foreign Film race at the Oscars.
Why it'll not be a hit: Its US$90 million price tag already pretty much guarantee that it will not be making its budget back in China (It'll have to gross at least US$180 million in China alone to break even - government takes roughly 8% as tax, and cinemas take about 55% of the after-tax gross - and that's not even counting advertising).
Zhang Yimou has also been battling a less-than-great reputation among Chinese film fans after CURSE OF THE GOLDEN FLOWER and A SIMPLE NOODLE STORY (among other various gossip), and the way the film has been sold - with emphasis on sex scenes, Christian Bale, and spectacle - being called insensitive by some won't help his cause. Also, the very public fight between Zhang's producer Zhang Weiping and cinema owners in China (and the high ticket price that will result from it) may turn some away as well.
Meanwhile, Christian Bale might have been a good name to sell to potential investors and overseas distributors, he isn't exactly a household name in China, with neither of his BATMAN films having been shown theatrically in China (though I'd assume that many people have seen them anyway).
Lastly, the film isn't in 3D, unlike….
FLYING SWORDS OF DRAGON GATE
Release Date: December 15, 2011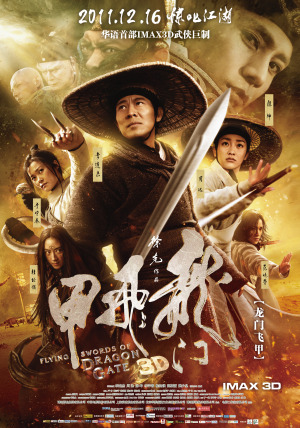 Why it'll be a hit: Tsui Hark managed to make the highest-grossing film of his career with DETECTIVE DEE (correct me if I'm wrong here), and now he's making one of the most expensive films of his career with his first 3D Wuxia epic (US$35 million price tag). It's been well publicized that Tsui is so devoted to making the 3D technology work that he made a feature film as a test film. His producers also made a wise move by striking a deal with IMAX to make it the first ever Chinese IMAX 3D film. Polybona has also moved GREAT MAGICIAN out of the way to make sure it's one of the only two games in town on its opening weekend (MAGICIAN will go against Huayi's VIRAL FACTOR instead).
When judged against FLOWERS OF WAR, the action and 3D make it an easier sell overseas than a film about the Nanjing Massacre. Of course, it also has a bigger cast than FLOWERS OF WAR, with Jet Li, Aloys Chen, Zhou Xun, and pop star Li Yunchun.
Why it'll not be a hit: Not everyone can afford to pay 3D ticket prices, especially when IMAX prices will be up to 120 yuan. Also, there has been a decrease in the popularity of period action films, as evident in the disappointing grosses for LOST BLADESMAN and WU XIA this year.
And now, the dark horses:
DEAR ENEMY
Release Date: December 23, 2011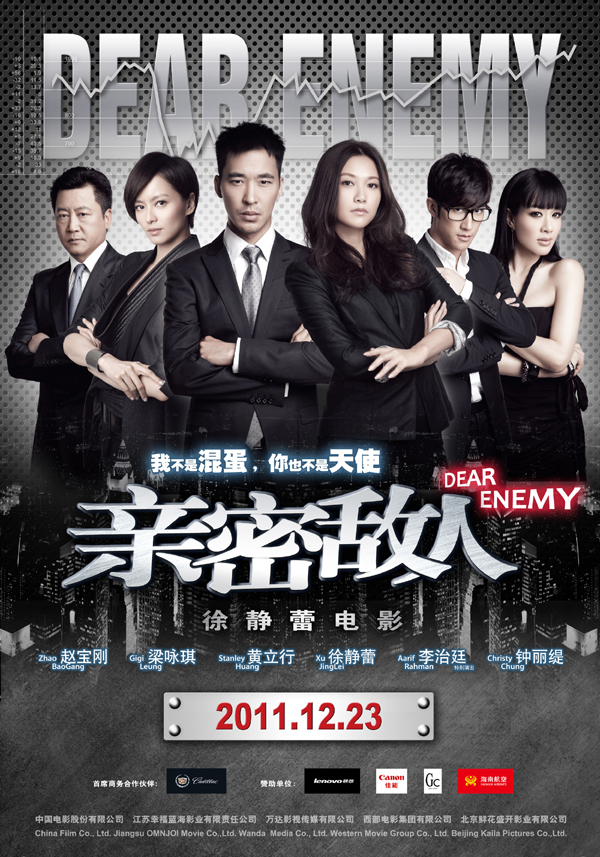 Why it'll be a hit: Actress-filmmaker Xu Jinglei made history when her GO LALA GO became the first Chinese urban romantic comedy to pass the 100 million yuan mark at the Chinese box office. Her and LALA co-star Stanley Huang are back in another romance (is there even any comedy in this) about the dog-eat-dog business world, which will likely bring in urbanite women and their boyfriends. In addition to shooting on location in Hong Kong and London, Xu has also gotten a bigger cast this time around, adding Hong Kong stars Gigi Leung, Aarif Lee, Christy Chung, and the legendary Michael Fitzgerald Wong.
Why it won't be a hit: It opens a week after FLOWERS OF WAR and FLYING SWORDS, which means cinemas are not likely to give it much screenings if both films continue to pack houses. GO LALA GO was also not particularly well received by some, who criticized Xu for putting in too much product placements and straying too far from the source material (Xu, however, has guaranteed that DEAR ENEMY will have fewer product placements).
THE ALLURE OF TEARS
Release Date: December 22, 2011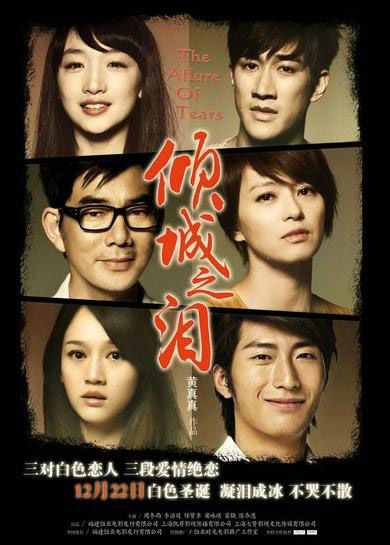 Why it'll be a hit: The ensemble cast skews towards a slightly younger audience than DEAR ENEMY. Tearjerkers actually do attract audiences in China (Look at AFTERSHOCK and IF YOU ARE THE ONE II), though the actors here are not exactly known for their impeccable acting skills. Christmas is considered more of a romantic holiday than in the west (like in Japan. Ah-ha, China!), which means this will also bring in lots of couples.
Why it won't be a hit: Like DEAR ENEMY, it may have problem getting enough screenings in certain cities. No one in the cast can be considered a box office dra, and the same goes for the Barbara Wong/Lawrence Cheng team. Some people may get turned off by the "You will definitely cry" promotional campaign, as well as how closely the poster resembles the poster for the Korean film SAD MOVIE.
SPEED ANGELS
Release Date: December 28, 2011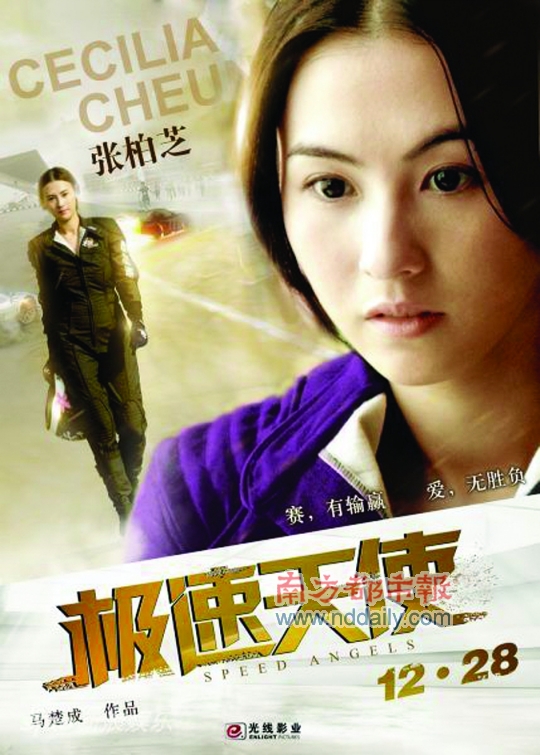 Why it'll be a hit: It features a very strong female cast (Rene Liu, Tang Wei, and Cecilia Cheung), and its topic of car racing can be considered fresh in the Chinese commercial film industry. Also, its December 28th release date sets enough distance from the big films that it may be the only big game left in town people haven't seen.
Why it won't be a hit: If all four films above turn out to be hits, it'll be tough to secure enough screens for a big opening weekend, especially since a wave of Lunar New Year films will start in less than two weeks. Jingle Ma isn't exactly a guarantee of quality for film fans anywhere, especially since everyone's dressed in purple uniforms and the trailer is promising more melodrama than real racing. Plus, three words for Cecilia Cheung: Box office poison.
There are other smaller films released during the period, but these are essentially the big contenders for December. Of course, it would be great for the industry if all of these films do well, but you know the thing about free market is that people actually will watch what they want to watch and download what they don't want to watch. Either way, I'll be keeping a close eye on this box office battle and provide updates and analysis later on.