November 22nd, 2013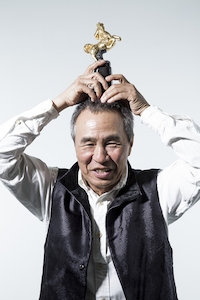 "I can do this with one leg up and still walk in a straight line!"
Even though this blog hasn't been very active, I commit myself to update it at least twice a year: During the Hong Kong Film Awards and during the Golden Horse Awards. If you see an update here now, that can only mean that it's time for another Golden Rock Award Live Blog!
The 50th Golden Horse Awards is happening this Saturday, and I assure you that unlike my Hong Kong Film Awards blog this year, I will be watching the show live on a reasonably comfortable couch here in Hong Kong in front of a reasonably sized television. As I have always done, I will provide the latest updates, from presenters to award winners. I will also not understand at least 30% of what people say in Mandarin.
However, one thing will be different with this year's live blog: There will be less snark. Sorry, a joke about people on stage and the people who produce these award shows will end up hurting my career (and people's feelings), so the award live blogs from here on will be more facts and less jokes.
Unless someone else made the joke. Quote marks make everything OK.
The blog will be in the same format as the past. I will continuously update a singular blog entry throughout the night (because none of you should have to be bombarded on Twitter by updates via tweet). Just keep updating the same entry to stay updated throughout the night.
The live blog entry will be promptly up on this very blog at 7pm (19:00) Hong Kong Time. That's 0900 GMT, and if you don't know what that is on your local time, then World Time Server is your friend. You should also be ashamed of yourself for not being able to tell time in a globalized world, but who am I to judge?
Check out the nominees on the Golden Horse Award page. Due to time constraints and other issues, I will not be doing an award prediction page this year.
To get into the conversation during the ceremony, holla at me @TheGoldenRock on Twitter. I'll retweet the best comments throughout the night, but that totally isn't an endorsement. At least that's what I've been told to tell people.
See you all on Saturday night!