January 3rd, 2012
Representing everyone here at The Golden Rock (i.e. me), we wish everyone a happy new year and an excellent 2012. 2011 has been an eventful year in the film industries of China and Hong Kong, and it's about time to look back at everything that's happened over the last 365 days.
My Hongmen Banquet can kick your Hongmen Banquet's ass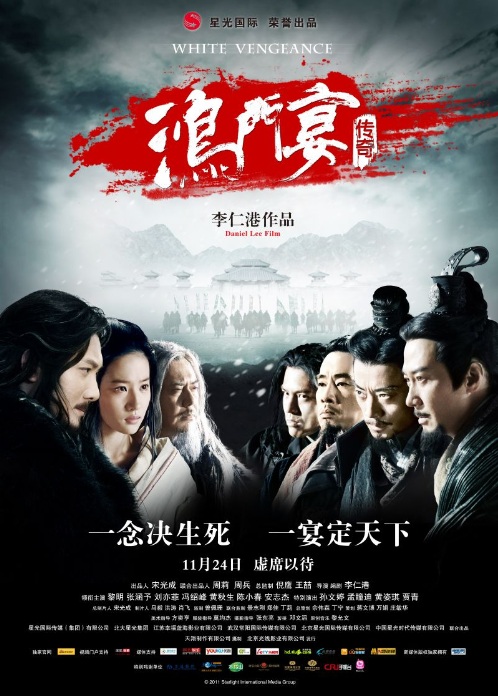 This year started off with a literal clash of idea, as two films about the same topic went into production. After Lu Chuan was removed from his own planned Hongmen project, his original investors then brought on Daniel Lee (DRAGON SQUAD! 14 BLADES!), as well as a cast that includes Leon Lai, Jordan Chan, Zhang Hanyu, and Anthony Wong for what became WHITE VENGEANCE.
However, Lu Chuan went on to find the funding he needed to make his own Hongmen Banquet movie starring Daniel Wu, Liu Ye, and Chang Chen. While WHITE VENGEANCE was released in late November and became Lee's highest-grossing film at 152 million yuan (more later on whether this is a success or not), Lu's film reportedly ran over budget and over schedule. We'll likely see it this year.
Box office surprises - TV owns Lunar New Year box office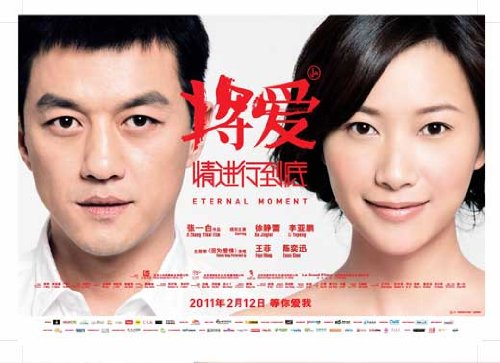 Lunar New Year is undoubtedly one of the biggest times for movies here in Asia. While no one's surprised that Benny Chan's mega-budget SHAOLIN won the Lunar New Year battle in China with 216 million yuan, not many expected that the other two 100 million yuan-grossers in China would be based on TV series.
In the spirit of Hong Kong's own nonsensical comedic style, hit sitcom MY OWN SWORDSMAN left its single-stage setting and leapt to the big screen, packing cinemas across China to gross an astounding 196 million yuan. Director Shang Jing is already set to make another Lunar New Year comedy hit in 2012 with DINNER PARTY.
Not far behind the success of SWORDSMAN was another TV-based film. Coming at the end of the Lunar New Year holidays, Zhang Yibai's ETERNAL MOMENT was mainly aimed at Valentine's Day audiences in urban areas. The continuation of his 1998 television series CHERISH OUR LOVE FOREVER - dubbed China's first idol drama - ETERNAL MOMENT gave CHERISH's fans a chance to look back on their own youth and love with a choose-your-own-adventure-ish reunion of the show's two lovers. While feedback on the film is mixed, it captured enough lovers to make 207 million yuan.
While these two films grossed a little less than SHAOLIN, remember that these two films each cost only a third of SHAOLIN's budget.
In Hong Kong, the situation was similar, as local broadcaster TVB's second Lunar New Year film I LOVE HONG KONG even beat the likes of Donnie Yen, Louis Koo, and Andy Lau to become the local winner of the Lunar New Year box office. The Raymond Wong-TVB competition is back again this year, but with TVB unable to get a solid pop star cast due to its contractual conflict with Hong Kong's major record companies, Wong may have a chance to finally beat the television monopoly.
I gouges your money, American robots! I gouges it!
It's expected that the government would be ordering treating its employees to watch Communist Party celebratory film BEGINNING OF THE GREAT REVIVAL, which limped to a 412 million yuan gross this summer (below FOUNDING OF A REPUBLIC's 420 million yuan total). However, what we didn't expect is what the film industry's way to support other propaganda films.
To paraphrase my posts from earlier this year (This one and this one), at least one cinema chain passed around a memo looking for new ways to promote "excellent recommended films" that commemorated the 90th anniversary of the China Communist Party - YAN SHAN ZHOU, SPACE DREAM (or WENTIAN), and GUO MING YI. One of the tactics they used were double feature tickets. Taking advantage of Hollywood blockbusters TRANSFORMERS and HARRY POTTER (Chinese blockbuster WU XIA was also a rumored target), cinemas attached an additional ticket to one of the three "excellent recommended films" for anyone who bought a ticket to these big blockbusters. While ticket price remained the same for these big films, cinemas gave a share of the ticket price to the "excellent recommended films" since whatever price is printed on the ticket goes to the box office gross.
Such tactics led to wild box office patterns for these "excellent recommended films", as you can see in my earlier post. Since there's no such law in place yet for how cinemas sell tickets (each ticket for the major blockbusters was still above the mandated minimum ticket prices) and that these films were all "morally positive" works that glorified the Communist Party, there were no repercussions from anyone. Even the western media were so having so much fun from GREAT REVIVAL that they simply ignored this happened. In the end, it was a win-win situation, as TRANSFORMERS still became the highest-grossing film of the year in China with 1.1 billion yuan, and the three propaganda films made a good chunk of money, too.
However, this is all about to change, as the government is set to enforce new laws aimed to stop dishonest accounting by cinemas. The government is also aiming to further reduce the power of cinemas by mandating that they cannot take more than 50% of box office revenue. More on that later.
Box office surprises - The fall of the titans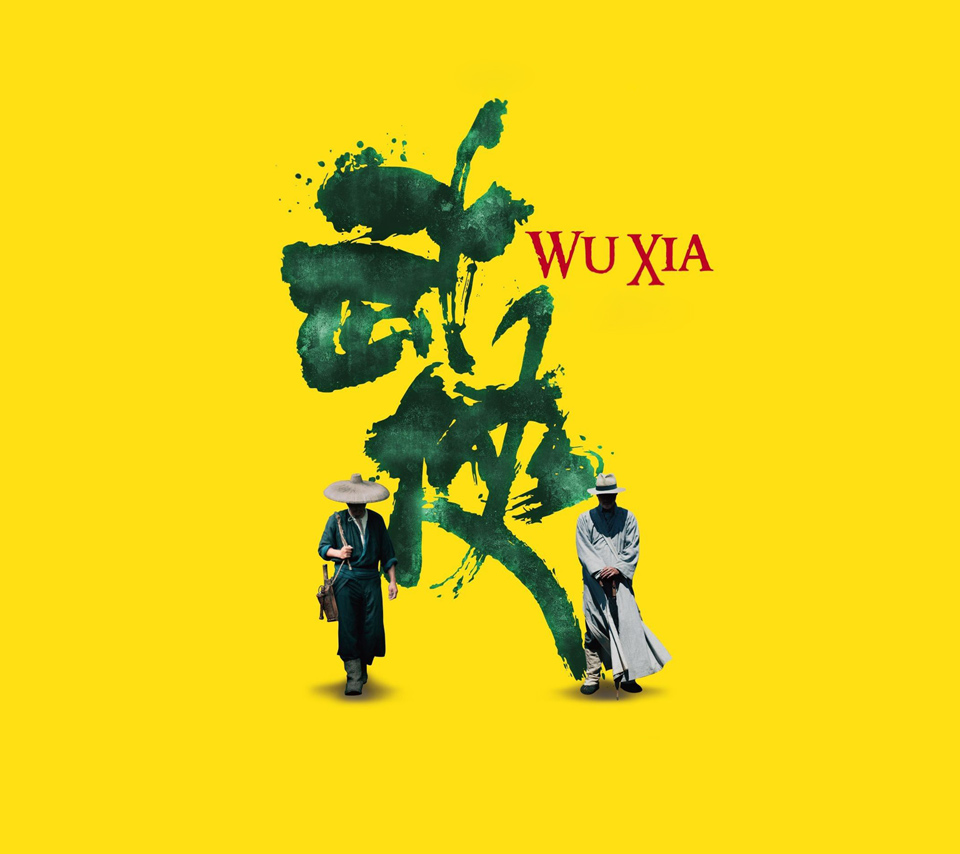 In recent years, Donnie Yen and Jackie Chan are names that would typically do well in China (just Donnie for Hong Kong - no one cares about Jackie anymore here), but 2011 has been one disappointment after another for these action superstars.
Donnie started 2011 off with ALL'S WELL ENDS WELL 2011, which managed to gross 167 million yuan in China - not bad for a Hong Kong-style Lunar New Year comedy. However, his two big action films this year both came with plenty of hype and ended with middling grosses. LOST BLADESMAN not only featured a well-known Romance of the Three Kingdoms character as its hero, it also co-starred Jiang Wen, who wrapped up 2010 with LET THE BULLETS FLY. However, the Alan Mak/Felix Chong film suffered a major drop in box office after opening with 100 million yuan in the first six days due to poor word-of-mouth. In the end, the film did gross 162 million yuan, disappointing for a film that reportedly cost 150 million yuan to produce.  The film suffered a similar fate in Hong Kong, grossing just HK$8 million after a strong opening weekend.
The disappointment continued with Peter Chan's WU XIA. The Chan-produced BODYGUARDS AND ASSASSINS (which co-starred Donnie) made 296 million yuan back in 2009, and his last directorial effort WARLORDS also made 200 million yuan back in 2007 (a very, very high figure for 2007). Even with Chan directing, Takeshi Kaneshiro co-starring, and no direct competition for two weeks, the action film followed a similar pattern as LOST BLADESMAN, opening with 100 million yuan in its first week and wrapping its run with 176 million yuan. The film did even worse than LOST BLADESMAN in Hong Kong, also grossing just HK$8 million. With this and MR. AND MRS. INCREDIBLE (which he produced) grossing only 51 million yuan in the Lunar New Year period, Peter Chan, who has become his own boss now, must be feeling a little lost right now.
After LITTLE BIG SOLDIER grossed a surprising 160 million yuan in China, all eyes were on Jackie Chan with his historical epic 1911. Costing over 100 million yuan to make (some estimates even put it at US$30 million, roughly 200 million yuan), the film managed to limp to a 61 million yuan gross after hanging on the box office chart for 10 weeks (though no one knows how that happened). LEGENDARY AMAZONS, the period action film produced by Jackie's production company, also suffered a terrible fate, grossing only 39 million yuan. Both films also did barely any business in Hong Kong.
Creation of a new box office poison - Cecilia Cheung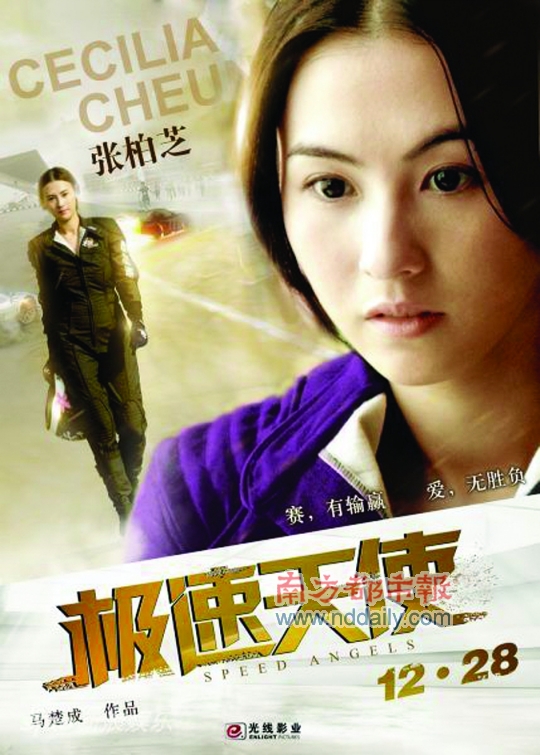 2011 started well for Cecilia Cheung, who made her first big-screen appearance since 2006 with ALL'S WELL ENDS WELL 2011. However, it went downhill for the actress as the tabloids picked up her airplane photo with former scandal maker Edison Chen, her well-publicized divorce with Nicholas Tse, and her well-documented MIAs on film sets.
Cecilia also continued to make dubious career choices, as she turned down a starring role in the next Derek Yee film for a higher salary from Wong Jing's TREASURE HUNT. She also took part in the disastrous LEGENDARY AMAZONS, a "special appearance" in Jingle Ma's critically lambasted SPEED ANGELS, and THE LION ROARS 2, which Louis Koo didn't even bother doing. She also continues to command a very high salary, including a rumored 16 million yuan for the DANGEROUS LIAISONS remake co-starring Zhang Ziyi. Will Cecilia do better in 2012, and how long will she continue to command this kind of price from investors?
Did I mention that LEGENDARY AMAZONS cost 100 milion yuan to produce? Cecilia took 15 of that.
Box office surprises - It's all about the young'uns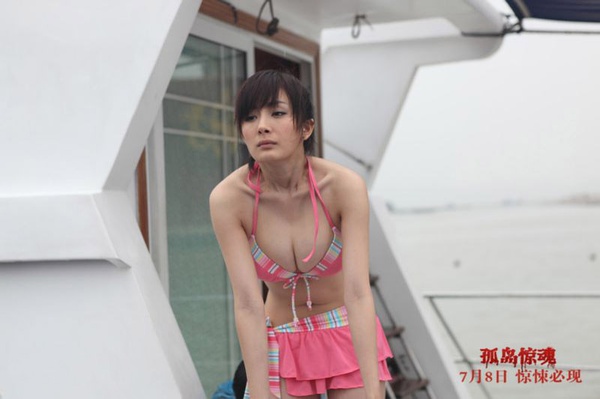 2011 also told us that young people spend a lot of money, and they're willing to spend a lot of it at the movies. In July, horror film MYSTERIOUS ISLAND grossed an astonishing 91.8 million yuan at the box office, despite opening directly opposite Donnie Yen and his chest in WU XIA. A part of its success (perhaps a large part) can be attributed to the popularity of star Mini Yang, whose fans organized group screenings for the film. While it hasn't happened yet, MYSTERIOUS ISLAND is suppose to lead to a new generation of popular genre films that will make plenty of money from impressionable young moviegoers. That has yet to happen as of the end of 2011.
While it didn't make MYSTERIOUS ISLAND cash, Hong Kong youngsters dreaming of spending their nights drinking in clubs and having sex with strangers all flocked to Wilson Chin's LAN KWAI FONG. The nightclub drama attracted plenty of young moviegoers with hot, sexy young stars, lots of near-nudity, and a teenager-friendly IIB rating. In the end, the film grossed just a tad under HK$8 million. Yes, promiscuous clubbers attract as much audiences in Hong Kong as Donnie Yen does. LAN KWAI FONG 2 is already in the works.
But of course, nothing represented Chinese 20-somethings more in 2011 than LOVE IS NOT BLIND, the dramedy about how a 20-something urbanite gets over her boyfriend being stolen away from her best friend. Evoking memories of the worst breakup everyone's ever had, the film used a clever marketing strategy, locked down the perfect release date (Singles Day!), and it scored one of the biggest opening weeks of the year. The film - which cost 9 million yuan to make - ended up grossing 352 million yuan at the Chinese box office, causing the likes of Donnie Yen, Jet Li, and Jackie Chan to hang their head in shame.
Box Office Surprises - Is it the sex or the 3D?
The most hyped film in Hong Kong in 2011 was undoubtedly 3D SEX AND ZEN. More a rehash than a sequel, 3D SEX AND ZEN sold only two things on the surface: Sex and 3D. However, it also recalled a better time in Hong Kong cinema, when filmmakers could care less about Chinese censorship and for better or worse, went as far as their imagination (and their actresses) could take them. After a long promotional effort (including selling Vonnie Lui as the next Hong Kong sex bomb), the film scored a HK$13 million opening and managed to become the highest-grossing Hong Kong film of 2011 with HK$40 million.
While much of the film's gross was fueled by Hong Kongers' curiosity, the film quickly became a critical bomb, as audiences complained about the violence and the lack of Vonnie Lui nudity (she only showed her breast in one 2-second shot). Bashing the film became such a popular thing that a sound recording of Chapman To reading out a netizen's profanity-filled rant about the film became one of the hottest videos on the net. However, thanks to the May Golden Week holiday, the film attracted many curious Mainland Chinese tourists, to the point that the distributor was able to secure long-term screenings in cinemas in areas popular with Mainland Chinese audiences. Cinemas also caught multiple cases of Mainland cinemagoers taking videos of the film on their cell phones because they were keen to show their friends back home what the fuss was all about. You know what they say: Piracy is the best form of flattery.
However, films that were eager to cash in on sex and/or 3D after SEX AND ZEN all failed. 33D INVADER brought back old-school 90s sex comedy and even opened during the National Day holiday to attract more curious Mainland eyes. However, it barely made a blip, though I saw it twice in the cinemas. Chinese 3D didn't fare so well, either, as SLEEPWALKER 3D and even Tsui Hark's FLYING SWORDS OF DRAGON GATE was largely ignored as everyone else flocked to Hollywood films for lackluster 3D instead.
The most acclaimed 2011 Hong Kong Film that no one saw - A SIMPLE LIFE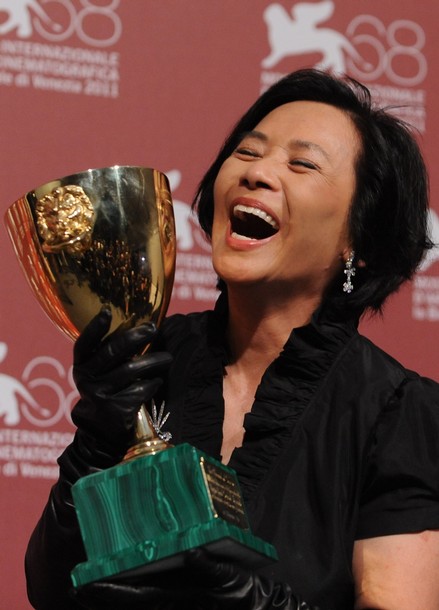 In September, a little Hong Kong film called A SIMPLE LIFE had its world premiere at the Venice Film Festival, and its star Deanie Ip managed to win the Best Actress Award. That began three months of hype, as A SIMPLE LIFE was sent to represent Hong Kong at the Academy Awards (after a week of screenings at a small 30-seat auditorium mainly designated for Friends of the Distributor and the few lucky people quick enough to buy up remaining tickets) and it picked up most of the major awards at the Golden Horse Awards.
However, thanks to the distributor's apparently unchangeable plan of cashing in on the guaranteed Hong Kong Film Awards nominations (playing it to qualify for the Oscars also meant it qualified for the Hong Kong Film Awards), A SIMPLE LIFE will not be opening theatrically for general audiences until March 2012.
Bring back the spirit of Hong Kong cinema - GALLANTS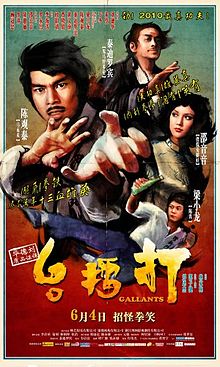 On the night of April 17, many expected IP MAN 2 and DETECTIVE DEE to sweep the Hong Kong Film Awards. However, in addition to Pang Ho-Cheung finally winning an award, a little local film called GALLANTS took home four awards, including Best Picture. The Derek Kwok/Clement Cheng film didn't make much money at the box office, but it has a lot of fans here and abroad due to its old-school sensibilities. In true underdog fashion, GALLANTS managed to become the star of the night, embarrassing IP MAN 2 (which took home two technical awards) and blocking DETECTIVE DEE from achieving FLAWLESS VICTORY after Tsui Hark picked up the Best Director Award that night. What's the Cantonese equivalent for "boo-ya" again?
Box Office Surprises - America's not the only foreign invaders at the Hong Kong box office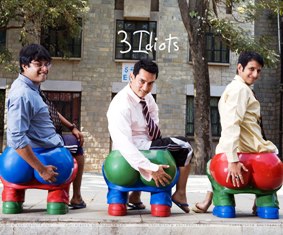 Coming-of-age comedy YOU ARE THE APPLE OF MY EYE by novelist-director Giddens packed theaters in both its native Taiwan and Hong Kong. While it made a ton of money in Taiwan (in fact, the highest-grossing Taiwanese film of the year if the two SEEDIQ BALE installments are counted as two different films), it shattered box office records in Hong Kong. By New Year's Eve 2011, it became the highest-grossing Chinese-language film in Hong Kong history. Its theme song was also voted My Favorite Song of the Year at Hong Kong Commercial Radio Music Awards (the most respected Hong Kong music award), and it reawakened the secondary school students in all Hong Kongers as Hong Kong saw a record number of calls made to married ex-girlfriends. OK, that last part was probably made up.
However, 2011's The Little Film That Could in Hong Kong was Bollywood comedy 3 IDIOTS. Despite scoring huge with audiences at the 2009 Hong Kong International Film Festival, the film didn't reach general audiences until September 2010, which is understandable since no Bollywood film has ever been given a general release in commercial Hong Kong cinemas. Fortunately, the film was distributed by Edko, who owns Hong Kong's biggest cinema chain. With a lot of faith on their part and very enthusiastic word-of-mouth, the film continued to play in Edko's cinema chain for three months. As of the final weekend of 2011, 3 IDIOTS have grossed HK$23 million, outgrossing even ALL'S WELL ENDS WELL 2011 and OVERHEARD 2.
You will pay for my outrageous spending!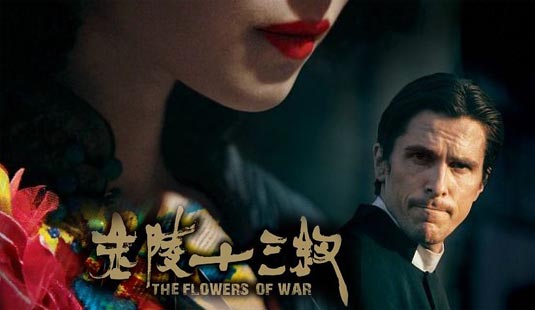 Just before the opening of Zhang Yimou's FLOWERS OF WAR, producer Zhang Weiping decided that not only does he deserve to take a bigger chunk of box office revenue than usual, he also felt that audiences were responsible for paying for his own financial decisions by raising the minimum ticket price for his film by five yuan to 40 yuan (See earlier post here). Cinema chains in China were outraged (more at losing their box office share than raising ticket prices, I'm sure), and the eight major cinema chains in China went as far as threatening to boycott the film.
Despite calling cinemas just "places with empty seats" and justifying the ticket price hike with excuses like "an enhanced product naturally means a higher ticket price", Zhang managed to call the cinema chains in for last-minute negotiations. In the end, cinemas and Zhang reached a compromise, as the revenue sharing ratio was allowed further negotiations chain-by-chain and the minimum ticket price remained the same. Despite some filmgoers having to pay up to 100 yuan for a ticket (For context: an IMAX 3D ticket cost 120 yuan at peak times, and minimum monthly wage in Shenzhen just got raised to 1500 yuan), people flocked to the Nanjing Massacre drama anyway, and it has now become the highest-grossing Chinese language film of 2011 in China. However, its final gross will still be far below the 1 billion yuan Zhang projected (the film cost 600 million yuan to produce).
As a result of this little fight, the Chinese government is looking to enforce a law that will not allow cinemas to take more than 50% of the box office revenue. This may end up tipping the balance of power back to producers and distributors, as they will surely be taking a larger share of box office revenue once the law passes.
Why download illegally when you can download it legally?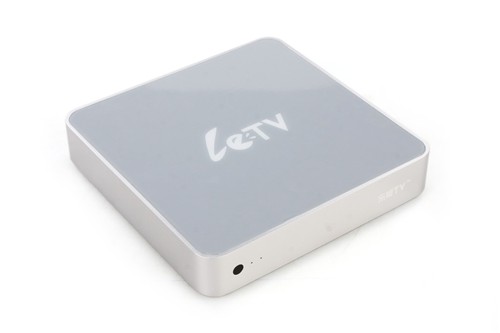 This year saw audiences in China finally catching on to the idea of legal streaming, as traditional pirate video sites Tudou and Youku saw their legal video streaming services take off (region restrictions and all!). However, the biggest one of them all so far must be LeTV, who boasts the largest legally-obtained video library out of all the streaming sites. Offering television series, variety shows, and of course, films, most of LeTV's content is legal and free (see earlier post here). For the price of letting a little ad pop up on the bottom right of your screen and lackluster audio (their paid service offers HD versions), you can catch the latest Chinese blockbusters on your computer/tablet screens within two months after their theatrical release, and some of them even have English subtitles!
This is terrible news for the Chinese video industry - who is already selling DVDs for as cheap as 15 yuan and has no rental industry due to rampant piracy - but at least it's a very positive step in getting Chinese people to believe in watching entertainment content in a way that benefits both the consumers (i.e. FREE) and the content providers (i.e. CASH). The next step is getting this technology to people here in Hong Kong, but without the infrastructure and resources that would secure enough profit for content providers, I'm not holding my breath.
With great weibo comes great responsibilities 
Twitt-what? The micro-blog that Hong Kong and Chinese people are crazy about this year was Sina Weibo. With the most popular microbloggers getting literally millions on followers (Yao Chen is the Queen of Sina Weibo with 15 million followers), all the cool Chinese celebrities are talking on media platform Sina's own version of Twitter. Despite constant threats of censorship, Sina Weibo even became one of biggest source of criticisms against the Chinese government after the high speed rail accident in July.
As for the film world, not only has Sina Weibo become the place for filmmakers and stars to interact with their friends and fans (i.e. get their asses kissed), it's also allowed them to circumvent the typical press conference-driven promotional plans and release information on their own accord. For example, Pang Ho Cheung and Chapman To actually first announced their WHAT WE TALK ABOUT WHEN WE TALK ABOUT HONG KONG MOVIE project on their respective Weibos, before the film's official Weibo launched and way before the press began to cover the film.
Also, Sina Weibo allowing anonymity means that several "industry insiders" have popped up with secret insider news. While some proved to be false, many have proven to be right. However, attracting the scorn of many industry people, the insiders' real identities have been as hot a topic as the gossip they provide. When one of these insiders angered SORCERER AND THE WHITE SNAKE producer Yang Zi (mainly involving him and the film's star Eva Huang), the former actor exposed his/her real identity - a marketing executive at a competing film company - causing the insider to immediately wipe his/her account clean.
While Tencent (as in the company that created popular messaging program QQ) also launched their own Weibo earlier this year with the promise of stars like Karen Mok, Sina remains at the top of the Chinese micro-blogging world, and it's only about to get bigger. With more and more promotional effort for films being shifted to Sina Weibo (many major films have their own official Sina Weibo account now), it will likely become a place to watch for those who want to see what's hot in Chinese cinema.
Of course, there were plenty of other stories, including the REST ON YOUR SHOULDER debacle and Johnnie To hitting the Mainland, that I can't fit in here. I would recommend you to look on the right side of the blog for the archive to see what I covered throughout 2011, including a lot of detail on each of the topic covered in this entry.
As for this blog, I really did wish I updated at a more consistent basis in 2011, and I really wish I can guarantee that I can update on a more consistent basis in 2012. However, with a day job, social obligations, and other professional obligations in this crazy, fast-paced city, I can't guarantee anything. I just 2012 will be another crazy year in Chinese cinema, though. Where else would I get material?
Once again, a happy new year to all who read this far, and I wish you all a good 2012!