Thursday, April 23rd, 2009
Man, it's been awhile. And it'll probably be a lot longer before I write in this thing again because in a few short hours, I'm off to Italy. Again. My toys will miss me: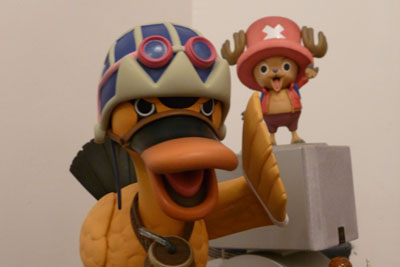 Carue and Chopper will guard my Blu-ray collection.
This year is the second year that I'm attending the Far East Film Festival. I get to go because I contributed to their catalog and book, plus I'm fortunate enough to have saved enough money for a plane ticket.  This is a special time of the year because it represents the end of a lot of stuff. The Hong Kong International Film Festival is over. The Hong Kong Film Awards and associated drama is over. The LoveHKFilm Awards and all the related busywork is over. All that's left is the review writing, which I'll get to when I get to. That's what 2009 is about for me: not doing more than I have to.