June 7th, 2020
Greetings and welcome to Day Two of THE BEST 75 HONG KONG FILMS OF THE 2010s, which covers numbers 60 through 46. This series of blog posts reveals the results of an online vote by over 120 readers and passerbys of LoveHKFilm.com, a website that used to cover Hong Kong film and that you also happen to be visiting at his exact moment. Wow, talk about a coincidence.
As we've done with our previous reader vote THE BEST HONG KONG FILMS EVER, plus the votes covering the 2000s, 1990s and 1980s, this final result list was completely crowdsourced and involved people just randomly throwing out the names of whatever movies they liked. This can result in some weird ones - like how FUTURE COPS placed in the BEST HONG KONG FILMS EVER. I get hives just thinking about that.
However, it also contributes to some genuine surprises like, uh, COOK UP A STORM somehow ranking #71. Or at all.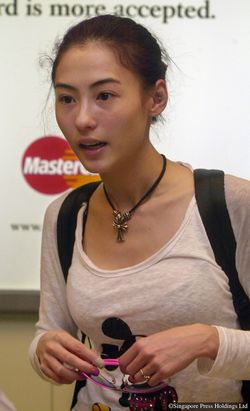 "COOK UP A STORM placed on the list?
That's really amazing! Who's in that movie?"
Anyway, if you're just joining us, you should head back to the beginning and see which films dropped first. You'll probably discover that something you really liked is already eliminated from the competition. Don't worry, ICEMAN is still out there. But no COOK UP A STORM, that's off the board.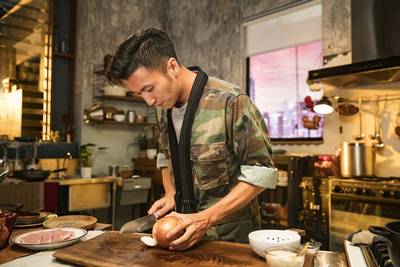 "Screw this dude throwing shade at my movie!
Imma eff him up after I finish slicing this onion."
Previous Updates:
Numbers 75-61
Hit the jump and let's goooooooooooooo
60. FIRE OF CONSCIENCE (2010) - 37 points - LoveHKFilm Review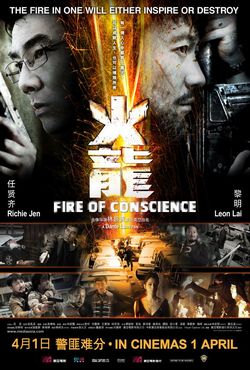 Featuring tortured cops wrestling with themselves and each other, FIRE OF CONSCIENCE signals Dante Lam with every anguished grimace delivered by leads Leon Lai and Richie Jen. The two play cops (duh) who investigate stuff, uncovering tangled relationships and seedy histories that piss off the bad guys, enrage the good guys, and generally annoy passerbys who wonder why everyone's being so damn intense. Actually, there aren't bad or good guys here - this is a gritty examination of cops and robbers where everyone is so grey they might as well be made of concrete. Thank god there's action! True to Dante Lam form, stuff goes boom with intense satisfaction, the highlight being one character getting all ragey before blowing himself to smithereens. Also, Leon Lai's beard: It's magnificent! Not to underrate FIRE OF CONSCIENCE, but it would not be a stretch to say Leon Lai's facial hair steals the show. When voting for the film, Casey Chan said "Leon Lai seems to be a better actor when he has a beard." An unprompted comment, but one that speaks volumes.
59. THE GOLDEN ERA (2014) - 37 points - LoveHKFilm Review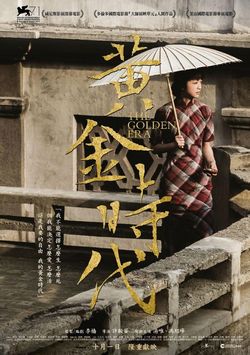 Probably Hong Kong's most consistent director over the past few decades, Ann Hui notches another celebrated work with this award-winning epic drama starring Tang Wei, William Feng and a host of Chinese actors so brilliant that we hesitate to list their names, lest we besmirch their honor with our unworthy existence. Tang stars as progressive Chinese writer Xiao Hong, whose journey from young adult to admired writer is accompanied by lots of literary name dropping and even more charged Chinese history, which spans the early 20th century right up until the Japanese invasion of Hong Kong. If you know what happened during those years, you can guess what Xiao Hong saw, and should know that it was not really the best of times. Throughout, Xiao Hong meets new loves and new influences, and establishes her place in history. Fascinating, enigmatic and at times frustratingly unforthcoming, THE GOLDEN ERA won the Hong Kong Film Award for Best Picture and easily qualifies as a film that offers more with repeat viewing. You'll have to put aside a lot of time though - it's three hours long.
58. THE EMPTY HANDS (2017) - 38.5 points - IMDB Page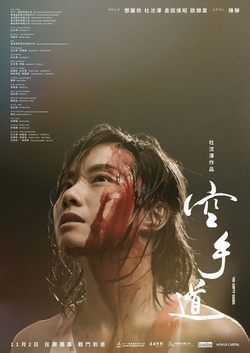 Up became down when this understated martial arts drama hit in 2017. THE EMPTY HANDS wasn't just a fine little film about a young woman's reconciliation with her departed father, it was unexpectedly well-directed by irrepressible comedian-actor Chapman To (whose only previous directorial effort was the panned Singapore-Malaysia flop LET'S EAT), and earned lead actress Stephy Tang (best known for fronting cheesy girl group Cookies) a Hong Kong Film Critics Society Best Actress award and pole position in the Hong Kong Film Awards Best Actress race (she lost to Teresa Mo of TOMORROW IS ANOTHER DAY). Now Chapman To's next film is anticipated (he has yet to deliver a follow-up), while Stephy Tang is a semi-regular at year-end kudos-fests (her role in MY PRINCE EDWARD is her latest source of acclaim). Seriously, who could have predicted these career trajectories after both appeared in the hives-inducing EIGHT GIRLS AND A GHOST (2002)? Probably not even Chapman or Stephy.
57. THREE (2016) - 39 points, 1 first place vote - LoveHKFilm Review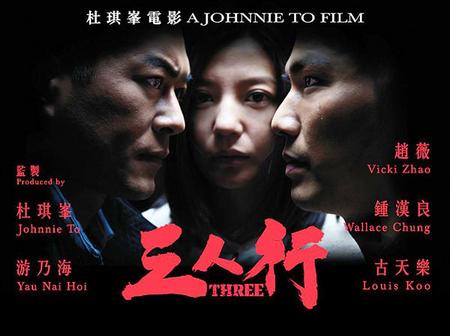 Johnnie To enters the BEST HK MOVIES OF THE 2010s with THREE, his thriller about a criminal mastermind (Wallace Chung), a guilt-ridden doctor (Vicki Zhao), and a morally murky inspector (Louis Koo) who clash in a confined hospital ward. Simon Booth calls THREE a "flawed but fascinating and unique demonstration of To's mastery of his craft." Some flaws come from the hole-riddled storyline (which may have been "adjusted" by those pesky China censors), but To's superlative filmmaking covers up those holes admirably. THREE is a clinic in Johnnie To style and storytelling, with pacing and silences that speak volumes more than exposition could. Also, it's got a gunfight with a capital G, namely a heavily mediated climactic shootout that defies description. Says Rod Meek, "At this point To seems bored with his own ease at staging bullet ballets and has to handicap himself, but the faux-slow motion shootout is worth the price of admittance." Obviously THREE is a not a major Johnnie To achievement because it only ranked #57, but it says a lot about Mr. To that all but one of his films from the past decade made this list. Guessing which film didn't is not hard.
56. CROSSING HENNESSY (2010) - 42 points - LoveHKFilm Review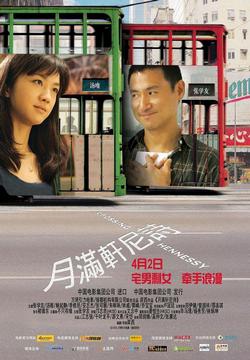 Award-winning screenwriter Ivy Ho's directing career started and stalled after only two features, but both of her efforts were quite good in their own way. Her second and currently final film, CROSSING HENNESSY, is an oddly romance-less romantic dramedy that compensates for its lack of passion with well-drawn characters and a dynamite pairing of leads. Jacky Cheung plays sympathetic shlubs like few performers can, and his so-subtle-one-wonders-if-it'll-happen-in-less-than-two-hours romance with Tang Wei is a genuinely enjoyable one. Also, while Ivy Ho's storytelling may be subdued and upscale (read: not pandering), the urban Wanchai setting is portrayed as refreshingly local and relatable. Tang Wei would go on to be a popular romantic comedy lead during the 2010s, and so it's with some sadness that we report that FINDING MR. RIGHT, arguably her most well-known film in the genre, ranked at #76 and just missed the Top 75.
55. LOVE OFF THE CUFF (2017) - 42.5 points - IMDB Page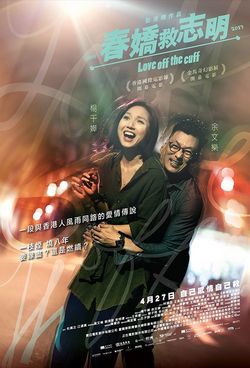 Jimmy (Shawn Yue) and Cherie (Miriam Yeung) make their presence known on the BEST 75 HONG KONG MOVIES OF THE 2010s list, and audiences apparently love this couple. They're the subject of the LOVE IN/OFF A/THE PUFF/BUFF/CUFF movies, undoubtedly the Hong Kong romantic comedy series of the decade - though to be fair, it's hard to name other good romcom series from the period. Perhaps the only challenger to the "best romcom series of the 2010s" throne belongs to Johnnie To and Wai Ka-Fai, but their films did not have the cultural impact of Pang Ho-Cheung's trilogy, which chronicles the good, the bad, and the insufferable of millennial romance. Sharp, witty and packed-to-the-gills with cultural references that local audiences went nuts over, the series has earned a place in Hong Kong Cinema history and will be watched and re-watched for years to come. LOVE OFF THE CUFF is the closing film in the series and by most accounts the least of the three, but both its precursors will show up later. The mystery is how high they'll rank.
54. FLYING SWORDS OF DRAGON GATE (2011) - 47 points - LoveHKFilm Review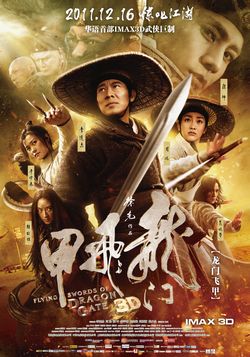 What do you call a film that's a remake but also a sequel to the film it's remaking? Hell if I know, but that's exactly what FLYING SWORDS OF DRAGON GATE is: a remake of the Tsui Hark-produced DRAGON INN that vaguely presents the same overall plot (freedom fighters and bandits team up at a desert inn to fight an evil eunuch) while also suggesting that Jet Li and Zhou Xun are years-later versions of Tony Leung Ka-Fai and Brigitte Lin from the original - which was itself a remake of King Hu's 1967 DRAGON GATE INN. What do all these layers of inter-textual and meta-textual detail mean? Nobody really knows, but it would not be a stretch to suggest that Tsui Hark did all this just to amuse himself. That discussion aside, FLYING SWORDS is good, clean wuxia fun that mixes old Hong Kong Cinema with new Chinese Cinema exceptionally well, plus it proves that Tsui Hark, more than probably 99% of all directors working, really knows how to use 3D technology. In fact, we would recommend seeing FLYING SWORDS on your 3D television using your 3D Blu-ray player to get the best possible experience. Too bad home 3D is basically dead.
53. OVERHEARD 2 (2011) - 49.5 points - LoveHKFilm Review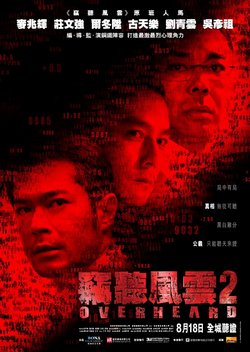 For what's been termed a legendary franchise, the OVERHEARD movies don't get talked about all that much. From producer Derek Yee and writer-directors Alan Mak and Felix Chong, this series of unconnected surveillance thrillers features superstars Lau Ching-Wan, Louis Koo and Daniel Wu. The first OVERHEARD (2009) ranked #198 on the BEST 200 HONG KONG MOVIES EVER list though one wonders if anyone would care enough today to vote for it - and that's even considering its legendary performance from Michael Wong, who memorably shrieked like a toddler while meeting his fate in "his own car." Sadly, Wong does not return for OVERHEARD 2, which tarnishes it even further in our collective memory. Still, OH2 offers more action than OH1 while featuring charismatic badassery from Daniel Wu as a mysterious dude spying on a cabal of stockbrokers called "The Landlord Club." Lau Ching-Wan is a conflicted member of the Landlord Club while Louis Koo is the hardass cop (seriously, the man arrested his own wife) hot on Daniel's tail. The three male stars also returned for OVERHEARD 3 (2014), which tied for #154 in our voting despite adding Zhou Xun to its already star-studded cast. Michael Wong wasn't in that movie either, which naturally explains why it received so few votes.
52. OFFICE (2015) - 49.5 points - LoveHKFilm Review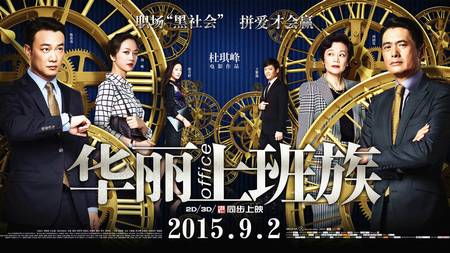 In the mid-2010s, fanboy rage erupted when it was discovered that Johnnie To's new film OFFICE was not a Milkyway Image riff on the COLD WAR movies with more gunplay and Lam Suet. No, this OFFICE was a musical satirizing office politics and the financial sector, and was based on a stageplay co-written by and starring Sylvia Chang. Fanboy rage was further stoked when Chow Yun-Fat was cast in the film but reportedly would not wield a single pistol, much less the two that fans desired. Sadly, it seemed that To had truly abandoned his customers, the very people who made him an internationally-renowned filmmaker. Really, this betrayal stung worse than that time To went to Cannes with some wacky comedy about a blind cop starring the director of INFERNAL AFFAIRS and a girl named "Sammy". OFFICE was subsequently panned by online film journalists who rightly chastised To for "wasting his time" making any film that did not feature guns or some form of violence. Little positive came of this whole affair, except that Johnnie To and Sylvia Chang's OFFICE is actually quite good and even somewhat underrated - an uneven but surprising and sometimes unsettling musical drama with potent situations and exceptional acting. Perhaps OFFICE underwhelmed in 2015, but in a few decades we might be singing a different tune. Except for the fanboys, that is. Their rage is eternal.
51. LITTLE BIG SOLDIER (2010) - 51.5 points - LoveHKFilm Review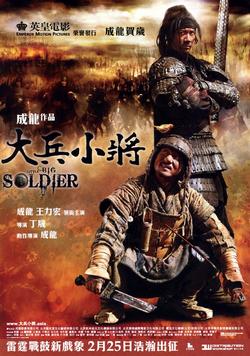 An old Jackie Chan doesn't beat up people and instead throws rocks at them - and that's why LITTLE BIG SOLDIER is absolutely his best film from the 2010s! OK, that's not exactly true, but admitting Jackie's age and turning him into a rock-throwing coward works remarkably well in Ding Sheng's surprisingly excellent period action-comedy-drama. Set during the Warring States period, LITTLE BIG SOLDIER presents Jackie as a lowly soldier who angles to escort an honorable prince (Leehom Wang) to his doom in exchange for a healthy payday. SPOILER ALERT: Of course a Jackie Chan character wouldn't do such an awful thing, but his journey towards redemption is consistently funny, entertaining and even emotional. Kenny Fong says, "Jackie Chan has had more misses than hits this decade, but when he does hit the target, it sure feels sweet to be an audience member." Jackie Chan's Q rating has taken a beating in recent years so it's nice that fans can see past his issues to recognize his greatness as an entertainer. Well, for this film anyway. Because LITTLE BIG SOLDIER is the only Jackie Chan movie that appears on this list.
50. DON'T GO BREAKING MY HEART 2 (2014) - 54.5 points - LoveHKFilm Review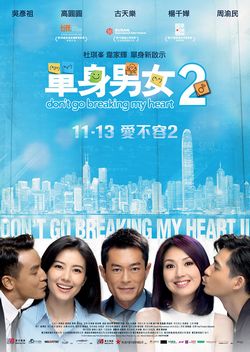 Valerie Soe, director of the documentary LOVE BOAT: TAIWAN, says about DON'T GO BREAKING MY HEART 2: "Johnnie To's intricate and clever romcom proves he's not only about bullets and gangsters." Agreed, and if you're arguing that Johnnie To IS only about bullets and gangsters, then you've been on the wrong side of this argument since the year 2000. Probably the runner-up in the contest for "Best HK Romcom Series of the 2010s", the DON'T GO BREAKING MY HEART movies are astoundingly clever and very much worthy of the filmmakers behind them: To and Wai Ka-Fai. The guys that everyone thinks should be making only crime films excel at these love-laffers, using silences, spacing and surprise callbacks to weave entertaining and accomplished bits of commercial cinema. Louis Koo, Gao Yuanyuan and Daniel Wu return for more love triangle hijinks, which are complicated this time by the addition of Miriam Yeung, Vic Chou, and the willingness of Messrs. To and Wai to upend everything they did in the first film. It's usually a bad idea for a sequel to erase what the characters in the first film worked so hard to achieve. But when the filmmakers do it this well, and in such a creative and technically superior manner? No objections over here.
49. SHOCK WAVE (2017) - 54.5 points - IMDB Page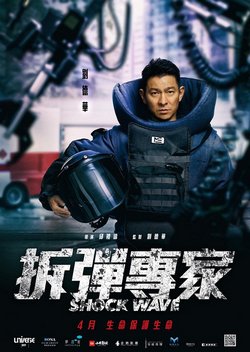 Not to be confused with FIRESTORM, the other generically-named cop action film from the 2010s starring Andy Lau, SHOCK WAVE is an entertaining commercial effort from director Herman Yau, a man who certainly knows how to make studio product when he's asked to. Not that SHOCK WAVE is only average - it manages to slide in a few notches higher thanks to its fun concept (terrorists hold everyone in the Cross Harbour Tunnel hostage), solid bad guy casting (Jiang "brother of Baze Malbus" Wu), and that Tao Ti spokesperson, you know, the guy from THE GREAT WALL. Few people are more effective playing super righteous "best man ever" types than Andy Lau, and he's in top form here, zipping all over Hong Kong to defuse multiple IEDs, save his girlfriend (Song Jia), investigate corruption, and mourn the passing of Babyjohn - because hey, when someone named Babyjohn dies, you need to stop and shed a tear. SHOCK WAVE 2 was due to be released in 2019 but got held up thanks to the Hong Kong Protests, which made cop movies undesirable locally. Now every movie everywhere is delayed. Andy Lau can take on movie terrorists, but can he defeat reality? Obviously not.
48. ECHOES OF THE RAINBOW (2010) - 56 points - LoveHKFilm Review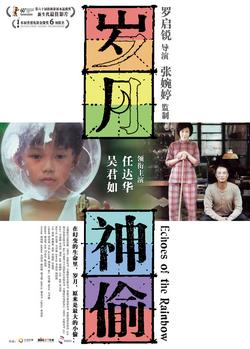 Hold on, does Alex Law's award-winning nostalgic drama ECHOES OF THE RAINBOW actually count as a film from the 2010s? The tale of the tape: ECHOES famously won the Crystal Bear (given by a jury of children, mind you) at the Berlin Film Festival in February 2010, generating massive buzz ahead of the Hong Kong Film Awards in April 2010, where Simon Yam won Best Actor but ECHOES lost Best Picture to BODYGUARDS AND ASSASSINS. However, the Hong Kong Film Awards were given to 2009 films, so I considered removing ECHOES from this vote. However, the film ended up on the 2010 list of the Hong Kong Film Critics Society (probably because it didn't get a public theatrical release until March 11, 2010), and we determined qualifying films for this reader vote using the HKFCS lists. So I decided to leave ECHOES OF THE RAINBOW in and it ended up ranking #48. Yay! What did we learn from all of this? Probably nothing. But whatever - this is a generally nice little outcome for a generally nice little movie. Really, the worst thing you can say about ECHOES OF THE RAINBOW is that it consciously avoids political topics in favor of warm and fuzzy nostalgia. That actually was a charge levied against it by cultural critics when it was first released. The regular audiences (a.k.a. "normies") who made it a sizable hit? They didn't really care.
47. DEAREST (2014) - 58 points - LoveHKFilm Review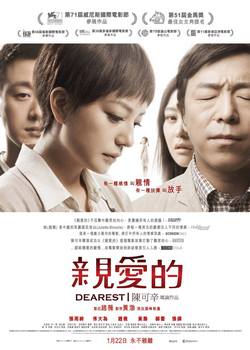 If you put your foot down and said, "No, DEAREST is absolutely a China film and not a Hong Kong film!" it'd be understandable. After all, this child kidnapping drama is based on a true story that took place in China, features an exploration of Chinese social issues, and features an entirely mainland cast even though its director (Peter Chan Ho-Sun) is nearly 100% associated with Hong Kong films. However, it made the cut for the Hong Kong Film Awards, so whatever shifting rules enable films to qualify - and keep the Hong Kong film industry on life support - I suppose we should take them. Beggars can't be choosers, can they? That said, DEAREST isn't a film for beggars. This intense drama (covering kidnapping and all its ancillary pathos) covers its subject matter in a head-on, sometimes discomfiting manner. It perhaps bites off more than it can chew, ultimately offering only an ambivalent judgement of China and its social norms, but succeeds handily as an emotionally harrowing and affecting work. Also, the acting is dynamite, especially from Vicki Zhao, who rightfully walked away with a bunch of awards for her performance as a woman who may or may not know that her adopted children were kidnapped from others. Arguably the strongest film from Peter Chan all decade, though he did make another movie that is far more popular.
46. THE WAY WE DANCE (2013) - 59.5 points - LoveHKFilm Review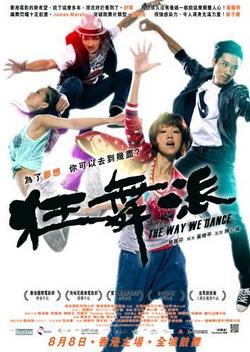 Few Hong Kong movies from the past decade surprised more than THE WAY WE DANCE, director Adam Wong's inspirational dance film that tackled typical youth coming-of-age tropes in an engaging, entertaining and very Hong Kong-specific manner. Young Cherry Ngan earned widespread acclaim as Fa, a young woman who expresses herself through street dance and dreams of joining local dance group BombA. But love and jealousy derail her dream, and she ends up falling in with a greasy dope named "Dickhead Alan" (Babyjohn Choi), who has depths even the audience doesn't realize. Still, Fa's dance dreams just won't die, so of course she'll rise up and challenge everyone on her way to street dance glory, right? This is an exceptionally commercial narrative, but Adam Wong makes up for any predictability with charming characters, an engaging local focus, and an infectious exuberance that simply wins over the audience. Jean-Baptiste Larramendy calls THE WAY WE DANCE a "great discovery with a superb young actress. A low-key classic." Indeed, Cherry Ngan was so impressive that she was nominated for a Best Actress Hong Kong Film Award, and could have won if not for Zhang Ziyi and some movie about a superhero named Ip-man. Babyjohn Choi did win Best New Artist though, and Ngan and Choi were tabbed as perfect young representatives for the future of Hong Kong Cinema. Unfortunately, seven years later we are still waiting for that future to arrive.
Hey, THE WAY WE DANCE managed to place! That's actually pretty great, because it's a fine little movie that demonstrates what a new local Hong Kong Cinema could possibly look like. It also features many scenes shot at Hong Kong Polytechnic University before it was turned into a nightmarish burnt-out husk. I would say why that happened but my word processor keeps deleting my typing and threatening to contact the authorities.
See you in a few days when we reveal numbers 45-31 of this monstrosity.