March 22nd, 2012
I thought we'd never get here.
This is the final post in our incredibly drawn-out and tiresome Top 100 Hong Kong Films of the Eighties countdown and it's frankly insane that it took us 11 days to get here. It seems like I'm just delaying the inevitable.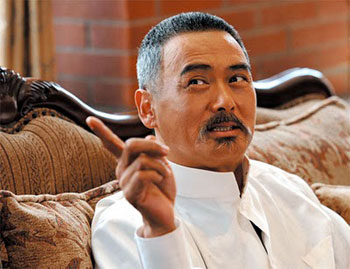 "I"m going to win, right? Because if I don't I'm going
to sign that contract to make BULLETPROOF MONK 2."
Yep, it's time for Chow Yun-Fat to claim his rightful place as King of the Eighties, but before we get there, here's the boilerplate:
This is LoveHKFilm.com's Top 100 Hong Kong Movies of the Eighties countdown. It's selected by over 130 people who either read LoveHKFilm.com or chance upon it while looking for BitTorrent links. If you just arrived here and haven't seen Number 100-6, we suggest you first use the links below because it's more exciting to read the countdown in the correct order. Well, I can't prove it's more exciting but trust me, it is. Scout's honor.
Previous updates:
Numbers 101-81
Numbers 80-61
Numbers 60-41
Numbers 40-31
Numbers 30-21
Numbers 20-11
Numbers 10-6
Let's get this thing done! I got a plane to catch and actual film reviews to write.
5. PEKING OPERA BLUES (1986), directed by Tsui Hark - 613.5 points, 21 first place vote - LoveHKFilm Review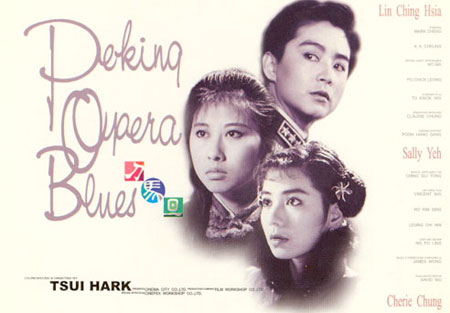 No need to even talk about PEKING OPERA BLUES - let's just hit the quotes. Says KL, "Tsui Hark is the Master! PEKING OPERA BLUES is one of his best directorial efforts, featuring an unrivaled mixture of all genres and a divine treatment of female characters. Brigitte Lin, Cherie Chung and Sally Yeh are fabulous, and the whole film bursts with breathtaking cinematic energy." Guppieluv says PEKING OPERA BLUES is "Hands down the best movie of the eighties! Mixes comedy, music, Peking Opera, three of the most awesome leading ladies at the time, action, adventure, the intensity of Kenneth Tsang - that man is awesome." Adam DiPiazza says, "I can't think of a single movie that better exemplifies Hong Kong Cinema in the 1980's. Everything from the whiplash mood changes to the exciting action sequences are here, not to mention Tsui Hark's thinly veiled political commentary. What's even more impressive is that it all works." Grady Hendrix minces no words, calling PEKING OPERA BLUES "quite simply the best movie ever made. Everything that can be said or done in a movie is said and done perfectly here. By the time the credits roll, I expect the entire planet to turn out the lights and close up shop." Oh, we like the movie too.
4. A CHINESE GHOST STORY (1987), directed by Ching Siu-Tung - 616 points, 14 first place votes - LoveHKFilm Review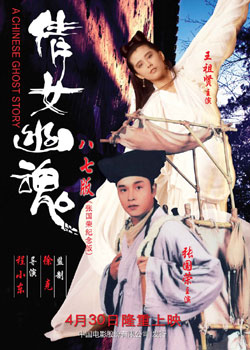 They don't make them like this anymore. Sliding in at #4 is A CHINESE GHOST STORY, the classic horror-romance-wuxia-comedy-whatever from director Ching Siu-Tung and producer Tsui Hark, which was remade in 2011 by director Wilson Yip to irked response from many. Veronica says that CHINESE GHOST STORY is "Soooo classic and beautiful. Makes it a shame to watch Wilson Yip's 2011 attempt." Actually, the 2011 remake isn't terrible but Yip also copied the tone, look and feel of the original film. Was that a mistake? Absolutely, because those things - the visuals, the dynamic energy, and the fun and fantastic way that Ching Siu-Tung and Tsui Hark brought everything together - made the original a classic. Mickey says, "What is best about this film is that it exemplifies the best of Hong Kong Cinema. Underdog characters you care about, a memorable soundtrack, dynamic action, fast pacing, a recipe of equal parts tragedy and farce." And the actors ruled - no offense to Louis Koo, Yu Shaoqun or Liu Yi-Fei, but they can't match the combo of Leslie Cheung and Joey Wong, not to mention Wu Ma, Tsui Siu-Ming, etc. A CHINESE GHOST STORY is a one-of-a-kind. You just can't remake movies like this.
3. POLICE STORY (1985), directed by Jackie Chan - 740 points, 9 first place votes - LoveHKFilm Review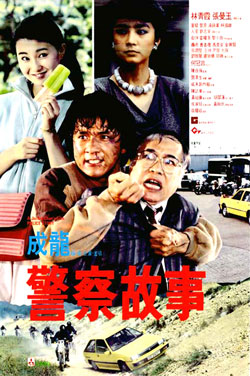 Chris Wolter says "no one does it better than Jackie Chan" - and by "it", Chris must mean risking dismemberment and nearly killing oneself to entertain nameless strangers. Jackie Chan is the clown prince of comedy and the patron saint of stuntmen, and his daredevil insanity is dialed up to a generous thirty-five in POLICE STORY. The story of a cop (Jackie!) who does cop things and breaks lots of glass, POLICE STORY is an eye-popping extraganza of stunt spectacle, nimble comedy and moment after moment of painful-looking impact. And it's all awesome. Says Sean: "Jackie Chan made great movies before and after this, but this is still his unequivocal masterpiece of martial arts cinema." ThingsFallApart says, "For a long time I was a Jackie Chan nay-sayer, but when I finally saw this I suddenly saw that there was a depth and a passion to go with the amazing stunt work." Sure there's cheesy comedy and co-star Maggie Cheung had yet to learn how to act (Brigitte Lin shores that department up nicely), but POLICE STORY is so full of "wow, did Jackie just do that?" moments that it is impossible not to appreciate. And if you can't appreciate POLICE STORY then we have to ask why you're even reading this.
And we were kidding back at #17 when we said POLICE STORY only ranked #104. That's why we wrote "Just kidding."
2. THE KILLER (1989), directed by John Woo - 794 points, 22 first place votes - LoveHKFilm Review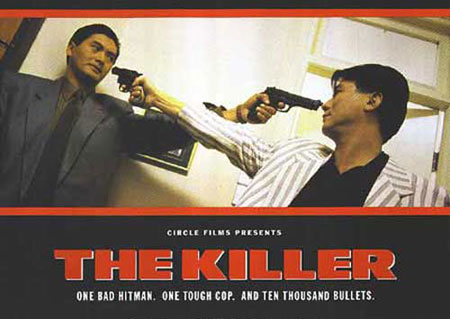 Does anyone remember when the US distributor Circle Films billed their new arthouse release THE KILLER as a "thriller-comedy?" Times have changed, because while John Woo's action classic may be overwrought, homoerotic and melodramatic, nowadays nobody would ever call THE KILLER a comedy. All this over-the-top craziness - that's simply how Hong Kong movies and John Woo roll. DRFP calls THE KILLER "Probably the best John Woo film. It balances the body count of HARD BOILED with the emotional ties of A BETTER TOMORROW to stunning effect. This is a rare gem: a heartfelt action movie." Sean says, "John Woo managed to find the perfect balance between action, character and melodrama and if it was anybody else but him directing, it probably would have been a mess." THE KILLER is ballsy stuff because John Woo takes all those hitman movie tropes and brings them to the brink of parody, while still retaining power, emotion and good old-fashioned genre cool. Adam Laidig says it best, calling THE KILLER "The standard by which all hitman films have been measured against since its release over 20 years ago, and to this day has yet to be surpassed." Amen to that, doves and all.
1. INFERNAL AFFAIRS (1989), directed by Andrew Lau and Alan Mak - 888 points, 88 first place votes - LoveHKFilm Review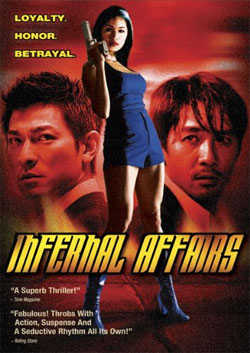 Well, this was a surprise. Released in 2002, INFERNAL AFFAIRS destroyed all competition in our previous Best Movies of the Aughts reader vote, and with good reason. This movie is so good and accomplished and amazing that it can travel through time and win reader votes in previous decades. Really. INFERNAL AFFAIRS is so unstoppably awesome that it also won the Oscar (under a different name), Japan's Academy Prize (nobody can tell the Japanese and the Chinese apart anyway), and the toaster oven, PSP and iPad at my company's annual dinner raffle. Nobody puts INFERNAL AFFAIRS in a corner. It'll turn around, slap you sideways and run off with the Blue Ribbon from your grade school spelling bee.
…
…
…
…
…
…
…
…
…
…
…
…
Sorry, the number one movie in our reader vote is actually:
1. A SIMPLE LIFE (1987), directed by Ann Hui - 9 trillion points, 1 first place vote - No LoveHKFilm Review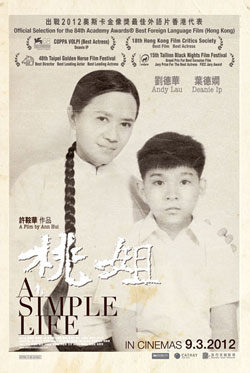 Hey, didn't A SIMPLE LIFE come out in Hong Kong in 2012? That it did, but what people don't realize is Ann Hui's masterpiece starring Deannie Ip and Andy Lau was actually made in 1987, but the filmmakers wisely waited 25 years for buzz to build so they could finally release the film in its home territory. This risky release strategy paid off because in 2011, 24 years after completion, A SIMPLE LIFE finally earned recognition at various international film festivals, who previously were so enchanted with some guy named John To that they ignored Ann Hui's accomplished drama. Actually, A SIMPLE LIFE was originally booked for a North America genre fest in 2009 but the programmers changed their minds when they realized that Deannie Ip is not related to Ip Man - though come on, they do look a little alike. The programmers also thought the film was Andrew Lau's acting debut - and hey, the man who directed INFERNAL AFFAIRS can obviously do anything! Instead A SIMPLE LIFE stars some other guy named Andrew Lau so of course the programmers wisely turned away. The silver lining: A SIMPLE LIFE proved that with enough buzz, a 25-year lead time and an OK director like Ann Hui, a film might earn more money at the box office than THE LOST BLADESMAN. This is a marketing case study for the ages.
…
…
…
…
…
…
…
…
…
…
…
…
Whoops, that was for the April 1st post. Really, the Number One Hong Kong Movie of the Eighties as voted upon by LoveHKFilm.com readers is:
1. A BETTER TOMORROW (1986), directed by John Woo - 857 points, 14 first place votes - LoveHKFilm Review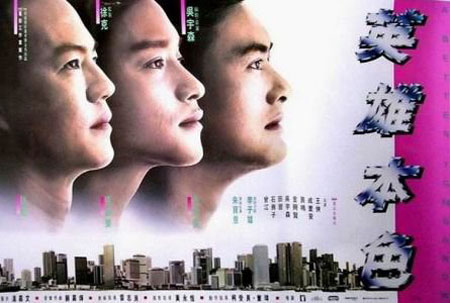 KL says, "If you've never heard of this action flick, you're not qualified to vote for any poll on HK cinema. This little movie explains why Chow Yun-Fat is the coolest man with guns EVER." As completely and totally expected, John Woo's A BETTER TOMORROW takes the #1 position in our Top 100 Hong Kong Movies of the Eighties reader vote, and who can blame anyone who voted for it? The film broke box office records, made Chow Yun-Fat a box-office guarantee, and pretty much defined a generation of action filmmaking both locally and worldwide. Blazing automatics akimbo? Sunglasses and raincoat combo? Awesome synthesizer music? A BETTER TOMORROW has it all. And this isn't just a fanboy thing; if we ran this vote in Hong Kong with only locals, A BETTER TOMORROW would probably still win. According to Adam Laidig, "A BETTER TOMORROW enjoyed the local popularity of GONE WITH THE WIND, became as culturally significant as STAR WARS, and today still enjoys the respect of CITIZEN KANE practically the world over. Simply put, A BETTER TOMORROW is the face of Hong Kong's golden age of filmmaking." And Chow Yun-Fat is the poster boy.
Well, that's finally the end of our Top 100 Hong Kong Movies of the Eighties countdown. Sorry for the breaks in the countdown, plus our usual assortment of lousy jokes that annoy people on the Internet with no sense of humor. As always, this was supposed to be a fun exercise and if you can't have fun, well, learn how to. It'll help your blood pressure level.
Stop back in another week or so to see the full list of all 200+ voted on films, so you can finally see where FIVE ELEMENT NINJAS and 100 WAYS TO KILL YOUR WIFE ranked. THE NOBLES, I LOVE LOLANTO and THE FLYING MR. B didn't even place so don't even ask.  We'll do this again in a few months when we run a reader vote for the 100 BEST HONG KONG FILMS EVER. That means it's time for the INFERNAL AFFAIRS vs. A BETTER TOMORROW vs. CHUNGKING EXPRESS throwdown. Of the three, which film will win? Or will some other movie come flying out nowhere to take the crown? As always, I bet on FUTURE COPS.
Donnie says goodbye: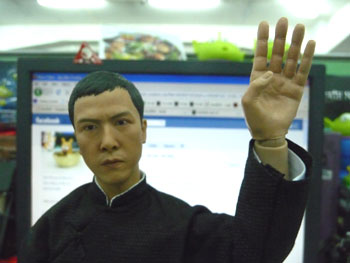 "再见!"