June 10th, 2020
Hi and you're perusing Day 4 of THE BEST 75 HONG KONG FILMS OF THE 2010s. The excitement you're feeling must be off the charts.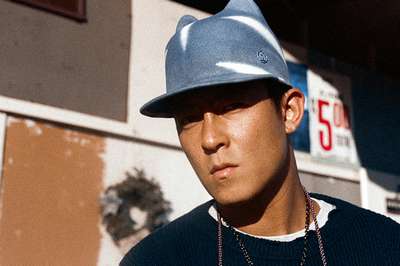 "Does the Ed look excited to you?
Where's GOLDEN CHICKEN 3?
I was dope in that sh*t.
My hat tells me this vote is a scam."
Looking at the results thus far, Louis Koo seems ahead in the "person who had the most to do with THE BEST HONG KONG FILMS OF THE 2010s" competition, and that's even if we don't count his position as Founder and Supreme God of One Cool Group, which is involved in film production, post-production, film distribution, film equipment rental, artist management, and advanced tanning technology. He's got that award locked up.
On the opposite end of the spectrum, director Patrick Kong has never had a single film end up on any of our "BEST" lists. Kong has been around since 2004, and delivered consistent output and box office results (read: not spectacular but still decent considering the low costs). You'd think that someone who works so much would gain some traction, or at least back into making a guilty pleasure or decently entertaining work. No go. Even the man's "good" movies are not really that good and are understandably not ranked among films like OUR TIME WILL COME or, uh, COOK UP A STORM.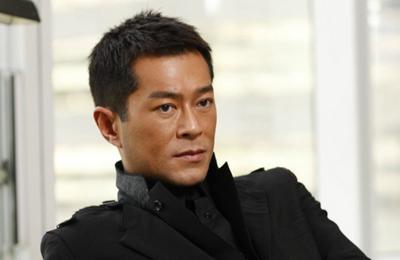 "Am I supposed to care? Hurry this thing up so I can
take home some hardware! My tanning bed is lonely."
So, what's our conclusion here? That Patrick Kong having no films among THE BEST HK FILMS OF THE 2010s is an appropriate and just outcome.
Anyway, previous entries in this endless series, if it matters.
Numbers 75-61
Numbers 60-46
Numbers 45-31
Hit that jump and let's get to the results! Seriously, I'm not getting any younger.
30. IP MAN 3 (2015) - 86 points - LoveHKFilm Review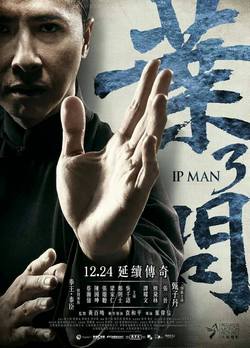 First the bad news: IP MAN: THE FINALE was released in late 2019 so many people who voted for the Best Hong Kong Films of the 2010s couldn't see it in time. It ranked #98, missing the Top 75 and resigning Donnie Yen to no more IP MANs on this list. Now the good news: The ICEMAN movies still have a chance! Anyway, IP MAN 3 ranked #30, and managed to outshine IP MAN 2: ROCKY 6 1/2 in this reader vote. That might seem odd because IP MAN 2 was so popular, but sometimes fans just enjoy a changeup. Kenny Fong offers his reasoning, saying that "No list of best Hong Kong films of the 2010s is complete without at least one film from the IP MAN series, the ONCE UPON A TIME IN CHINA of our generation. Having seen all three entries from this decade, the one that resonated the most would have to be the third film, which eschews excessive nationalism in favor of plot threads such as Ip Man's relationship with his wife and the fight over the genuine style of Wing Chun." Gabe was more succinct, saying, "I don't care how goofy it was - the Mike Tyson fight and the elevator fight definitely put this on the list." Whatever your reasons for liking the IP MAN movies, none will show up in the cinema or on this list in the future. Let's all raise a glass for these films, which are already considered Hong Kong Cinema classics and will likely go down in history as the signature film series of DONNNNNIEEEEEEE.
29. MOTORWAY (2011) - 91 points - LoveHKFilm Review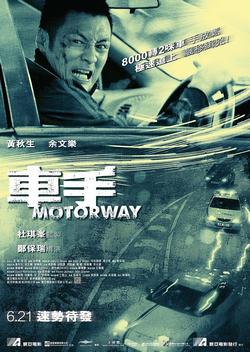 Basically TOP GUN with cops and modified J-cars, the Soi Cheang-directed and Milkyway Image-produced MOTORWAY reunites two stars from street racing blockbuster INITIAL D for similar but less flashy thrills. Cheung (Shawn Yue) is an impetuous police driver who meets his match when a legendary getaway driver (Guo Xiaodong, oozing bad guy cool) embarrasses him, leading to a fall from grace and plenty of soulful self-pity. However, thanks to the sage advice of his grizzled partner (Anthony Wong), Cheung regains his confidence and gets back into the game in time for a climactic car chase. Yep, that's the story. MOTORWAY could have been generic commercial crap but finishes as a superior genre film thanks to the super-cool Milkyway Image house style, which extends from the film's look to its storytelling to its spare screenplay, which mostly avoids cheesy screenwriting traps. Mostly. The script does feature the hilarious line, "If you lose your drive, you're worse off than a broken car," which is only better than "Sometimes you must step on the gas, and sometimes you must step on the brake," because it's in a movie not directed by Andrew Lau. Really, plug in a lesser director and a lesser production house and MOTORWAY might have been a Eurobeat-pumping crapfest. Whatever - this movie has Johnnie To's name on it somewhere so it obviously must be awesome. See it for the cars and because Anthony Wong can do no wrong. Well, except for the fifty or sixty movies he did that nobody likes to talk about.
28. PORT OF CALL (2015) - 94.5 points, 1 first place vote - LoveHKFilm Review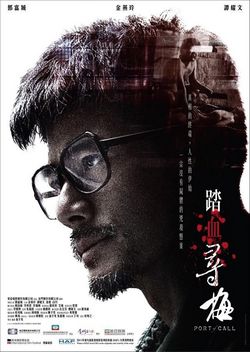 One of the most unsettling and eerily beautiful Hong Kong films in recent memory, PORT OF CALL is probably most famous for being the film that finally won star Aaron Kwok a Best Actor Hong Kong Film Award. The Kwokster (sporting a graying mop of hair and a costume that could best be described as "fisherman uncle") plays Inspector Chong, a cop investigating the grisly murder of a young girl, whose body was found headless and dismembered. While Chong investigates, the film flashes back to the lives of the young girl (Jessie Li, who won Best Actress at the Hong Kong Film Awards) and the unlikely murderer (Michael Ning, who won Best Supporting Actor AND Best New Artist at the same awards), tracing the moments that led them to their fates. Director Philip Yung digs deep to examine a host of Hong Kong ills, from urban alienation to marginalized youth to the sort of worrying societal decay that would lead a young man to dismember a young woman and flush her organs down the toilet. PORT OF CALL perhaps tries to do too much, but its startling imagery, unflinching horror and sublime acting - especially from Michael Ning, whose performance was one of the decade's best - make this as close to a 2010s must-see as you can get. Winner of the Hong Kong Film Critic's Society Award for Best Picture, though it lost the Hong Kong Film Award to TEN YEARS.
27. SOUL MATE (2016) - 102.5 points, 1 first place vote - LoveHKFilm Review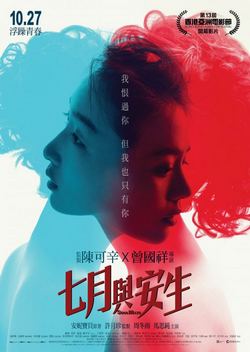 After co-directing two features (LOVE DISCLOSURE, LACUNA) alongside Jimmy Wan, and before directing BETTER DAYS and subsequently destroying all comers at the 2020 Hong Kong Film Awards, Derek Tsang made this years-spanning drama about two girls and their longtime friendship. That movie, SOUL MATE, is one of those rare cinema creations that qualifies as an actual discovery. The story itself is not revolutionary - it's about two very different girls (Zhou Dongyu and Ma Sichun) who nevertheless share intertwined lives - but it did demonstrate that the son of a man shaped like a barrel could be the one the keys to Hong Kong Cinema's future. Also, it cast mainland sweetheart Zhou Dongyu in an against-type role, which she absolutely killed, and co-star Ma Sichun is just as impressive in a more subtle role. The two performances are so fantastic that the Golden Horse Awards couldn't choose just one, and made them share the Best Actress Award (wow, that could've been a subplot in the movie), though the Hong Kong Film Awards told both to wait their turn while giving Kara Hui her FIFTH acting award (this time for HAPPINESS). Jean-Baptiste Larramendy complimented the film, saying "What a bunch of performances! The Tsang boy is gifted for sure." The futures of the main players turned out to be pretty much all impressive: Derek Tsang you know about, while Zhou Dongyu just won her Best Actress Hong Kong Film Award for Tsang's BETTER DAYS. Ma Sichun hasn't done as well comparatively (she was in the most recent Tsui Hark DETECTIVE DEE film), though it's unfair to suggest she should be, considering both Tsang and Zhou are basically A++ tier now. One hopes Tsang will keep up his streak plus make an actual local film. Sure there's less money and probably less glory involved, but c'mon Derek: Do it!
26. REIGN OF ASSASSINS (2010) - 112.5 points, 2 first place votes - LoveHKFilm Review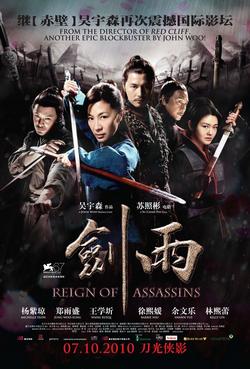 Justice for Su Chao-Bin! The director of the horror-action-thriller SILK (2007) made a huge splash with the smart and enormously entertaining wuxia REIGN OF ASSASSINS, which got a big boost thanks to the presence of its co-director, some guy named John Woo. Scuttlebutt has it that Woo's name was given extra prominence for marketing considerations, and considering Woo's late-career output (Uh, MANHUNT, anyone?), Su may not have received the credit that he likely deserved. In an even greater injustice, Su Chao-Bin has not made a film since, with only various scripts (including for John Woo's ill-fated CROSSING movies) to his credit. Valerie Soe says that REIGN OF ASSASSINS is a "throwback wuxia film that hits all of its marks, with a humanistic story at its core," while Simon Booth praises it as a "top drawer wuxia of the sort we don't get very often these days." It did look like there would be a wuxia renaissance at the beginning of the decade with this, DETECTIVE DEE and FLYING SWORDS OF DRAGON GATE leading the way, but modern wuxia are not easy to make (CGI is a lot more expensive and difficult to wrangle than attaching wires to people) so nothing like the crazy wuxia boom of 1993-1994 ever occurred. Or looks like it ever will again. Given the decade since REIGN OF ASSASSINS was released, and Su Chao-Bin's invisibility since, we should treasure this movie all the more.
25. ROMANCING IN THIN AIR (2012) - 116.5 points, 3 first place votes - LoveHKFilm Review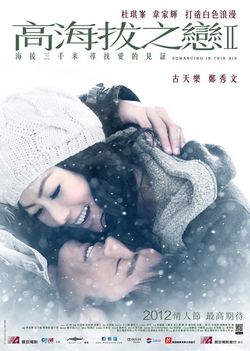 When Johnnie To and Wai Ka-Fai work together on a romantic film the result more often than not is something special. So it is with ROMANCING IN THIN AIR, a beguiling romance with top stars (Louis Koo and Sammi Cheng) and a beautiful location (Shangri-La County, Yunnan). But more important than those things, this movie is super meta. Movie star Michael (played by movie star Louis Koo) falls in love with a fan (Sammi Cheng) and - skipping over huge swathes of the story - he ends up making a movie-within-a-movie as a means of expressing his love. However, the movie-within-a-movie actually depicts events that occur within this movie, and it has the same title as this movie. By the way, that title has a "II" meaning ROMANCING IN THIN AIR acts as a sequel - except not to another movie, but to something that occurs within this movie. Hell, the romance in this movie is itself a sequel, because isn't everything a sequel? That is, except maybe the thing that came first? It's like film studies inception, man - this movie's got layers, I tell you, layers! Film students should go ape for this stuff because they can talk about it endlessly and it makes them feel smart. Regular audiences? They just enjoy the fact that it's Louis and Sammi falling in love in picturesque Shangri-La, plus there's a great theme song by Sammi, and Louis sometimes has a beard and it looks a lot better on him than it did on Leon Lai in FIRE OF CONSCIENCE. The negative to all of this is that the film is not a comedy, which makes all the arch cleverness and irony go down a lot easier. But that doesn't matter because ROMANCING serves all types of audiences, and does so much so well that criticizing it feels like nitpicking. Really, the film's biggest flaw is that it's not called ROMANCING IN THIN AIR 2. But then people would be confused. I think.
24. DETECTIVE DEE AND THE MYSTERY OF THE PHANTOM FLAME (2010) - 121.5 points, 1 first place vote - LoveHKFilm Review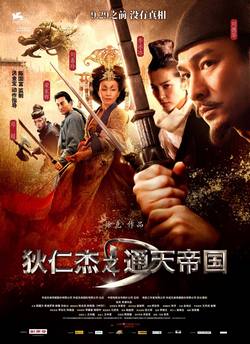 You know that thing that you sort of took for granted until it disappeared for over fifteen years, and then when it suddenly returned you realized, "Wow, this was pretty awesome! Why did it go away for fifteen years?" That's Tsui Hark and DETECTIVE DEE AND THE MYSTERY OF THE PHANTOM FLAME. A blockbuster China-funded mystery-adventure, DETECTIVE DEE featured Tsui's return to the genre that he helped define in the eighties and nineties, and he does it with such confident old school panache that you wonder why he ever stopped. I dunno, maybe it was all the crappy nineties knock-offs that replaced Tsui's fun and frenetic creativity with nonsensical wackiness for wackiness's sake? Maybe it was the early-nineties implosion of the wuxia genre? Or maybe it was JURASSIC PARK, which taught film industries to render their CGI on something better than a Playstation? Who knows, but Tsui learned his lessons; he mastered cutting edge 3D technology, hired better Korean CGI artists, and probably took some crash courses in China politics to put together DETECTIVE DEE, and the resulting film was like climbing in an old 1985 Chevy Camaro that's been refurbished and modified to race with the latest supercars. DETECTIVE DEE was so well-received when it arrived in cinemas that it earned Tsui Hark a Best Director Hong Kong Film Award, and it would probably have won Best Picture if not for those pesky GALLANTS kids. Emanuele Sacchi of Hong Kong Express calls the film an "adventure old style as just Tsui can do." In this crowded, increasingly vapid movie marketplace, that's enough to get my ticket money. Also, the movie stars some guy named Andy Lau, and I hear he's pretty popular.
23. BLIND DETECTIVE (2013) - 131 points, 1 first place vote - LoveHKFilm Review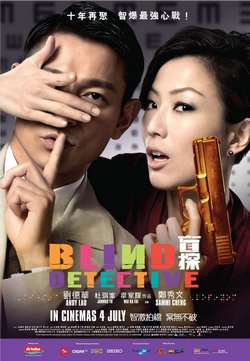 Back in the mid-2000s, Johnnie To's crime films made him an international film fest celebrity, so he unleashed upon the Venice Film Festival a movie called EXILED, a vastly entertaining but pandering greatest hits package for international fans that care only about his crime films and nothing else. The film was great and those fans sure were happy, but there was another portion of his fan base that went underserved: the ones in Hong Kong and Asia who made To's romantic comedies starring Andy Lau and Sammi Cheng into popular classics and blockbuster megahits. Apparently, To and partner-in-crime Wai Ka-Fai recognized that gap too, because in 2013 they filled it with BLIND DETECTIVE, which paired Andy and Sammi in a comedy with romance - and also cops, crime, mutilation, karma and horror. Basically, To and Wai took everything they hadn't put into a previous greatest hits package and threw it into a pot, resulting in a genre mishmash that has something for everyone, but probably something that annoys everyone too. Be it the grisly crimes, screechy Canto-comedy, self-referential excess, smug irony, annoying star mannerisms or Guo Tao - BLIND DETECTIVE can be very unpleasant. But it's also creative, surprising and sometimes beguiling. To and Wai didn't become who they are just because they have a formula and stick to it. They experiment, play with form and style, and combine genres in ways that others haven't considered (perhaps with good reason, but that's another discussion). In the end, BLIND DETECTIVE is far from a crowd pleaser but it's completely and absolutely a Milkyway Image production. Naturally they brought it to the Midnight Section of the Cannes Film Festival where it alienated the audience and there were walkouts. Hey, at least those people got EXILED.
22. THE WHITE STORM (2013) - 133.5 points, 2 first place votes - LoveHKFilm Review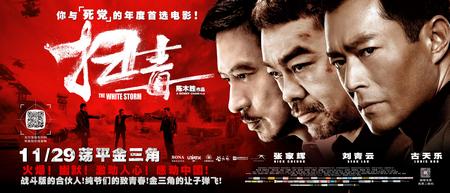 Benny Chan is there to scratch your nostalgia itch. The action maestro has frequently brought back classic Hong Kong movie genres; INVISIBLE TARGET (2007) brought back the fist-fueled eighties actioner, while CALL OF HEROES (2016) brought back the weapons-wielding Shaw Brothers spectacle and MEOW (2017) brought back your undigested pork bun lunch. In 2013, Chan rightly realized the lack of John Woo-style heroic bloodshed films with copious gunplay substituting for the guy-on-guy action the heroes really wanted. Presto, Chan gave us THE WHITE STORM, starring Lau Ching-Wan, Louis Koo and Nick Cheung as compromised cops who fight bad guys and each other while slinging hot lead and exchanging longing homoerotic gazes. Jean-Baptiste Larramendy calls THE WHITE STORM "just the best HK-style bromance of the 2010s," while BOHO notes that it "ends with one of the biggest, most exciting and entertaining shootouts of decade." LP Hugo gets wordy, saying "Benny Chan's always masterful grip on action and broad drama, an unimpeachable trio of stars, and the blinding sheen of heroic bloodshed nostalgia means the mind doesn't linger much on how overwrought it all is." Sure the movie is overwrought, but based on those vaguely popular BETTER TOMORROW movies, fans do enjoy overwrought stuff. Years later, Louis Koo teamed with Andy Lau for the sequel-in-name-only THE WHITE STORM 2: DRUG LORDS (2019) but it was directed by Herman Yau and did not feature Lau Ching-Wan or Nick Cheung. It ranked #159 on this list, tying with the Nick Cheung-directed THE TROUGH, which once again proves that sometimes Benny Chan is a better director than Herman Yau or Nick Cheung.
21. DON'T GO BREAKING MY HEART (2011) - 134.5 points, 1 first place vote - LoveHKFilm Review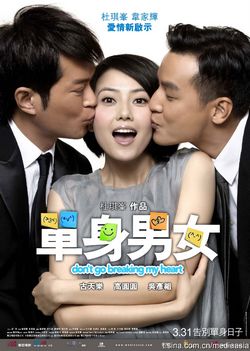 Hong Kong romances reached a new level of accomplishment when Johnnie To and Wai Ka-Fai remade Akira Toriyama's long-running manga DRAGON BALL as the romantic comedy DON'T GO BREAKING MY HEART. Fighting for the love of winsome heroine Gao Yuanyuan, dreamy bachelors Louis Koo and Daniel Wu pull out all the stops, unleashing romantic finishing move after romantic finishing move, from Post-It art and impromptu magic shows to expensive dinners and even the all-powerful marriage proposal. Never have two warriors been more evenly matched despite practicing different styles; Louis uses his free-climbing abilities and well-honed workplace harassment skills to push Gao Yuanyuan into falling for his tanned visage. However, Daniel has the full "best man ever" arsenal at his disposal; he takes care of her pet frog, cooks her a nostalgic meal, and even builds a China skyscraper modeled on her elegant form. The choice of men should be easy - Louis is a womanizing cad with uncontrollable lust, while Daniel is basically the most perfect guy ever - and it's a testament to the filmmakers (and Louis Koo's performance) that choosing between them becomes an actual competition. Seriously, Daniel Wu is so awesome in this movie that even I want to date him, but Louis Koo is just so dreamy, lovelorn and tan - how will Gao Yuanyuan choose just one? Well, she eventually does after one guy delivers a resounding Kamehameha marriage proposal - but don't fret, there's a DON'T GO BREAKING MY HEART 2 for the other guy to get in his Final Flash. This battle of two lovestruck bros is so epic that it takes two full movies to complete. If they made this into a TV drama, they could extend a proposal for maybe 6-7 episodes and even include internal monologues explaining how each guy came up with the idea, planning and execution for their special proposal move. I'd watch that and even a second retelling called DON'T GO BREAKING MY HEART Z. But I'll skip DON'T GO BREAKING MY HEART GT because it'll probably suck.
That's it for Day 4! Numbers 20-11 will be dropped at our next update, which should happen if in a few days if we're still alive.