Wednesday, November 21st, 2007
- This week on the Oricon charts - the new badly named Johnny's boy band Hey! Say! Jump! debuts at number 1 with their very first single, which is also similarly badly named (A pop boy band singing a song named "Ultra Music Power" is like Tom Cruise talking about psychology - neither has any business to talk/sing about it). Meanwhile, KinKi Kids' latest album debuts at number 1 for a Johnny's two-fer on the Oricon. Also, voice actress Nana Mizuki scores the highest debut album for a voice actress.
- Despite the military crackdown and the tortures, the Korean embassy in the capital city of Myanmar is still planning to hold a Korean film festival in the city featuring films such as Taeguki, Welcome to Dongmakgol, and The Host. Yes, movies about miltary occupations or such undertones will surely get the people in the mood to forget their current situation.
- I reported on Monday that Saw 4's opening weekend gross in Japan is about on par with the rest of the series. Specifically, Eiga Consultant reports that on par means it's at 92% of the previous film's opening. However, they also pointed out that this is the first time opening on additional screens led to a decrease in opening gross.
- Variety Asia has a feature on the power of the Oscars on the Chinese audience.
This year, China's official submission is The Knot, but I'm sure the people know that Ang Lee's Lust, Caution has the most chance of getting into the race, with some American magazines naming star Tang Wei as a front-runner to get a best actress nomination, if not at categories such as adapted screenplay, music, and cinematography.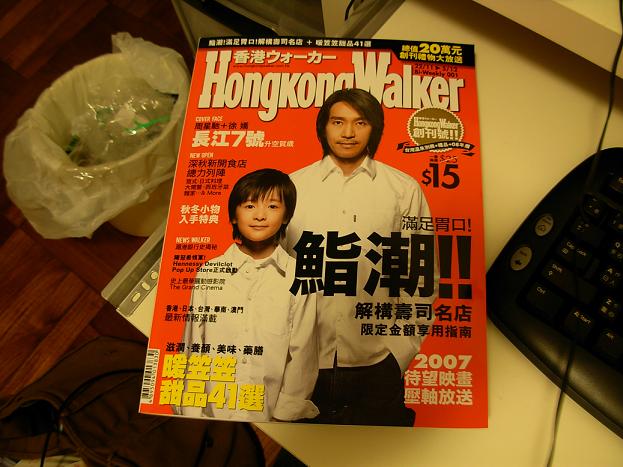 - According to Twitch, the first teaser for Stephen Chow's A Hope will be on several Yahoo Asia sites, though it may just be for a limited period of time. I'm hoping to catch it when I get home tomorrow night, but I'm really not expecting to see much in the teaser.
- What does a Japanese rock band have to do to be inducted into the Hollywood Rock Walk? Sell 70 million copies of singles and albums combined, just like B'z did.
- With digital singles selling better than ever, even the Japanese diva herself Ayumi Hamasaki will be releasing her latest single in digital form only, even though she will shoot a MTV and a cover jacket. Her record company even said that its results may determine how they release her singles in the future.
- The Father of the Playstation Ken Kutaragi will be honored at the Interactive Achievement Awards, despite the fact that he had to resign from Sony due to the disappointing sales of Playstation 3.
- The Japanese group Fumido will be releasing a single next month that was actually ready to go a year ago - except they had to wait for a year for the MTV to be completed, because it'll be made up of one year's worth of pictures from a married couple's life.