December 8th, 2007
The following is a minute-by-minute recap of the entire Golden Horse Awards as it plays on Hong Kong TV live. However, I missed the first half hour. But that's OK - The show was over 4 hours long anyway.
8:00pm - Shit, I already missed half an hour of the awards, and the short documentary award only has two nominees.
I also don't understand much Mandarin. Good thing the Hong Kong TV station has two on-air commentators to translate the important stuff.
8:02pm - Why is there a host standing on the side at all times?
8:06pm - That podium lady is actually interacting with the presenters. Is this a variety show?
8:08pm - These two guys have been onstage for 3 minutes, and I still don't know what they're presenting.
8:10pm - Best supporting actor! Which undeserving nominee will win?
8:11 pm - Tony Leung Ka-Fai wins for The Drummer/leftover footage from Election. He didn't show up to recreate his dog-throwing scene in the film.
8:17pm - OK, I missed the Best Supporting Actress award, which went to Fan Bing-Bing for The Matrimony.
Oh shit, Kelly Chen is trying to sing classic show tunes in Chinese. Back to writing a real entry.
8:23pm - Well, that was less painful that the opening promised to be.
Whoa, a new podium lady.
8:26pm - a supermodel boasts that she's been to Cannes a ton of times to suck up to Taiwan. zzzzzzzz…..
8:28pm - What On Earth Have I Done Wrong just picked up an international critics award.
8:35pm - These presenters seem familiar……didn't they present the short film awards? Are they the official "not important awards" presenters?
8:36pm - OK, it's Best Art Direction time, and it's the first category where Lust, Caution shows up……and the awards goes to: The Detective???!!!! That means Aaron Kwok may just stand a chance.
8: 38pm - Best Makeup-Costume Design, no Hong Kong film, and Lust, Caution's second chance…….and the award goes to: Lust, Caution, now picking up its first award of the night.
8:42pm - Best Sound Effects. Annie Liu forgets that Titanic is a disaster film and calls in a romance film. Yes, a romance film about a big-ass iceberg that kills hundreds of people.
Anyway, the award goes to: The Most Distant Course.
8:48pm - Best Editing, and Lust, Caution's third chance…..the award goes to: The Sun Always Rises.
It seems like only half the awards actually see its recipients show up to claim the awards.
8:56pm - The Lifetime Achievement Award for Edward Yang, but ATV cuts off half of it for bad commercials?
8:57pm - Hou Hsiao-Hsien presents the award. At least he wore a suit instead of this: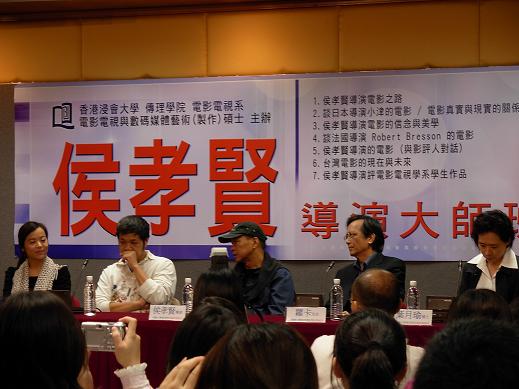 8:59pm - And ATV cuts off Hou Hsiao-Hsien to change broadcast to its English channel in order to show some band awards in the Cantonese channel. That was abrupt.
9:04pm - 4 minutes into the coverage, and a commercial break already. This is a long night.
9:08pm - OK, music awards. but we know Jay Chou isn't going to be performing his Best Original Song nominee because he's in Hong Kong performing right this minute.
9:09pm - Podium Lady with Feather on Head returns.
9:10pm - OK, some other Taiwanese pop singer sings Jay Chou's song……and sings it better.
9:15pm - Holy shit, he pulled off Shu Qi's song from Blood Brothers…..in Shu Qi's key.
9:21pm - OK, time for the award. The Best Original Song award goes to: Jay Chou's song for Secret. Lyricist Vincent Fang shows up for the award.
9:23pm - The award show has so many dead moments that I just finished today's entry WHILE writing this live report.
9:25pm - Best Original Music goes to: Lust, Caution. Its second award of the night, and presented by star Tang Wei.
9:32pm - Kelly Chen returns as a presenter. Cracks jokes in Mandarin, with drum sounds and all.
9:33pm - Best Cinematography. Soi Cheang's Shamo's first chance, and Lust, Caution's sixth chance. The award goes to: The Matrimony, probably a surprise win, considering cinematography was one of Lust, Caution's strong points.
9:36pm - Kelly sticks around for Best Visual Effects as well. I hope Twins Mission doesn't win for this.
The award goes to: Secret?! OK………….
9:39pm - All three Podium People are at the podium to show some gag video with the host performing "magic tricks." It's kind of funny.
9:44pm - Then they waste some more time to put on a real magic demonstration.
9:48pm - Aaron Kwok is actually there, and they just pushed up to help with the magic thing. He probably thought they were going to magically give him the Best Actor award.
9:54pm - They should've gone to commercial to skip the whole thing.
10:06pm - Finally back to giving out awards. Now: Best Taiwanese Filmmaker.
And the award goes to: Ang Lee, to thunderous applause.
10:13pm - Best Taiwanese film time. And the award goes to: Secret.
10:15pm - Best new actor time. Korea's Lee Jun-Ki speaks Mandarin! Tons of young girls scream!
10:18pm - And the award goes to: Tang Wei for Lust, Caution. Who seriously expected her not to win?
10:28pm: OK, Best Original Screenplay time. Protege is the only Hong Kong film in the category. And the award goes to: Home Song Stories. Poor guy's English acceptance speech isn't getting the laughs he want. Actually, thanking Lust, Caution for being an adapted screenplay is pretty funny.
10:31pm: Time for Best Adapted Screenplay. This is the more competitive one, as Battle of Wits, Lust, Caution, and The Sun Always Rises are all part of this. Oh, and Shamo too. The award goes to: Lust, Caution for its 4th award of the night.
10:33pm - Holy shit, Wong Jing and Chu Ying-Ping on the same stage. It's time for an assassination attempt by movie critics!
10:36pm - The Audience Award for Best Film - Nominees are: Getting Home, What on Earth Have I Done Wrong, Home Song Stories, Eye In the Sky, Lust, Caution. Oh, they're the same as the Best Film category.
And the award goes to: Getting Home. Whoa. Will this be repeated when the actual Best Film award comes? Does this mean Aaron Kwok has better chances of winning? nah.
10: 51pm - Time for the major awards. I think they skip some awards in the Hong Kong broadcast for commercials. Bastards…..
10:58pm - And they switch channels again.
11:00pm - Time for Best Actor. Aaron! Aaron! Aaron! Aaron!
And the award goes to: Sandra Ng rips the envelope!!!!!!!
And Ang Lee manages to piece it back together to give it to Tony Leung Chiu-Wai for Lust, Caution. Sorry, Aaron.
11:08pm - Come on, the award is going overtime already. Get Wong Jing off the stage.
11::14pm - Best Actress time. Who's betting on Tang Wei? Will it be another upset?
And the award goes to: Joan Chen! For Home Song Stories. Another upset indeed!
11:17pm - Two more awards left: Best Director and Best Film. Will Lust, Caution take them both, or will they both be upsets?
11:21pm - OK, Aaron, sorry you lost. Just give out the damn award already.
11:23pm - Time for Best Director. And the award goes to: Ang Lee for Lust, Caution. It's probably a heavy favorite for best picture now.
11:33pm - Here we go, the last award of the night. And the award goes to: Lust, Caution. That would make it 7 awards total to make it the big winner of the night.
And that would wrap up the coverage. ATV screwed up by skipping some awards and also switching channels due to contractual obligations. Plus the show itself is overlong with performances and demonstrations. Still, despite some upsets, there doesn't seem to be one that was really out there. Anyway, a complete list will be out in a few days.