April 9th, 2012
Note: Edited April 14th to include award predictions
We haven't blogged for over a month due to work and film festival commitments, but when we come back, we come back harder than ever!
That's also a quote from Scud's next film.
Anyway, it's that time of the year again. No, not Lunar New Year, it's the Hong Kong Film Awards! And that means it's time again for The Golden Rock Hong Kong Film Awards Live Blog!
We don't know how many times we've done this already (3rd? 4th?), but at least we can tell you it'll be the most star-studded one: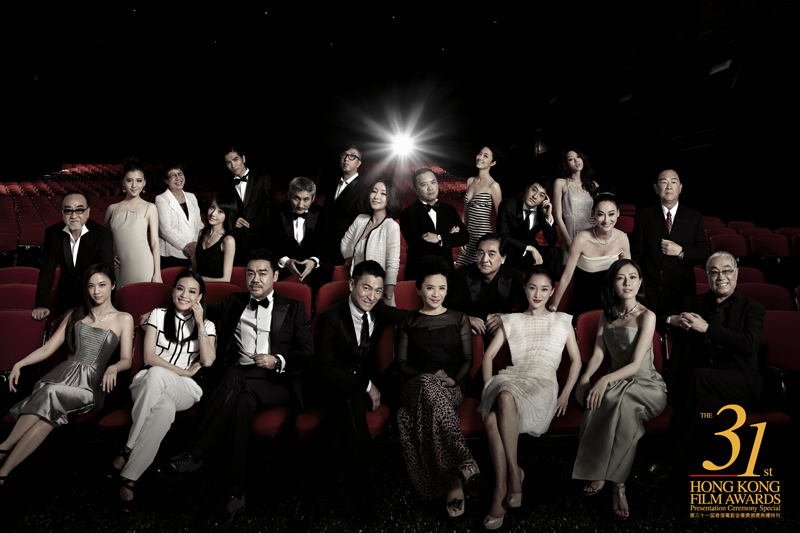 None of these people will join us on this year's live-blog
The picture alone makes it star-studded, right?
So join us again as we (and by we, we mean one dude in his living room) battle technology, bad red carpet commentary, crappy cuts to commercials, useless musical performances, and, of course, Hong Kong film industry congratulating themselves for another successful year of making movies in Mainland China!
As we had done previous years, the live-blog will be housed in one single entry that will be updated every minute or so, which means readers only have to go to the dedicated entry and press refresh for the latest updates. The show starts at 20:00 Hong Kong time on Sunday, April 15th, and we will start at 19:30 Hong Kong Time (GMT +8). We may even open the comments section by then, so get ready to join us in the fun-making.
As someone who has seen almost all the nominated films (and unfortunately, a few more) and regularly follows the awards, I think I can make an educated guess about what will win.
I'll be making my predictions for the technical awards on the live blog. Instead, I will cover the more "important" awards in this preview edition, starting with:
Best Newcomer
Actually, I can't even guess who will or should win Best Newcomer, which tells you what a dire year it's been. Let's move on to:
Best New Director
Will Win: Calvin Poon (HI, FIDELITY)
Should Win: Jessey Tsang (BIG BLUE LAKE)
In my opinion, HI, FIDELITY was an embarrassing, trashy melodrama that would've ruined careers if people had actually seen it, but the film does have fans in the critical circle, and Poon has friends in the film industry as well. So, don't be surprised if Poon ends up in front of the line to get his dues. I'm not crazy over BIG BLUE LAKE, but at least Jessey is more deserving than Poon. Full disclosure: I did not see CURE.
Best Supporting Actress
Will Win: Qin Hai-Lu (A SIMPLE LIFE)
Should Win: So Hang Shuen (LIFE WITHOUT PRINCIPLE)
Qin will likely be riding on the SIMPLE LIFE express and win for her performance as the kind doctor in the elderly care facility, but it's veteran TV actress So Hang Shuen who was truly aces in Johnnie To's ensemble drama. In her few short scenes, she is able to condense the fear, the anticipation, and the confusion experienced by a small-time investor just looking to make a few quick bucks.
Best Supporting Actor
Will Win: Paul Chiang (A SIMPLE LIFE)/Kenneth Tsang (OVERHEARD 2)
Should Win: Paul Chiang (A SIMPLE LIFE)/Jimmy Wang Yu (WU XIA)
It's more than just respect for the elderly that will drive voter's picks in this category. Both of these veteran actors steal the spotlight whenever they appear - Chiang offering a breath of humor as Sister Tao's fellow patient, and Tsang overacting it up as the big baddie in OVERHEARD 2. Nicholas Tse was OK as the villain in SHAOLIN, but he's no Jimmy Wang Yu, either.
Best Actress
Will Win: Deanie Ip (A SIMPLE LIFE)
Should Win: Deanie Ip (A SIMPLE LIFE)
I've heard that if I don't pick Deanie Ip in this category, I'll never find work in the industry again, so let's move on.
By the way, I thought Gao Yuan Yuan was also very good.
Best Actor
Will Win: Andy Lau (A SIMPLE LIFE)
Should Win: Lau Ching-Wan (LIFE WITHOUT PRINCIPLE)
There's lots of love for Hong Kong King of Pop/fantasy Chief Executive after his win at the Golden Horse Awards, so Andy has a very, very good chance of winning his second Best Actor award this year. But I felt that Lau Ching-Wan had a more difficult role as the loyal, straight-shooting triad member in Johnnie To's film. The two LET THE BULLETS FLY stars were good, but the film would only lock an acting win if Chow Yun-Fat was nominated. He wasn't. Carina Lau might have a slight chance, though.
Best Screenplay
Will Win: OVERHEARD 2
Should Win: LET THE BULLETS FLY
Movies about topical issues tend to get a pass in Hong Kong, even if they're bad (Hi, TURNING POINT 2). That is part of the reason why OVERHEARD 2 has gotten so much love here, especially since it paints tycoons in such bad light. Unfortunately for Alan Mak and Felix Chong, A SIMPLE LIFE will pick up all the major awards, which means they may end up picking up screenplay as a consolation prize. However, I personally don't think any of the nominees comes close to LET THE BULLETS FLY.
Best Director
Will Win: Ann Hui (A SIMPLE LIFE)
Should Win: Ann Hui (A SIMPLE LIFE)
Everybody loves Ann Hui, and those people also loved A SIMPLE LIFE. Hui won the Best Director award for THE WAY WE ARE for her realistic, no-nonsense directorial style, and she utilized the same for A SIMPLE LIFE to great effect, which means a win is virtually a lock this year. Did anyone actually think that the other nominees had a chance?
Best Chinese-language Film from the Two Coasts
Will Win: YOU ARE THE APPLE OF MY EYE (Taiwan)
Should Win: SEEDIQ BALE: WARRIORS OF THE RAINBOW (Taiwan)
Forget Zhang Yimou and Feng Xiaogang, this is Taiwan's year. Giddens have plenty of audience support with his mega-super-duper hit, and voters will likely lean towards voting for the pop culture sensation. Personally, I think that STARRY STARRY NIGHT is the best film of the bunch, but SEEDIQ BALE does deserve recognition for sheer ambition and scale.
Best Picture
Will Win: A SIMPLE LIFE
Should Win: LIFE WITHOUT PRINCIPLE
The award love for A SIMPLE LIFE was the result of such a well-executed, well-calculated plan by Polybona/Distribution Workshop that it's pretty much guaranteed to win. My personal viewpoint is that by jumping the gate with award-qualifying screenings, it took away a fair chance for films that were actually released in 2011 (as opposed to March 2012) to compete (think WU XIA). If A SIMPLE LIFE isn't on the nomination list, I would've picked LIFE WITHOUT PRINCIPLE to win, which is why I think it should win.