April 15th, 2012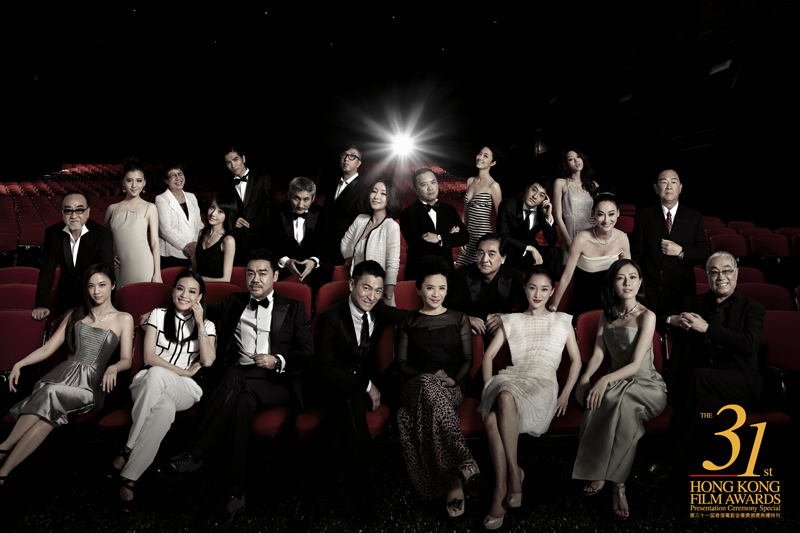 In case you needed a reminder
11:36 pm: And that does it for me. Thanks everyone for following, and see you next time at the Golden Horse Awards!
11:34 pm: Andy Lau is producer on the film, so he also gets to give a speech. After big boss Yu Dong, of course. Poor Roger Lee didn't get to say anything.
Someone also just pointed out that this is the second year in a row for Andy Lau's Focus Films to win Best Picture. Wow.
11:33 pm: Final Award Count: A SIMPLE LIFE and FLYING SWORDS OF DRAGON GATE with 5 each. WU XIA at 2 awards. LIFE WITHOUT PRINCIPLE at 2.
11:31 pm: Tony Leung Ka-Fai presents Best Picture. Says he flew all the way back from Canada to present. He just opened the envelope before the nomination video.
Oh, the show's overrunning. The winner for Best Picture is………………………………….A SIMPLE LIFE, for its 5th and biggest award of the night.
11:30 pm: Finally, the final award. Eric Tsang wonders aloud why Andy Lau is back in his seat so quickly. (it's to pick up Best Picture)
11:29 pm: Andy Lau is teary-eyed, and his fans apparently killed all the opponents for tickets.
11:27 pm: This is Andy Lau's 11th nomination and his third win. Sandra Ng requests a smooch.
11:26 pm: And the winner for Best Actor is…………….Andy Lau for A SIMPLE LIFE
11:24 pm: Jiang Wen looks confused by Sandra Ng. It's OK, I barely understand her, too.
11:22 pm: Sandra Ng giving up some Andy Lau fan service: "I can't believe he got someone pregnant at his age. I'm just crazy about him!"
11:20 pm: Carina Lau and Sandra Ng now present Best Actor. I predicted Andy Lau, but prefer Lau Ching-Wan for LIFE WITHOUT PRINCIPLE
11:18 pm: Awards count: LIFE WITHOUT PRINCIPLE at 2, WU XIA at 2, FLYING SWORDS at 5, A SIMPLE LIFE at 3, HI, FIDELITY at 1
11:16 pm: I am thankful that the voting committee didn't even bother giving the "better luck next time" screenplay award to OVERHEARD 2.
11:14 pm: Wait, did Deanie Ip just thank Wong Jing? This isn't Ann Hui's speech, right?
11:11 pm: This is the third win for A SIMPLE LIFE.
11:11 pm: And…………………………..cue Deanie Ip to come pick up her award. Best Actress for A SIMPLE LIFE.
11:08 pm: Anthony Wong: "The Hong Kong Film awards called me and asked me to present the Best Actress award, so I said 'sure, I'll present to Deanie Ip'". He also mocks universal suffrage and the Chief Executive election in the process. Good work.
11:07 pm: And that guest is, of course, Anthony Wong. Looking like a triad boss, dawg.
11:06 pm: Ronald Cheng on Weibo on stage because the next guest likes to scold people on Weibo.
11:04 pm: Ann Hui: "I would like to thank Hong Kong the city. I grew up here, I was educated here, got my inspiration here, made my money here, ate pineapple bun and drank milk tea here."
11:03 pm: And the winner is…………Ann Hui for A SIMPLE LIFE. Deanie's up here for sure, too.
11:02 pm: Everyone knows who's going to win Best Director anyway, why bother with predictions?
11:01 pm: Peter Chan: "When a director wins Best Director, he should not say 'thank you', but 'sorry'"
11:00 pm: The awards people finally kick off the YOU ARE THE APPLE OF MY EYE people to make way for Peter Chan. Yes, the Best Director award needs to be given out.
10:58 pm: Giddens bought his main cast over to Hong Kong - and now giving them each time to speak. "Hurry up!" says Bowie Tsang.
10:56 pm: And the winner of Best Chinese-language Film From the Two Coast is……………….YOU ARE THE APPLE OF MY EYE.
10:55 pm: I predicted YOU ARE THE APPLE OF MY EYE to win Best Chinese-Language Film From the Two Coasts, but prefer SEEDIQ BALE/STARRY STARRY NIGHT.
10:54 pm: Mainland China produced over 600 films in 2011. I am almost sure less than one-third of them got a theatrical release. Less than one-fourth of those were profitable. #JustSayin
10:53 pm: They're all speaking in Mandarin, so I'm sure everyone is just zoning out. I just saw Andy Lau drinking water.
10:51 pm: This is the first year of the Best Chinese-Language Film From the Two Coast award. It replaces the Best Asian Film Award and any Chinese-language film from Taiwan and Mainland China (that isn't a HK film) is eligible.
10:49 pm: Time for Best Chinese-Language Film From the Two Coast. And Ng See-Yuen totally flubs Hou Hsiao-Hsien's name. Clearly, Ng See-Yuen is a commercial man.
10:48 pm: Gordon Lam: "We thought our biggest opponent was Hollywood. We managed to fight off Jiang Wen, but we lost to Giddens' 'hand gun'!"
10:45 pm: Turns out Lo Hoi-Pang's first win was also his first nomination. Same for So Hang-Suen. Johnnie To has the magic touch with vets?
10:41 pm: No, awards people, that totally didn't look like you were in a rush to cut to commercial.
10:40 pm: I wonder where else you can win an award for being a stills photographer? No, that was a serious question.
10:39 pm: Fong doesn't own any of the stills he's taken because the film companies have always been the copyright holders.
10:37 pm: Oh, he's presenting the Professional Spirit Award. Veteran stills photographer Fong Ho-Yuen
10:34 pm: Sammo Hung now on stage to present and says he wasn't given a script. I have no idea what he's presenting.
10:32 pm: Angelababy acting baffled about everything makes me feel old. Why her again?
10:30 pm: And the winner for Best Sound Design is………………FLYING SWORDS OF DRAGON GATE. That's 5 for Tsui Hark's film.
10:29 pm: Yang and Pang stick around to present Best Sound Design. I predict and prefer FLYING SWORDS or WU XIA
10:28 pm: Korean award winner struggles through his Mandarin speech. And the American guy, too! Whoa.
10:27 pm: And the winner for best Visual Effects is………….FLYING SWORDS OF DRAGON GATE.
10:26 pm: I predict FLYING SWORDS OF DRAGON GATE to win Best Visual Effects and prefer FLYING SWORDS to win for the 3D.
10:25 pm: "We don't have a lot of money, so we have you to create the visual effects" - Pang to Yang.
10:24 pm: "Don't underestimate yourself, you affect the film's sound effects. Every time your wear those skimpy clothes, you can hear 'waaaaahhhh' in the theater" - Pang Ho-Cheung to Mini Yang
10:22 pm: Mini Yang and Pang Ho-Cheung now present Best Visual Effects. Heh Heh, visual effects……….
10:20 pm: Bowie Tsang: "Deanie, we'll always remember you!" Um, she's not dead.
10:19 pm: Of course, background screen featuring past award winners end with Anita Mui and Leslie Cheung.
10:17 pm: Oh, Deanie Ip song is turning into a medley. I feel phlegmy listening to her sing.
10:15 pm: I'm wondering if song will include lyrics about answering phone calls, chatting to your buddy, and taking pictures of the screen.
10:14 pm: Deanie Ip comes up to sing a song as a tribute to movie audiences. I'm surprised she agreed to do it.
10:09 pm: Awards count: WU XIA at 2, SIMPLE LIFE at 1, LIFE WITHOUT PRINCIPLE at  2, FLYING SWORDS still at 3.
10:07 pm: Wow, LIFE WITHOUT PRINCIPLE sweeps the Supporting Acting categories. Will Lau Ching-Wan also win Best Actor tonight?
10:06 pm: Now is the time for me to admit that my grandmother had always said I looked like Lo Hoi-Pang. I guess it's now a compliment.
10:05 pm: And the winner for Best Supporting Actor is………………Lo Hoi-Pang for LIFE WITHOUT PRINCIPLE
10:03 pm: Andy Lau says something about each of the nominees and charms the hell out of the audience.
10:02 pm: I predict Paul Chiang or Kenneth Tsang to win Best Supporting Actor, and I prefer Chaing or Jimmy Wang Yu.
10:00 pm: And now, Hong Kong king of pop Andy Lau comes to present Best Supporting Actor. Who cares who's going to win now?
9:58 pm: Funny, Roger Lee, the man who came up with the story, wasn't credited. Susan Chan accepted solo.
9:57 pm: And the winner for Best Screenplay is…………………A SIMPLE LIFE. And its award run starts now.
9:55 pm: Kam Kwok-Leung is going so off the mark now I'm not even sure what award he's here to present anymore.
9:54 pm: Kam Kwok-Leung now on stage to present Best Screenplay. I predicted OVERHEARD 2, but prefer LET THE BULLETS FLY. Though I think it's time for A SIMPLE LIFE to shine.
9:51 pm: FYI: This is the second year in a row that a Jun Kung song has won a Hong Kong Film Award.
9:50 pm: Honestly, Best Original Song is the only category where HI, FIDELITY ought to win anything.
And the winner is………………the HI, FIDELTY song performed by Sandy Lam and composed by Jun Kung
9:49 pm: Coco, I know you haven't released anything in a while, but you really didn't have to show off.
9:48 pm: Coco Lee sticking around to present Best Original Song. Oh, god, Coco Lee is playing the "guess this song" game again. You can stop now.
9:47 pm: Chatchai PONGPRAPAPHAN (yes I copied and pasted that) looks like a version of Lee Chang-Dong that could kick my ass. 
9:45 pm: And the winner is………….WU XIA. Second award of the night. Also the winner of Best Score at the Asian Film Awards.
9:44 pm: Oh, OK, it's Best Original Score.  I predict and prefer WU XIA because it's the only one I remember.
9:42 pm: Coco Lee presents Best, er, one of the music awards.
9:40 pm: Oh, Yundi Li is done! Ronald Chang now answering questions about nominated film on behalf of filmmakers. Specifically, he's trying to decipher LET THE BULLETS FLY on Jiang Wen's behalf.
9:37 pm: Did the networks forget to cut to a commercial break or something? Yundi Li is STILL GOING.
9:34 pm: Wait, why is Yundi Li still playing? Hey, dude, stop.
9:33 pm: Thank you, Yundi Li, I think your piano piece is running longer than the video segment. That's called going overtime.
9:32 pm: Thank you, Yundi Li, you remind me how much Mr. and Alan Tam sucked last year.
9:29 pm: Sorry, I think it's Yundi Li. You know, those Mainland Chinese pianists with Hong Kong permanent residency all look the same to me.
9:28 pm: Time for the In Memoriam segment. Um, is that Lang Lang playing the piano?
9:24 pm: Seriously, Chang Suk-Ping, how can Jiang Wen, Tony Leung, and Jackie Chan all show up, and you don't?
9:21 pm: Commercial break time. Current awards count: One for WU XIA, one for LET THE BULLETS FLY, three for FLYING SWORDS OF DRAGON GATE, and zero for A SIMPLE LIFE.
9:20 pm: And the winner is……………LET THE BULLETS FLY. That was unexpected.
Producer Ma Ke accepts the award. Can you tell us what Jiang Wen's next film is while you're at it?
9:19 pm: Time for Best Costume Design. I predict FLYING SWORDS, but thinks MURAL should win.
9:18 pm: Winner of Best Art Direction says thank you and takes off. John Shum: "I guess he was determined to beat Nie Hong!"
9:17 pm: Let's face it, Art Direction is the award they give to the most expensive movie.
Anyway, the winner is……………….FLYING SWORDS OF DRAGON GATE. Third award of the night.
9:16 pm: Time for Best Art Direction. I predict SHAOLIN and prefer SHAOLIN. They rebuilt the damn temple, for crying out loud!
9:14 pm: John Shum just joked that he's like Leonardo DiCaprio at the end of TITANIC. Is that really the right allegory to make about Hong Kong cinema? Philip Chan brings up Shum's two failed marriages. Uh-oh.
9:13pm: Philip Chan and John Shum present Best Art Direction. They start off with a poke at having to speak Mandarin.
9:11 pm: So is in the hospital, and Lau Ching-Wan showed up to fight Shawn Yue for the award.
So now giving her acceptance speech over the phone.
9:10 pm: And the winner for Best Supporting Actress is……………..So Hang-Suen for LIFE WITHOUT PRINCIPLE. And she didn't even show up to pick up her first award!
9:09 pm: I predicted Qin Hai-Lu to ride the SIMPLE LIFE wave for Best Supporting Actress, but wants LIFE WITHOUT PRINCIPLE actress to win.
9:07 pm: Shawn Yue and Gao Yuan-Yuan present an award Best Supporting Actress.
Of course, Shawn Yue brings up Mark Chao and gets cut off by Gao Yuan Yuan
9:06 pm: "FLYING SWORDS OF DRAGON GATE is about an inn with a basement bigger than the inn. Then Jet Li pushes out a woman to take the blame" - Gordon Lam and Ronald Cheng.
9:04 pm: I think even Nie Hong knows the show is running over time. He was off the stage after 3 minutes. Good man.
9:03 pm: Nie Hong has a very simple script: "Thank you HKFA. Thank you, audience. Thank you, everyone". Tsui hark steps in to save the day.
9:01 pm: Not only has many of Nie Hong's novels been adapted for film, he wrote some of the most famous Hong Kong films ever made, including FIST OF FURY. He was known as the first million-dollar scriptwriter of HK cinema.
9:00 pm: Nie Hong introduction includes, er, stage reenactment of Nie Hong's life. Oooooooooooookie doke.
8:58 pm: Tsui Hark: "He always turns his script in on time, but what I didn't know is that he doesn't change the script, and he never comes to meetings."
8:57 pm: Oh, it's already Lifetime Achievement Award time. Tsui Hark introduces Nie Hong - wuxia novelist, scriptwriter, literary legend
8:55 pm: Award count: One for WU XIA, two for FLYING SWORDS.
8:51 pm: Editing a Tsui Hark film is never easy, and I guess editing a Tsui Hark 3D film is even harder. So I do approve to some degree. Namsun Shi accepts the award on behalf of Yau Chi-Wai
8:50 pm: And the winner for Best Editing is………..FLYING SWORDS OF DRAGON GATE.
8:49 pm: And we follow with Best Editing. I predict FLYING SWORDS, but prefer LET THE BULLETS FLY. Imagine trying to edit those dialogue scenes.
8:48 pm: And the winner for Best Cinematography is WU XIA! Jake Pollock and Lai Yu-Fai picked up Best Cinematography at the Asian Film Awards as well.
8:47 pm: Time for Best Cinematography. I predict FLYING SWORDS for the 3D, but would like to see WU XIA win.
8:46 pm: Shu Qi, I appreciate you trying to show what a reflector does. I get it, really.
8:45 pm: Award disses fellow winner's speech to let Shu Qi and Julian Cheung on stage. Fo realz?
8:44 pm: Chin Kar Lok jokes that Yuen Bun sounds like a Korean name.
Yuen Bun has been nominated for 11 times. This is his first win.
8:43 pm: Sorry, FLYING SWORDS OF DRAGON GATE also has action. But CGI did a lot of the work.
And the winner is………..FLYING SWORDS OF DRAGON GATE.
8:42 pm: I predict WU XIA will win Best Action Design, but prefers SHAOLIN because it actually has action
8:40 pm: Kara Hui doesn't know she's on another network at the same time, doesn't she? Stop speaking Cantonese!!!
8:39 pm: Angelababy looks like she's in over her head as an award show host.
Chin Ka Lok and Kara Hui present Best Action Design award.
8:38 pm: Lau Ching-Wan and Shu Qi win Best Dressed Awards of the night. Man, I wish they'd pick some pretty people to get those.
8:37 pm: Angelababy and Eric Tsang sharing the stage now.
8:35 pm: Now TV apparently giving award winners a bottle of water with their photo on it. It looks like a vodka bottle. I'm sure those award winners would rather get vodka.
8:34 pm: Thanks to Jim Chim, we've only seen two awards passed out tonight. Let's speed it up, yo.
8:32 pm: Damn coke commercial makes me feel like some hot pot now.
8:31 pm: First commercial break of the night.
8:30 pm: "I hope I will get more resources on my next film so I no longer have to use stuff from my home as props"—Jessey Tsang
8:29 pm: Tsang will get HK$100,000 from the Create HK Film Development fund. Congrats, Jessey!
She is joined on the stage by stars Leila Tong and Lawrence Chou
8:28 pm: Wow, I just remembered how bad HI, FIDELITY was from that nomination clip.
And the winner of Best New Director is: Jessey Tsang for BIG BLUE LAKE
8:27 pm: Giddens mocks Ko Chen-Tung/Elva Hsiao rumor. Wait, are they making out?
8:26 pm: YOU ARE THE APPLE OF MY EYE trio - Giddens, Ko Chen-Tung, and Michelle Chen - present Best New Director. I predicted Calvin Poon, but wants Jessey Tsang to win.
8:25 pm: Hsiao clearly caught off-guard: "I'd like to thank everything's everything. I wish you all happiness and good health"
8:24 pm: Jam Hsiao does what all foreign pop stars do in Hong Kong: Introduce himself in Cantonese.
8:23 pm: If you remember, I had no idea who was good enough to win, so I had no predictions.
And the winner is……Jam Hsiao for KILLER WHO NEVER KILLS
8:20 pm: "You all saw A SIMPLE LIFE - that ox tongue got more screen time than me" - Jim Chim
8:18 pm: Jim Chim's long, self-deprecating monologue about how his crappy supporting roles couldn't get him the Best New Actor awards. I think it's funny, but your mileage may vary.
8:17 pm: First lesson of the night: You can't say "impotence" in Chinese on live TV
8:16pm: Jim Chim tells a story about Pang Ho-Cheung offering him YOU SHOOT I SHOOT.
8:14 pm: First award of the night: Best Newcomer. Good, let's get it over with. Dennis Rodman Jim Chim presents solo.
8:13 pm: YOU ARE THE APPLE OF MY EYE entourage gets their own moment in the spotlight. Gordon Lam gets mocked for trying to do the same for LET THE BULLETS FLY.
8:12 pm: This is the first time in years all the hosts kick off the show together. I think. I used to find out who's hosting the show as they appear along the show.
8:10 pm: Tonight's hosts are Eric, Ronald Cheng, Angelababy, Bowie Tsang, Gordon Lam, and Angelababy. They start with a skit mocking Hong Kong cinema behavior
8:08 pm: And now, a video introduction about, er, the movies, I guess. Yes, Hong Kong makes movies. Welcome.
8:07 pm: And we're off! Eric Tsang brings out a little girl for interaction. Who is she?
8:06 pm: Now TV offers crappy round-up of 2011 in Hong Kong films. Is that debut consolidation ad over yet?
8:05 pm: FYI: Tonight's high-definition coverage of the Hong Kong Film Awards is brought to you by Now TV.
8:02 pm: Quick look over at TVB - they're showing an infomercial on debt consolidation. Back to Now TV I go.
8:00 pm: Pre-show coverage officially wraps up. Show apparently starts in 10 minutes.
7:58 pm: Of course, just because they say 8pm doesn't mean it'll start exactly on time.
7:55 pm: Recap of nominees on Now TV now. 5 minutes to go!
7:49 pm: One thing I miss about ATV's coverage: Funny studio panel predictions. Remember the fortune teller who predicted Kara Hui would win because of her hometown?
7:47 pm: Sorry, no nuggets from Deanie Ip this time. Commercial break time.
7:45 pm: Oooh, Deanie Ip interview with NOW TV. Time to see how stand-offish she gets here.
7:44 pm: Gao Yuan Yuan in da house!
7:43 pm: See the list of tonight nominees here.
7:41 pm: Kara Hui proves she's TVB's girl by giving her NOW TV interview in Mandarin.
7:40 pm: Jim Chim looks like Dennis Rodman.
7:39 pm: Wow, Michelle Chen actually has a decent wardrobe on tonight.
7:37 pm: Remember to also interact with us on the LoveHKFilm Facebook page.
7:34 pm: Now TV cuts away from Peter Chan red carpet interview for their own interview with Nicholas Tse. They know what they're doing.
7:33 pm:  Watching red carpet coverage on Now TV - sorry, TVB, I'm still bitter over your crappy coverage a few years back.
7:30 pm: Welcome to this year's Hong Kong Film Awards live blog! Updates will go to the top of the entry and go upwards so people would have an easier time to read when they refresh.