April 22nd, 2012
Note: Entry edited on April 23 to add additional information, as well as clear up information about Doze Niu's film. 
In March 2011, major Chinese independent studio Huayi Brothers (DETECTIVE DEE, SHAOLIN, ASSEMBLY) announced a large slate of films dubbed "Plan H". Surprisingly, Huayi managed to complete most of the projects on that slate, having released Doze Niu's LOVE, Tom Lin's STARRY STARRY NIGHT, and Tony Chan/Wing Shya's HOT SUMMER DAYS. Wuershan's PAINTED SKIN II, Stephen Fung's TAI CHI 0, Ronny Yu's SAVING GENERAL YANG, Feng Xiaogang's 1942, and Jackie Chan's CHINESE ZODIACS have all finished shooting and getting prepped for release.
Which means it's time for round 2. On April 22, Huayi Brothers announced their latest Plan H line-up, as well as the release dates for their 2012 slate: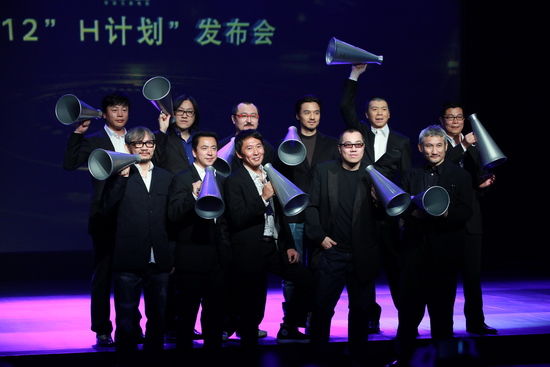 Out of all the projects first announced at Plan H, two were not made - Tsui Hark's DETECTIVE DEE prequel and Pang Ho-Cheung's long-gestating WOMEN WHO KNOW HOW TO FLIRT ARE THE LUCKIEST. My guess is that Tsui was doing overtime with FLYING SWORDS OF DRAGON GATE (which is from Huayi competitor Polybona), while Pang went ahead with LOVE IN THE BUFF and VULGARIA (though the latter was quickly shot and assembled in December-January - it only took 12 days to shoot). FLIRT was also stuck in legal trouble, as Pang accused a playwright he was working with of stealing Pang's concept (which he adapted from a novel of the same name) and put it on stage first.
Anyway,  FLIRT and the DETECTIVE DEE prequel are back on the 2012 Plan H slate.  With no other project on Tsui's plate and Pang promising to start shooting a Mainland film this summer, it looks like those two films may finally see release in 2013.
Also on the slate is TAI CHI 2 (or, I guess TAI CHI 1, if you go by TAI CHI 0 as the first film), part two of Stephen Fung's epic trilogy. According to previous news, part two was actually shot together with part one, which means it's probably beginning post-production in the near-future and will be released on a one-per-year basis like the LORD OF THE RINGS films. This also means that we can expect Fung to return to that stage with part 3 of TAI CHI next year. Er, unless part one flops big time, I guess.
After recently completing PAINTED SKIN: THE RESURRECTION (referred earlier as PAINTED SKIN II), Wuershan is back with another fantasy film, named 封神傳奇系列·龍之戰 (Yes, it's pronounced exactly what it sounds like). From the title, it's adapted from a famous series of classic Chinese fantasy novels, and it'll involve dragons.
Director Kenneth Bi, whose last film was the solid prostitution drama GIRL$, is also joining the big boys with CONTROL (控城計). Kenneth is always very secretive about his projects, but sources tell me that the film will be a SIN CITY-style crime flick that is likely to look nothing like anything Kenneth has done before. The film will be made under Stephen Fung and Daniel Wu's production company, and Wu will also be starring in the film.

Excuse me if I'm a little more excited about this project - Kenneth was my scriptwriting teacher at film school - so yes, I am a little biased.
After his 300 million-plus hit LOVE IS NOT BLIND, director Teng Hua-Tao will return to Huayi for his next film project. No details (no, not even a title) has been announced, but we can assume that Teng won't start on it until he's finished his latest television drama, which reunites him with BLIND star Bai Bai-He and writer Bao Jing-Jing.
FYI: Teng's THE MATRIMONY was produced by Huayi Brothers.
Already announced before today was the Korean co-production MR. GO, which reportedly involves a gorilla that can play basketball and STARRY STARRY NIGHT's Xu Jiao. See what I mean when I wrote that Xu Jiao needs to make her career choices carefully?
Surely to be the most controversial of the slate is Taiwan director Doze Niu's latest, which he has confirmed will be a remake of Lung Kong's UPRIGHT REPENTER (or STORY OF A DISCHARGED PRISONER), which in turn inspired John Woo's A BETTER TOMORROW. According to Stephen Fung, he actually bought the rights to the Lung Kong film and asked Doze to direct it. He also elaborated that the two main characters will become four, though he has not mentioned who will be in the cast.
Niu officially became one of Taiwan's biggest directors with his blockbuster gangland drama MONGA and solidified that status earlier this year with ensemble romance LOVE (part of the previous Plan H), so odds are in favor of Niu to create another crowd-pleasing blockbuster. However, considering that A BETTER TOMORROW was already remade in 2010 in Korea (produced by Woo's producer Terence Chang, mind you), the question is - does it need to made?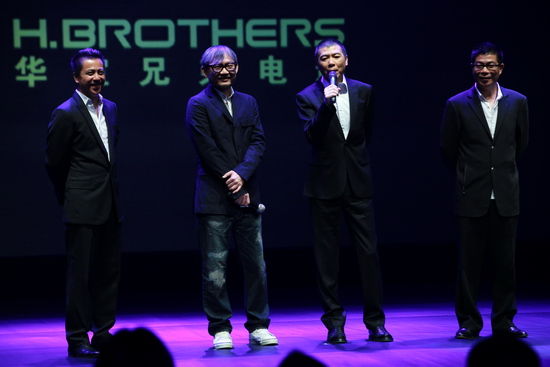 In addition to the announcement of the production slate, Huayi also announced the release dates of their 2012 films. They are as follows:
Painted Skin: Resurrection (Dir: Wuershan. Cast: Zhou Xun, Aloys Chen, Vicki Zhao, Mini Yang, William Feng) - June 28th
BF & GF (Dir: Gilles Yang. Cast: Guey Lun Mei, Joseph Chang, Rhydian Vaguhan) - August 3
Tai Chi 0 (Dir: Stephen Fung. Cast: Tony Leung Ka-Fai, Angelababy, Eddie Peng, William Feng, Shu Qi, Daniel Wu, "The Geek") - September 28
Saving General Yang (Dir: Ronny Yu. Cast: Adam Cheng, Ekin Cheng, Raymond Lam, Vic Chou, Wu Chun, etc.) - October 26
CZ 12 (Dir: Jackie Chan. Cast: Jackie Chan, Kwon Sang-Woo) - December 20
One film that has in post-production but did not announce a release date is Feng Xiaogang's war epic 1942, about the great famine of 1942 due to the negligence of the Kuomintang. Feng, a shareholder of Huayi himself - essentially showed up to say that film, which stars Zhang Guoli, Zhang Hanyu, Chen Daoming, Adrian Brody, and Tim Robbins, is on the way, though it hasn't locked down a release date, and that he hopes the film will outgross AFTERSHOCK. He also announced that he will be returning to comedy in early 2013, filming a script written by renowned author Wang Shuo, who wrote IF YOU ARE THE ONE II, the critically acclaimed SIGH, and co-wrote FATHER with Feng.
While Polybona continues to use their Hong Kong directors to balance Hong Kong and China tastes (as evident by THE GREAT MAGICIAN, A SIMPLE LIFE, and OVERHEARD 2), Huayi is trying to give Hong Kong directors a chance to handle major blockbuster productions that may appeal to more than just Hong Kong and Mainland audiences. That makes Huayi Brothers one of the most exciting studios to watch in Chinese-language cinema.
Notice how I didn't mention a specific region.
Video shown at today's press conference (from Huayi Brothers' Youtube Channel):
Sources: