April 23rd, 2012
Note: Edited on April 25th with additional information and new English titles. 
The Beijing International Film Festival kicks off this week, which may be why the big Chinese film studios are rushing to announce their slate this week. Just a day after Huayi Brother announced their 2012-2013 lineup, Enlight Pictures (MURAL, LEGEND OF THE FIST, AN INACCURATE MEMOIR) announced their own 2012-2013 slate - and they're looking to impress.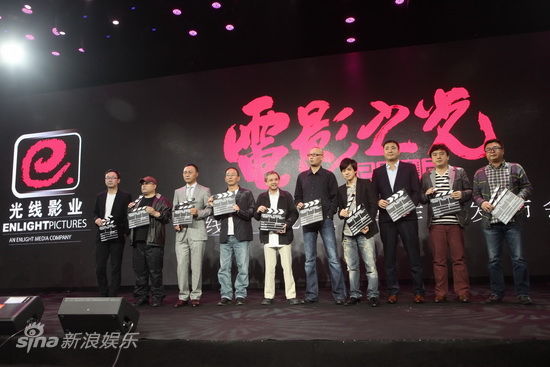 Photo from Sina Entertainment
The biggest star of their press conference today was Gao Qunshu (WIND BLAST, THE MESSAGE), who has a total of three projects coming up with Enlight. First, he has the romance film A SENTIMENTAL STORY, starring Huang Xiao-Ming and Angelababy coming out in August. Before that, June will see the release of BEIJING BLUES, a police drama that will feature many non-professional actors (including many Weibo celebrities), and he will start shooting CONQUEST, his adaptation of his television drama ZHENG FU, in August as well. The common element that connects the three films? They will all feature cops. Very heroic ones, we can assume.
Another big name at the press conference is Hong Kong director Gordon Chan, who announced that his latest period actioner THE FOUR (co-directed by Janet Chun, starring Deng Chao, Liu Yifei, Ronald Cheng, Anthony Wong, and Colin Chou) will be released on July 12th, which puts it at a comfortable two weeks after the release of Huayi's PAINTED SKIN: RESURRECTION.
At the end of the press conference, Enlight brought Chan back to announce that THE FOUR will be made as a trilogy, following the footsteps of Huayi's own TAI CHI trilogy. This ensures that Chan will be working for at least the next two years.
Another major project for Enlight that's getting prepped for release this year is Zhao Lin-Shan's THE ASSASSINS, another story from the epic ROMANCE OF THE THREE KINGDOMS saga. The film stars Chow Yun-Fat - who ironically exited from his role as Zhou You in John Woo's RED CLIFF - as an old Cao Cao. No release date was announced at the press conference, but they did say they're aiming at a National Day holiday release (up directly against TAI CHI 0), and rights have already been sold to several countries, including North America.
Zhao is one the few young first-time directors who are making their film debut on this slate. Another director is Hong Kong's Wong Tsz Ming, who has been working in Chinese television for years. For his feature film debut, he will be directing DETECTIVE TWO, a buddy action comedy that reunites OCEAN HEAVEN pair Jet Li and Wen Zhang. Wong has already said that he plans to twist the formula a little bit, making Wen the action hero and Li the comic relief. The film is produced by veteran producer Chui Po-Chu, who also convinced Li to star in THE SORCERER AND THE WHITE SNAKE. The film is aiming at a December release
The Jet Li film will co-star up-and-coming actress Cecilia Liu, who will also be starring in the directorial debut of television director Xu Zheng Chao, who co-wrote Zhang Yimou's A SIMPLE NOODLE STORY. The film is youth romantic comedy A SAD FAIRY TALE, and it will also star singer Hu Xia, who made it big by performing super-popular theme song for Giddens' romantic comedy hit YOU ARE THE APPLE OF MY EYE. The film is now aiming at a July release date.
Actor Xu Zheng, who you might've last seen in Pang Ho-Cheung's LOVE IN THE BUFF, will be making his own directorial debut with THAILAND LIST, which will be a supposed thematic follow-up to surprise comedy hit LOST ON JOURNEY and reunite Xu with his JOURNEY co-star Wang Baoqiang. Fan Bing-Bing is also set to star. Xu Zheng recently co-wrote the 30-minute short SPECIAL SERVICE, directed by actor Huang Bo.
Speaking of Huang Bo, he will be reuniting with DESIGN OF DEATH and COW director Guan Hu for the action comedy THE CHEF, THE ACTOR, AND THE SCOUNDREL. Huang will once again be joined by Liu Ye (CITY OF LIFE AND DEATH) and Zhang Hanyu (ASSEMBLY). The three had just finished a television series that was also directed by Guan Hu.
Daniel Lee, whose last three films have been period films (THREE KINGDOMS, 14 BLADES, WHITE VENGEANCE), is working with Enlight for the first time with MANCHURIA TRAIN. Though not much has been said about the story, Lee said that it will not be another period action film, but rather a western action film.
And then, came the biggest announcement. Lu Chuan - who is prepping his long-delayed THE LAST SUPPER for a July release - went on stage to announce that his next film will be the big screen adaptation of ENGLISH, the acclaimed novel written by Wang Gang, who wrote Feng Xiaogang hit films WORLD WITHOUT THIEVES and THE DREAM FACTORY. The film will be a coming-of-age story about a teenager growing up in Urumqi, the capital of Xinjiang Province (where Wang Gang grew up).
Lastly, Enlight CEO Wang Chang-Tian announced that Enlight will be making a two-part remake of the famous SHANGHAI BUND television series to be produced by Eric Tsang. This is not to be confused with Wong Jing's ONCE UPON A TIME IN SHANGHAI, which is inspired from the same material, but is produced by a different company. Wang said that he hopes to make a film not unlike THE GODFATHER, and that the director and cast will be announced at a later date.
Unlike Huayi Brothers - who are clearly looking at the Greater China region and beyond with high-risk/high-return ventures that are also looking for critical acclaim (I think having director Chen Kuo-Fu on the team plays a big part in that) - Enlight plays it safer with topics and genres that would play better with a local market. There are adaptations of television, novels, and even thematic follow-ups of existing materials. That's not to say that Enlight isn't risking anything, because they are also putting several major projects in the hands of new directors. However, I will have to say that Enlight's slate is not as impressive as Huayi's, though there's plenty of potential for surprises.
Who's the next studio to announce their upcoming slate? Keeping checking to see.
Special thanks to Stephen Cremin for additional information.