April 28th, 2010
Enjoying myself here in Udine at the Far East Film Festial, but have neglected a lot at the website and blog. I don't think I ever published my Top 20 Hong Kong movies of the 90s, so that ancient poll still isn't done. I also have laundry to do so life is full of troubles.
The evil ash cloud has prevented many a filmmaker from attending, but a host of people have shown up, including Chapman To, directors Derek Kwok and Clement Cheng, Pang Ho-Cheung, and also Patrick Lung Kong, the focus of the main retrospective. Saw a lot, and may write some, but it'll have to be after I clear my main backlog of reviews.
Anyway, met Derek Kwok and he's a big fan of Hong Kong action figure manufacturer HOT TOYS. He even brought along the new TERMINATOR 2  Movie Masterpiece 1/6th scale action figure and is snapping photos. I added my own toy and we got a crossover going: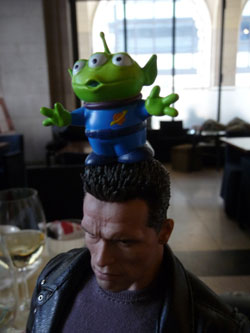 LGM enjoys the feel of Ah-nuld's hair beneath his toes
I'm doing work here for YesAsia plus LoveHKFilm, but the Udine Far East Film Festival is also largely a holiday for me. No real pressure, I can talk to directors or actors during lunches or while lounging around, and the staff is always exceptionally helpful. I sincerely doubt I would ever enjoy Cannes or other high pressure film fests. Hell, the HKIFF always threatens to make me sick. In Udine, I can just be and you can't really put a price on that.
See you in a few.