May 23rd, 2010
It's been nearly a month since I attended the 12th Udine Far East Film Festival, but I have yet to post more than one or two photos detailing the trip. In past years, I've usually written quickly about the experience, but this year? It didn't happen. Besides a podcast I did over at Paul Fox and Kevin Ma's KongCast, all I did was put up one photo of LGM and Arnold Schwarzenegger. Here's a photo of me taking that photo: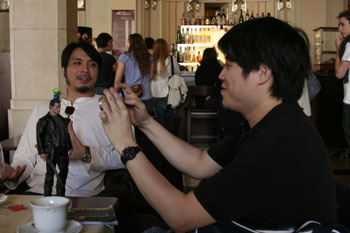 That's GALLANTS co-director Clement Cheng in the background,
wondering why I'm interrupting an interview to take toy photos.
Obviously, I act in a completely professional manner while I'm over there.
I'm not sure why it's taken me so long to finally get this post up. It could be me splitting my time between the site, Twitter and other commitments, but it may also be because this year felt oddly special and it took me a couple of weeks to process it. I will not discuss why I consider it special because doing so would be oversharing. And even though the Internet is all about oversharing (Twitter, Facebook, Foursquare — I'm looking at you), I'll do my best to remain solidly impersonal. That's why I'm putting up a photo like this: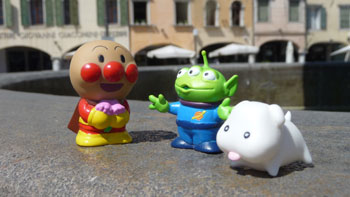 Nobody enjoys Udine more than Anpanman, LGM and Pero Pero
Quick photos and text highlights follow. I'm going to attempt to do this all in one entry, so beware. If you don't make it to the end, I won't blame you.
So, this is the Teatro Nuovo, the converted opera house where most of the screenings take place: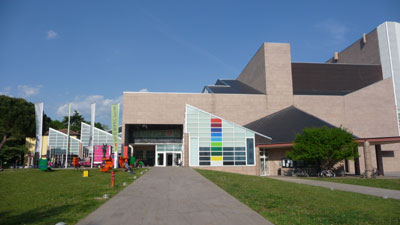 I walked this path about 284 times over the entire fest
The exterior may not be as sumptuously decorated as it has been in previous years, but that's not such a big deal. After all, it's all about the movies.
Guests this year included Pang Ho-Cheung, attending for the world premiere of DREAM HOME, plus legendary Hong Kong filmmaker Patrick Lung Kong, who received a well-deserved retrospective.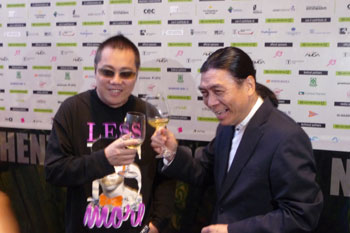 Pang Ho-Cheung and Patrick Lung Kong
Pang and Lung actually share some similarities in that both are very concerned with Hong Kong social issues, overtly addressing them via a variety of different genres. The DREAM HOME screening featured the uncut version of the film, and is infamous in that someone actually fainted in the audience. It was not me.
Of Lung Kong's films, I most enjoyed THE WINDOW and TEDDY GIRLS, though a large part of that has something to do with star Josephine Siao.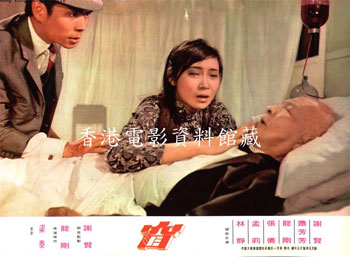 Patrick Lung Kong, Josephine Siao and Yeung Yip-Wang in THE WINDOW
In watching STORY OF A DISCHARGED PRISONER, which is well-known as the inspiration for John Woo's A BETTER TOMORROW, it's surprising that the emphasis seems to be not on brotherhood or honor, but on a real social issue: the difficult life of an ex-con. It's a different, but no less valuable film than Woo's famous heroic bloodshed actioner, and it's quite sad that there isn't a better version available on video than a lackluster unsubtitled VCD.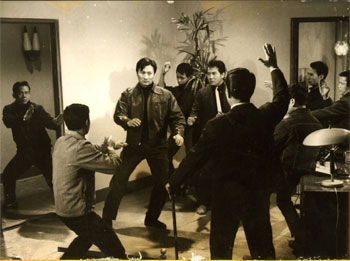 Someone put this film on DVD.
Blu-ray would be better but I shan't be demanding.
Also in attendance were the directors of GALLANTS, Derek Kwok and Clement Cheng: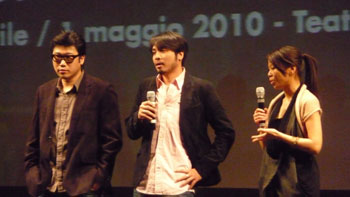 "Our movie is awesome despite what LoveHKFilm.com says."
I already saw the film at the Hong Kong International Film Festival, so this was my second go-around at GALLANTS. On June 3rd, I'll likely take in the film a third time at the proper local venue, the Dynasty. Currently the film is getting a good promotional push courtesy of Focus Films so I hope it manages some local box office. If it can't do it, then I blame the moviegoing public, who blew their wad at IP MAN 2.
Director Jang Hun showed up to present his blockbuster SECRET REUNION: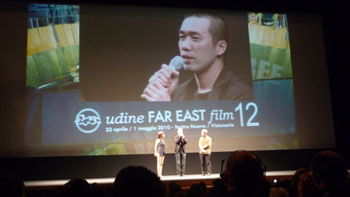 "Don't listen to LoveHKFilm when they review my film.
They know nothing about Korean movies."
The film is an effective commercial thriller with dynamite action and star performances — and that's pretty much why 80% of us go to the movies. Talking to Mr. Jang at our 11am interview was also very nice. Too bad I was hungover at the time.
Udine also means filmmaker panels, so here are some pictures from those. Here's Patrick Lung Kong with Sam Ho, programmer at the Hong Kong Film Archive: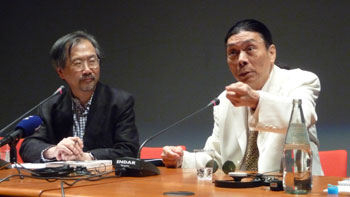 "Hey you, are you sleeping in my panel?
Wake up if you know what's good for you!"
Korean film programmer Darcy Paquet, webmaster of koreanfilm.org, and Lee Yong-Ju, director of THE POSSESSED: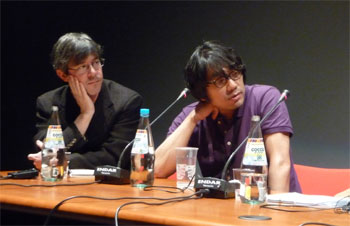 "What is that guy shouting about over there?"
Teddy Chen, director of a little film called BODYGUARDS AND ASSASSINS, alongside Festival Senior Manager Chiu-Yee Cheung and Hong Kong programmer Tim Youngs: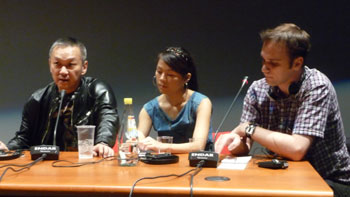 "I'm telling you, I've never met Andrew Lau. Who is he, exactly?"
Derek Kwok and Chapman To, attending along with his new film LA COMEDIE HUMAINE: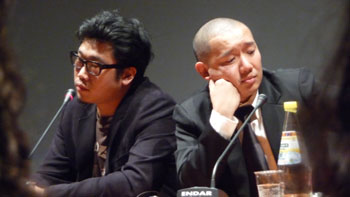 "I really don't want to sit next to this guy."
Chapman To spoke English during his entire panel, and he said one thing that I found especially moving. When asked why he sticks with Hong Kong movies despite the industry's shifting fortunes and well-documented difficulties, To said, "Hong Kong movies have given me many things. So I have to do it."
I won't go into why his words affected me so much, but my respect for Chapman To grew exponentially after he said that. The second most important thing he revealed at the fest was his alternate title for BODYGUARDS AND ASSASSINS. He calls it FIGHTING AND CRYING.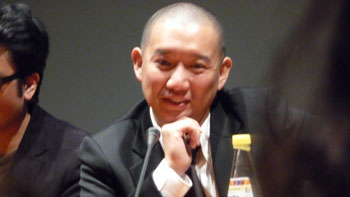 "I kick so much ass."
Besides films and filmmakers, Udine is all about food. At least, it is to me. Some samples: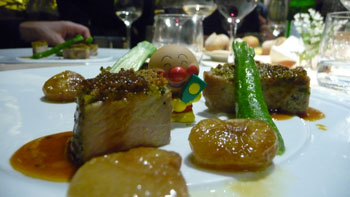 I didn't eat Anpanman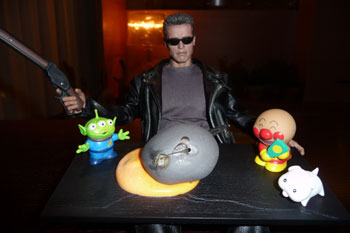 The stone is a potato. The sauce is cheese.
Arnold is Derek Kwok's. Everything else is mine.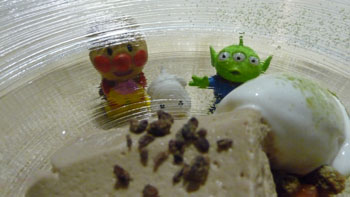 They all want some of the gelato
Even the simple food is awesome. This is half a ham sandwich, given to me by Teddy Chen. Little did I know that when I went to Udine this year, the director of DOWNTOWN TORPEDOES would give me a ham sandwich. Life is full of surprises.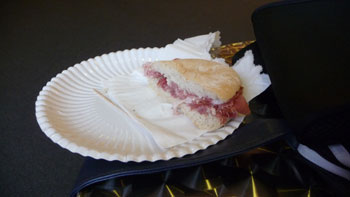 Mmmm…ham
No trip to Udine is complete without a couple photos of me and the guests:
Me and Teddy Chen: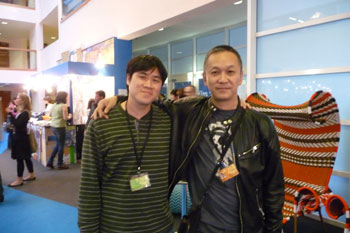 "Pay me back for the sandwich, kid."
Me and Chapman To: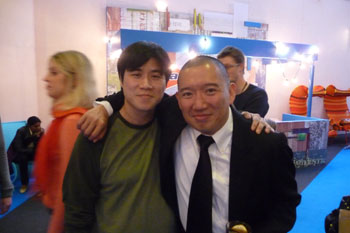 "I don't know this guy, but he seems to know who I am."
Me and Clement Cheng: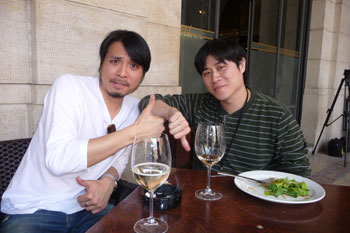 Our opinions differ on FUTURE X-COPS
I don't have a similar photo with me and Derek Kwok, but here's a photo featuring the two of us: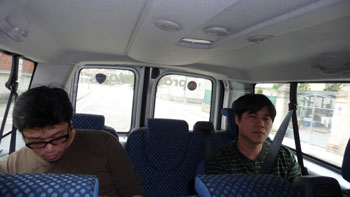 Clearly, we are the best of pals
The above photo was taken on an afternoon sightseeing tour right near Udine. Yep, besides movies, food, and meeting filmmakers, a person can also do some great sightseeing at the Udine Far East Film Festival. No Venice this year for me, but that's okay. I did my laundry instead.
Some photos from that afternoon: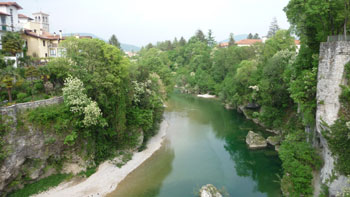 The view from my Hong Kong apartment is startlingly similar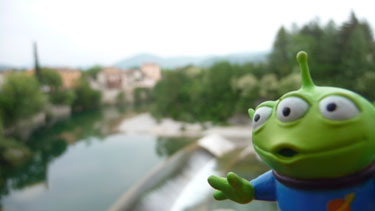 Some of my nightmares end this way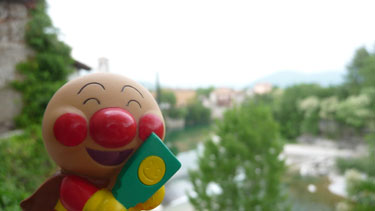 That's one happy piece of bread
One side product of bringing Anpanman to Italy is it allows me to introduce the super-righteous red bean bread man to international audiences. Really, only 2-4 people in Italy seem to know who Anpanman is, which is shocking. Why hasn't everyone overseas heard of him? Maybe it's because he saves kids and animals by allowing them to eat his head. After hearing the story, Gabriele Roberto, composer of DREAM HOME and MEMORIES OF MATSUKO, revealed that he has a deep-seated fear of Anpanman. Thankfully, they made up for this photo: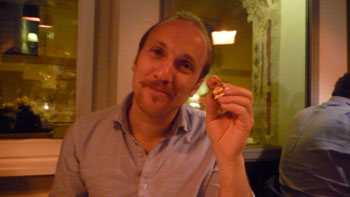 Afterwards, Gabriele tortured Anpanman
by drowning him in a glass of water
One potential guest who couldn't make the trip to Udine was JJ Jia, co-star of GALLANTS. Luckily, Clement Cheng and Derek Kwok brought a picture of her so that it would appear that she came along for the trip: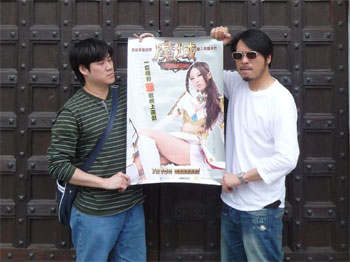 Probably the closest I'll ever be to JJ Jia
JJ Jia aside, meeting people is always a great part of FEFF. Sure, you only see them for 8-9 days out of a whole year, but at least you can walk away with lots of good memories, not to mention new friends on your Facebook account. This photo includes some of the many wonderful people I met this year: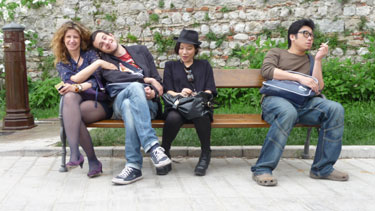 It's a still from UDINE FRIENDS,
starring Derek Kwok as mildly disinterested smoking guy
Finally, here's a photo featuring Derek Kwok, Teddy Chen, Clement Cheng, Chapman To and Lee Yong-Ju: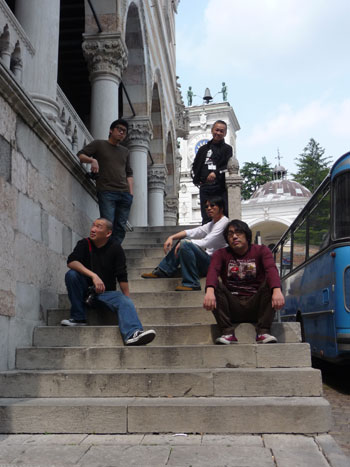 A classy photo
Unfortunately, Chapman To had something to do so he got up: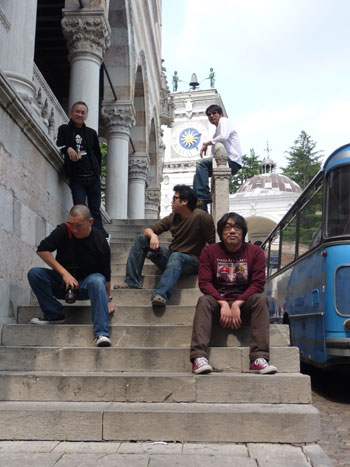 "Got some business to attend to."
Um…well, maybe it's not such a classy photo: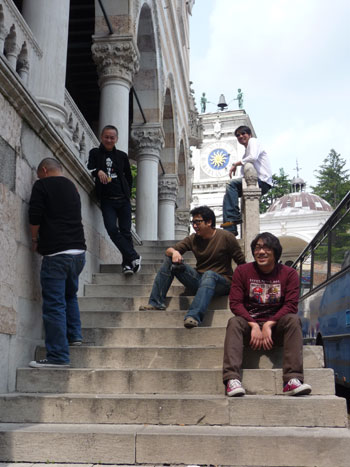 Alcohol must have been involved
Aaaaaaandd that's it for another fine year at the Udine Far East Film Festival. Other attendee mileage may vary, but I can never complain about my experience there. I enjoy myself immensely in Udine and cherish the fact that the staff and guests can put up with my widely-reported lousy personality. Actually, as I've probably said many, many times before, I am blessed to be able to go to the FEFF on a nearly yearly basis, and it's one of the things I'm most thankful for when I think of what LoveHKFilm has given me.
As usual, I encourage everyone else to go to the Far East Film Festival, no matter their age, gender or religious beliefs. Udine is a place where people really love Asian Cinema, and simply attending to talk to everyone is worth the price of admission. As I like to say, it's never too early to become a fan of Asian Cinema.
To illustrate, here's a photo I took in the lobby of the Teatro Nuovo: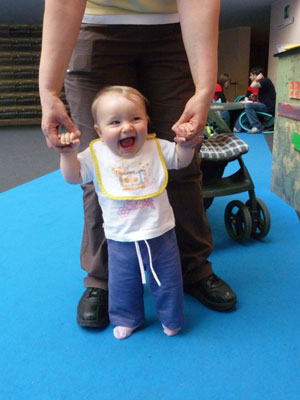 "Yeahhhhh!!!!! DREAM HOME rocked!"
This baby is now a fan of FEFF for life.
I hope to see everyone next year! Especially the baby.