Sunday, December 30th, 2012
Hi and welcome to yet another entry in the BEST 200 HONG KONG FILMS EVER. This was supposed to be the sixth day of this thing, but if you count the concurrent BEST HONG KONG FILM PERFORMANCES feature and also all the time involved in preparing, tallying, and formatting this vote — well, it feels like this thing has gone on FOREVER.
Seriously, at this point I'm only slightly more sane than Andy Lau is for wearing this get-up: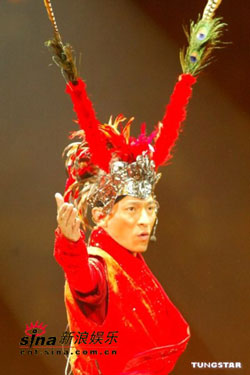 "Simba! You must avenge Mufasa!"

Regardless, we're going to complete this thing even if it kills us. Or the reader. Speaking of which, we apologize in advance for the way we're writing the blurbs for these movies because they're starting to make absolutely no sense. Really, when you pump out 200 of these things during the holidays in addition to regular work and social commitments — well, I believe that the clinical term for what it makes you is "Cuckoo for Cocoa Puffs."
Oh yeah, previous updates. Read them first or THERE WILL BE BLOOD:
Previous Updates:
Numbers 200-171
Numbers 170-141
Numbers 140-111
Numbers 110-81
Numbers 80-61
We're getting closer to the end. Quick, jump!