Friday, July 8th, 2011
- This is an issue that's been discussed since last year, but it's still worth throwing it out because it's an ongoing problem with no solution in sight.
Recently, a photo of an alleged list of actors' pay on PAINTED SKIN 2 was posted on Sina Weibo by a netizen. The list showed that the highest-paid actor of the film is being paid only RMB4 million to be in the film, and award-winning actress Kara Hui is being paid only RMB 300,000 for her role. Hui immediately denied the list on Weibo, because, well…she's not even in the film. However, one of the producers weibo-ed that the list is about right.
Whether the list is true or not, this is a good time to bring up what's happening in China right now regarding actors' pay and how it affects Hong Kong cinema. According to a report in Apple Daily last year, Chow Yun Fat is currently the top earner in Chinese cinema now, making RMB 40 million per film. Andy Lau and Donnie Yen are not far behind, with roughly RMB 25 million each. However, Mainland actors continue to get the shaft, with even names like Ge You, Aloys Chen, and Zhou Xun getting less than RMB 5 million for each film.
How does this affect Hong Kong cinema, you ask? With Hong Kong stars getting these outrageous pay, it's now hard for Hong Kong producers to be able to afford films with bankable star. This may explain the attempt to nurture films with mainly young talent (not that it's working. Is there even a new Andy Lau out there?), and this is the most likely reason that Chow Yun Fat hasn't been in a Cantonese film in 16 years. Salary issues was rumored to be the reason he dropped out of John Woo's RED CLIFF.
Meanwhile, the Chinese film industry is also realizing that revenue isn't growing quick enough to cover costs. While Chinese blockbusters are making big bucks, they're not making enough to cover ballooning budgets, especially if talents are taking up 1/3 of each films budget. THE LOST BLADESMAN made RMB160 million at the Chinese box office, which is no small feat. However, its budget was a reported RMB 80 million, which means it would need to have made at least RMB 200 million at the box office just to break even.
If the film industry shifts to a point where China can finally produce its own box office-guaranteed stars, producers will either get wise and use strictly China stars (bad for HK stars), or they will have to spend even more on talent (bad for everyone except the stars). Chinese cinema can only grow bigger with bigger productions, but it's getting to a point where domestic gross is not enough to cover the budget any more. Foreign sales are also drying up, as foreign audiences are getting tired of big Chinese period flicks.
Will Chow Yun Fat, Donnie, and Andy Lau keep sucking up their 20-40 million per film, or will they soon have to compromise? Unless the Chinese film industry start controlling the number of productions, their inflating budgets, and the enormous amount of money they pay to Hong Kong talents, Chinese cinema is undoubtedly heading towards a bubble. And when that bubble pops, everyone's going down.
- Hong Kong MPA released the box office figures for the first half of 2011. As we all know already, SEX AND ZEN: EXTREME ECSTASY, fueled by curiosity by both Hong Kongers and visiting Mainland Chinese tourists, managed to beat the general negative word-of-mouth (bonus: popular video of Chapman To reading a scathing netizen review - translation could be better, though) and became the highest-grossing Hong Kong film in years (which is amusing for a society that's been progressing backwards in terms of morals). According to the report, 24 Hong Kong films were released, which would be about on pace with the past few years.
SEX AND ZEN was essentially the AVATAR-like outlier, with local films in general grossing lower than last year's films. With the rest of the year looking fairly devoid of big box office performers (it's WU XIA in August, then OVERHEARD 2, then not much until December), expect SEX AND ZEN to keep its top spot for the rest of the year.
- While we're at it, Film Business Asia looked at Korean box office in the first half of the year. After its bubble popped a few years ago, it seems like the South Korean film industry is stabilizing, as admissions in the first six months of 2011 is only down 2.1% (remember last year cinemas had AVATAR). Better yet, Korean films are currently taking a higher market share in the first half year than the same period last year, as three of the five top-grossing films are Korean.
- Before you say say REST ON YOUR SHOULDER, another feud has brewed up in Chinese cinema. A few days ago, I tweeted a link to the peculiar poster for director Jiang Cheng's TO LOVE OR NOT. The poster showed stars Alex Fong Chung-Sun and Li Shaoran making out passionately in a bathtub, and that has sparked a lot of feedback about what the film will be like.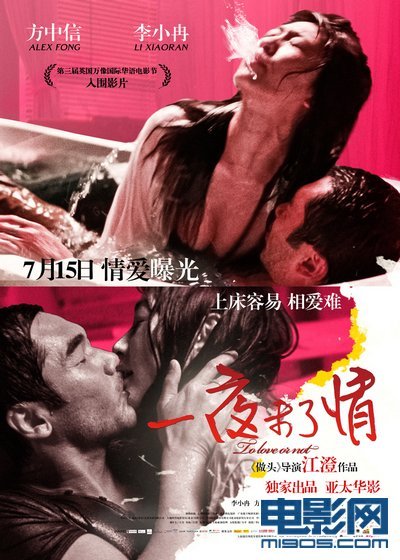 And then Li Shaoran fought back.
The star apparently now denies that she ever did the scene depicted in the poster. She insists that the "woman" spitting water is a male double wearing a wig, and then her part in the scene was only one shot that did not involve kissing. She is now refusing to do any further promotional activities for the film.
Director Jiang Cheng then fought back, saying that only one shot in the sequence (the one of the two falling into the tub) was done by body doubles, and that everything else was done by the actors. Of course, now the feud is turning into a he said, she said, with Li spilling everything she was dissatisfied about Jiang, and Jiang Li of essentially being a difficult actress to work with. Both sides have even used Alex Fong as their weapon against the other. Meanwhile, sources confirm that the stills are taken directly from the final cut rather than stills taken on set.
On the surface, this is close to gossip, but if we peel that back, we can speculate what is going on here. 1) There's a real feud between Li and Jiang, with one actress embarrassed for being talked into doing a scene she now regrets doing. 2) It's a week away from the film's release. You don't have real bankable stars. Any news is good news. 3) Something else. I won't taking any of these three positions, but the Chinese film industry isn't exactly the most transparent one, and it's likely impossible to ever really know what is going on here.
Anyway, if you can read Chinese, read all about it here.
- Upcoming Chinese animated film LEGEND OF A RABBIT has the netizens talking, but in a bad way. Apparently, the character designs all look a little too close to KUNG FU PANDA for comfort. Director Sun Lijun is strongly denying that his work is being influenced by KUNG FU PANDA in any way.
Some of his defenses:
"Netizens say that LEGEND OF A RABBIT is the copycat version of KUNG FU PANDA, then why doesn't Dreamworks sue us over copyright?! LEGEND OF A RABBIT has been sold to 62 countries. Overseas buyers are not stupid. You think they haven't seen KUNG FU PANDA?!"
"The characters in LEGEND OF A RABBIT are very different from KUNG FU PANDA's. Why don't they say that KUNG FU PANDA took influences from Chinese kung fu?"
[when asked why has hasn't seen KUNG FU PANDA 2] "Not interested. No second film is better than the first film"
Obviously, Sun hasn't seen THE GODFATHER PART II.
See the trailer for LEGEND OF A RABBIT here and decide for yourself.
- After AFTERSHOCK and BEGINNING OF THE GREAT REVIVAL, it's now time for Korea to have their first film converted into the digital IMAX format. Korea still has something to be proud of, though – it'll be the first non-English-language film to be converted into IMAX 3D. Korea currently has ten IMAX screens that can show the film, and CJ Entertainment operates all ten of them. It's a no-brainer.
Check out the teaser for the monster film here.
Next time: Spike some Beach. A double feature across the border. And whatever else comes my way.