Friday, July 15th, 2011
- Today's focus story goes back to the "box office gouging" story popping up on the internet recently about BEGINNING OF THE GREAT REVIVAL. However, it seems like not many people (including the western press) know that this isn't the first time it's happened. An article in a lifestyle site has analyzed the trend, so here's what they find, plus a little bit of my own insights:
On the opening day of WU XIA, some netizens reported that they were getting printed tickets for BEGINNING OF THE GREAT REVIVAL when they bought tickets for other movies. This so-called "box office gouging" has reportedly happened in a few cities, but no one knows the full extent of the practice. However, the CEO of Stellar Megamedia, a co-investor of Peter Chan's WU XIA, said that the effect was actually minimal on its disappointing opening week.
This isn't the first time box office gouging has been reported. According to the article, the first report of this happening goes all the way back to 2006, when Ann Hui's THE POSTMODERN LIFE OF MY AUNT made only RMB 5 million, despite good word-of-mouth. The report quotes an "insider" who said that the box office gross for that film was actually split with other films in secret. The "insider" did not say what films they were.
Then, in 2010, CITY OF LIFE AND DEATH director Lu Chuan wrote an angry tweet on his Weibo, describing his anger when he saw a certain male company executive stood up at a meeting of film professionals and proudly proclaimed  "the main-stream has actually made money!". He angrily wrote that that the box office for that executive's "main-stream film" was gouged from box office grosses from smaller films. Of course, Lu did not write what film, what executive, or what company.
The last time such box office gouging happened was in December 2010, when audiences at one multiplex in China reported over the course of two days that they got printed tickets to Chen Kaige's SACRIFICE when they wanted tickets to MY NAME IS NOBODY. That was probably the first actual recorded case of box office gouging by netizens, but rumor of such practice goes back as far as 2005, when there were rumors of KUNG FU HUSTLE's box office gross being gouged by Huayi Brothers' A WORLD WITHOUT THIEVES.
Of course, the first party everybody blames is either the production company or the distributor (or in the case of REVIVAL, the government!). However, there are actually many parties on each film that benefit from a film's success. The report directly points its finger to cinema owners.  Typically, a Chinese film's box office gross is shared by three parties - the cinema owners, the distributor, and the production company. The cinemas take the biggest share at 45-55%, and they can actually negotiate for a bigger piece of the pie if the film is a bigger release.
Now, let's suppose that you're a cinema owner that will be getting, say, a 55% of the gross for, say, BEGINNING OF THE GREAT REVIVAL. China Film Group tells you that they're targeting a gross of RMB 800 million for the film, which means you'll be picking up RMB440 million of that gross. So you line it up in your biggest auditoriums, give it half your total shows, expecting your local party members to show up and buy lots of drinks and popcorn.
Now suppose the film under performs.
As of Monday, July 11, BEGINNING OF THE GREAT REVIVAL has made only RMB 348 million, which is not only a ways to go before matching the gross of predecessor FOUNDING OF A REPUBLIC, but also a LONG way to go from the RMB 800 million target. If you find yourself only getting RMB 170 million out of the RMB 400 million you were promised from a film that's giving you a higher percentage of the box office gross than other films that's taking up your auditoriums now, what would you do?
The report goes to point out that it's virtually impossible right now for Chinese production companies to send people out to monitor these practices because there are far too many cinemas in China (remember, it's a big country, with lots of people). Also, the government has essentially bought into this ideology called free market and hasn't done anything to monitor the practices of its film industry because of its rapid growth. The communication scholar quoted in the article essentially blames the government for not doing anything to crack down on dubious business practices in the film industry. Because seriously, who the hell would trust people to have a conscience or business ethics, right?
Of course, we'll never know who is really behind these box office gouging practices, but I wouldn't start pointing fingers immediately at China Film Group or the government just because one of the accused films happens to be a propaganda film celebrating the communist party's 90th anniversary. Of course, they're an easy target, but can China Film Group really send out a memo out to theaters all across China telling them to boost box office? And since we're talking about the government being the puppet master here, why would they need to bother printing out fake tickets when they can simply get the numbers rigged?
Anyway, with netizens proving to be a more powerful monitor than any team sanctioned by production companies (WU XIA's distributor immediately offered a cash reward for those who report box office gouging of their film, and they said they already allotted RMB 5000 - 1000 for each case), it's not likely this type of behavior will become regular behavior.
HOWEVER, let me remind you that there are many shady practices in the film industry, including China's, as well as its media. Hell, the report that I based this focus story on apparently literally steals portions from an older story (and maybe so on and so forth). There's a possibility that we're all being taken for a ride by PR firms, publicists, film distributors, media outlets, and even cinema owners. Right now, not even Peter Chan is willing to comment anything specific about possiblity of such practices, except he did say that he always found film distribution "very shady". So, keep an open mind and just watch how things develop down the road.
- Some more Facebook pages of Hong Kong movies have opened:
Dante Lam's big-budget actioner THE VIRAL FACTOR stars Nicholas Tse, Jay Chou, and Andy On. The film recently wrapped its shoot in Malaysia, and it's not clear whether Lam will be shooting more in Hong Kong. The film's shoot, unfortunately, has been on the news everyday due to the media's coverage of the Nicholas Tse-Cecilia Cheung divorce. The film has yet to lock down a release date.
Wing Shya and Tony Chan's LOVE IN SPACE is their follow-up to HOT SUMMER DAYS. Like SUMMER, the film will follow multiple love stories, and it stars Rene Liu, Aaron Kwok, Eason Chan, Guey Lun Mei, Angelababy, and Jing Boran. The 20th Century Fox production opens September 9th in China (and likely Hong Kong as well)
- Peter Chan and Takeshi Kaneshiro attended a promotional event for WU XIA in Beijing, and the film's distributor released a deleted scene from the film online. The scene shows Takeshi Kaneshiro's mental alter ego sparring with his investigator, played by Jiang Wu. The scene is amusing, but I can understand why it was cut from the film.
- In March, Huayi Brothers revealed a series of upcoming films called Plan H, including DETECTIVE DEE 2, YANG FAMILY, and Stephen Fung's TAICHI (currently in production). Now, WINDS OF SEPTEMBER director Tom Lin's STAR, starring Harlem Yu, Rene Liu and Xu Jiao CJ7), has locked down a November 4th release date. According to the news report, the film will be released day-and-date in Asia and North America. China Lion has a distribution deal with Huayi, so it's not surprising that it will go to the states, but I have my doubts about Asia.
Another Plan H film getting ready to start production. Doze Niu (MONGA) is beginning a "test shoot" for his latest film LOVE, starring Shu Qi, Ethan Ruan, Mark Chao, and one more actress. While reports indicate that Vicki Zhao will be replacing Zhou Xun on the film, not even the media is willing to lock down who will be playing that fourth role.
And now, I read Weibo so you don't have to:
- Musician Ah Niu, who made his directorial debut with ICE KAKANG PUPPY LOVE, has announced that his second film will be THE GOLDEN COUPLE. I imagine more info will come in a few days.
- Director Pang Ho-Cheung said that production has officially began on his LOVE IN A PUFF sequel, which is rumored to be called LOVE IN A BUFF
- Hong Kong producer Ng Kin Hung (GIRL$, HI, FIDELITY, the upcoming LAN KWAI FONG) is currently recruiting for his upcoming project about indie rock bands. Here's the poster: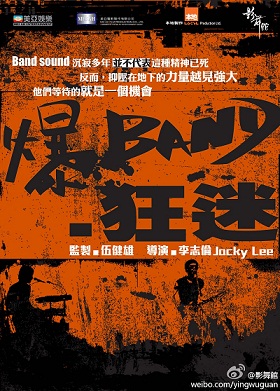 - And to end the week on a high note: Actor Ronald Cheng has returned to the set of Wong Jing's latest film after his wife gave birth to his baby daughter. Chapman To apparently attempted to console Ronald being separated away from his newborn baby, and this is the result: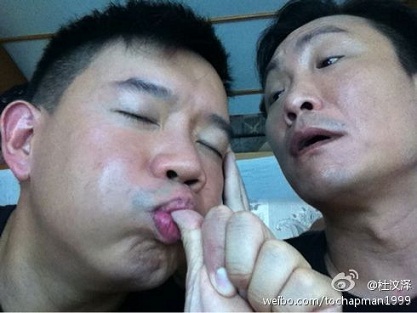 Next time: Why BEGINNING OF GREAT REVIVAL under performed, reading between the lines of China's box office report, directors insisting their 3D movie really is 3D, and maybe some Korea/Japan news finally. Have a good weekend.
Sources:
China Times
ent.163.com
Film Business Asia
Lifestyle.com.cn
Mtime
Sina News
Yahoo News