Saturday, July 30th, 2011
Before getting into the news today, here's a friendly reminder: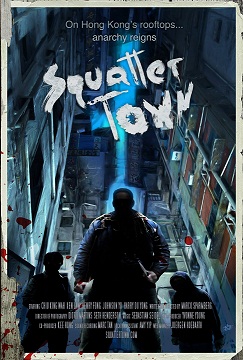 The SQUATTERTOWN premiere is happening on July 30th at 7:30 pm Hong Kong Time. I will be there, checking in live on Twitter and Facebook with constant updates before and after the film. You can check out the details on Facebook or see what's going on live at the ustream page. It's going to be a great night, and we'll cover the premiere with a special entry next week, so stay tuned!
- Today's focus story comes from Jinan Shibao, and it attempts to explain why the star-studded propaganda film BEGINNING OF THE GREAT REVIVAL did not do as well as the predecessor FOUNDING OF A REPUBLIC.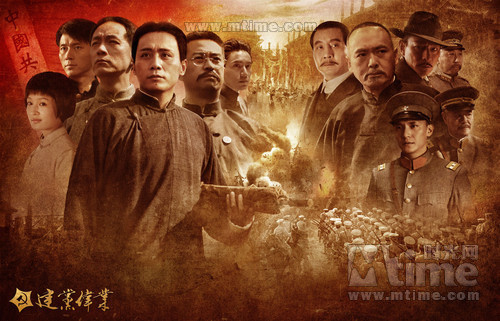 Here's some background: BEGINNING OF THE GREAT REVIVAL is China Film Group's big blockbuster made to commemorate the 90th anniversary of the Chinese Communist Party. The film features 170+ stars from the Greater China area (plus Taiwan, depending on your politics), and it was expected to do major business at the box office ahead of the party anniversary on July 1st. You can read Boss Kozo's review here.
In case you don't know (and if you've been reading western media, you probably don't), BEGINNING OF THE GREAT REVIVAL was expected to be a record breaking box office hit. China Film Group said they were targeting 30 million admissions for a gross of 800 million yuan. They didn't just want to barely pass by LET THE BULLETS FLY's reported 700 million yuan record, they wanted to DESTROY IT, and 800 mil was the sensible next step. There were 89,000 showings in the first 5 days alone, with organized screenings by governmental organizations and a huge advertising campaign. Yes, an advertising campaign for a movie advertising the communist party.
Problem was, it wasn't enough. The film only had an average of 36 admissions in each of those 89,000 showings, meaning that they screened it, but not enough people came. As of July 24th, it has only made 367 million yuan (roughly US$57 million) after 40 days. Sure, that's no small number, considering it's currently the highest-grossing Chinese film of 2011 so far. However, it's far lower than the 800 million target set by CFG, and it's still below the gross of FOUNDING OF A REPUBLIC two years prior, when there were less screens (It made roughly 410 million yuan). REVIVAL has already been released on DVD, and it has already made its way to the legal streaming sites, which means no revival for this poor fella.
Why can't a country with reportedly 80 million communist party members get enough people to watch a movie about the communist party? I will first paraphrase each point provided by the article, followed by my own comments in bold.
1) Scheduling. BEGINNING OF THE GREAT REVIVAL picked what seemed to be a perfect opening date on June 15th - right in the beginning of summer - with only an "alternative" film like WU XIA and low-key dramas like SNOW FLOWER AND THE SECRET FAN in its way. However, FOUNDING OF A PUBLIC opened during the extended National Day holiday in October, and it was able to benefit greatly from that. On the other hand, REVIVAL could only benefit from school holidays, and students is not the target demographic for the film. Even though REVIVAL saw more organized screenings than REPUBLIC, it did not attract enough audiences to voluntarily watch it.
Let's not kid ourselves here, China Film Group may not be a prolific film producer, but they are the biggest distributor of films in China. They serve as distributor/co-distributor on at least half of all Chinese films released, and they are one of the only two distributors of foreign films, including KUNG FU PANDA 2, TRANSFORMERS and HARRY POTTER. They held TRANFORMERS 3 , the biggest threat to REVIVAL's box office dominance, back by a month.
Of course, the holding of foreign films to give local films a leg-up is an unofficial annual tradition in China, and this practice is only getting extra attention this year because the leg-up was given to a propaganda film. So it's hard to say whether they held TRANSFORMERS back for commercial or political reason. All we can say is that they held it back. There was also a rumor that WU XIA (not distributed by China Film Group) could've done better if it had opened on the extended July 1st weekend in China, and that it "voluntarily" pushed its opening date to the following Monday. We're not going to guess if that's true or not. And you probably shouldn't, either. 
One thing the article speculated and probably got right was that REPUBLIC benefited from an extended national holiday, and REVIVAL didn't. Not even the communist party anniversary holiday helped the film get the boost it needed. 
In a future entry, we'll look at the art of scheduling in the Chinese film industry. 
2) The star syndrome. The biggest selling point of FOUNDING OF A REPUBLIC was probably its large cast of stars. BEGINNING OF THE GREAT REVIVAL attempted to cash in on that same selling point, packing it with stars like Andy Lau, Chow Yun Fat, Zhou Xun, Liu Ye, Chang Chen, and all those Mainland Chinese stars with two-word names. However, after REPUBLIC, fans of the stars knew that their idols would likely only appear for several minutes in order to fit in the next star appearance. As a result, fans would rather skip wasting money on seeing their idol for a few minutes in REVIVAL and instead saved their money for a movie where they knew their idol would actually be appearing for longer than five minutes.
Likely true, but I'm not sure if it really played that huge of a role, since audiences will likely see more than one of their idols in a movie promising 170 stars. 
3) (lack of) Critics' influence/word-of-mouth. While REPUBLIC sparked conversations on the internet and elsewhere, REVIVAL saw decreased enthusiasm and negative word-of-mouth from audiences. The film had no professional reviews, which meant general audiences weren't properly guided on whether the film was good or not. On movie rating sites Douban and Mtime, the rating system and the discussion sections were both shut down, preventing people from having a public opinion on the film. These days, young audiences like to check movie rating sites to see word-of-mouth on a film before they choose to watch it. Without that tool, people simply decided not to watch it. One netizen speculated that since REPUBLIC didn't run into to the same situation, the powers that be must've been afraid that the focus of discussions would be placed on Tang Wei.
This being a mainstream media report, they wouldn't point out the fact that the rating system was initially opened on douban, only to be shut down later that day when the average score was only 2.2/10. For a film to be so often voted on with such a consistently low score on only opening day, netizens were obviously having fun trashing the film. Douban's immediate action of shutting voting down didn't help the film's publicity, either, as people then simply skipped the film out of principle. It's true that the film had negative word-of-mouth, but what the report didn't point out was that it started long before the film even opened. 
On the other hand, weibo didn't shut down any opinions on the film (it even had its own unique trending section), but most of them were sarcastic comments and netizens trashing the movie. Either way, REVIVAL was damned whether they allowed Douban and Mtime's voting system to be opened.
Other than this report (which was reposted on at least Mtime's news section), not many mainstream Chinese media has covered REVIVAL's box office failure. China Film Group is acting nonchalant, saying that they will accept whatever the free market dictates them to do. With REVIVAL obviously making a profit and China Film Group still laughing to the bank with TRANSFORMERS and KUNG FU PANDA's record-breaking box office grosses, it appears that China Film Group is simply moving on and not looking back.
With the Douban/Mtime situation, the reported "box office gouging", and now the box office piggybacking of other China Film Group-involved party anniversary commemoration films all dragging down the reputation of commercial "mainstream" (as in "mainstream values") films, what will happen to it in the future? Will there be any more large-scale propaganda film for the next big national anniversary? We'll keep an eye out in the years to come.
- Speaking of "mainstream films", August 1st Studio - the People Liberation Army's film division and the producer of patriotic films like WEN TIAN - is releasing another party anniversary movie this weekend. SHOU WANG TIAN SHAN depicts the heroic efforts of the PLA during the paving of the Tianshan highway in Xinjiang province. Judging from WEN TIAN's miraculous box office performance this past weekend, I'm looking forward to see what the August 1st Studio and distributor Hua Xia has in store for us come Tuesday.
- Film company Media Asia (INFERNAL AFFAIRS, LEGEND OF THE FIST) has been merged with fellow eSun subsidiary East Asia Music to become just Media Asia. In addition to the IPO, it announced that it will be targeting the Macau/Mainland China market. At the press conference, the company announced that it will be producing the latest Johnnie To film, and it will be reuniting Sammi Cheng and Andy Lau. Andy will be playing a cop who loses his sight working on a case, and Sammi will be playing his lover.
Pang Ho-Cheung, Miriam Yeung, and Shawn Yue also made an appearance to talk about LOVE IN A BUFF, the sequel to LOVE IN A PUFF. Pang revealed that the Hong Kong section of the shoot is complete, and that they will be starting the Beijing portion of the shoot soon. In fact, Pang recently asked on Weibo for couples to join as extras for a scene on August 18th. If you're in Beijing and interested, check out Pang Ho Cheung's weibo. I assume if you can show up, you can read and speak Chinese, so you can look for the post yourself.
Also announced: Shawn Yue will be joining the cast of THE FLYING GUILLOTINES, LIFE WITHOUT PRINCIPLES has completed shooting, Media Asia will be opening its own cinema chain in China, and it will be working on a major Hollywood production.
-  Also recruiting for people is Japanese paid television network WOWOW. During their free preview weekend, they are looking for someone to help dub their Japanese version of Jackie Chan's PROJECT A. You will be trained to become a professional voice actor AND join in on the new Japanese version of the PROJECT A theme song. Check out this page for details. Again, if you're looking to become a Japanese professional voice actor, I assume you already speak Japanese, so no translation.
- According to Donnie Yen's Weibo, he has signed up to star in "Assassin Couple" (translated from Chinese title), an unofficial Chinese take on MR AND MRS SMITH (unofficial because they probably didn't buy the rights). The production company has yet to confirm, but the media is reporting that Cecilia Cheung will be starring opposite Donnie, and she will be getting 15 million yuan for the role. What's Donnie getting? 30 million yuan. Production budget is reportedly around 80 to 100 million yuan. No other talent attached yet.
- I will be using this article again for the horror focus story later. What's relevant now is that MYSTERIOUS ISLAND director Chung Kai-Cheong said that he is still working on a 3D JIN PING MEI movie. In case you don't know, JIN PING MEI was the source material for the SEX AND CHOPSTICK films. Who is Chung planning to get as his star? Jeon Do-Yeon. Yes, Cannes Best Actress winner and one of the best actresses in Korea Jeon Do-Yeon.
He also explained that Jordan Chan skipped out on promotional activities for MYSTERIOUS ISLAND because he went home to conceive a child with his wife Cherrie Ying. I am not joking at all about this.
- The Venice Film Festival lineup was recently announced, with Ann Hui's A SIMPLE LIFE representing Hong Kong and SEEDIQ BALE representing Taiwan. One film that was being rumored to enter the festival was Zhang Yimou NANJING HEROES. However, the film wasn't announced to be screened at neither Venice nor Toronto. A reporter talked to the film's production company, and the spokesperson simply said they're not in the position to comment right now. Either the film is really going the commercial route and giving up the festivals for direct commercial distribution (the way LET THE BULLETS FLY went), or it's that mysterious Venice film that will be unveiled during the competition. Or it could be going to another fest.
Who cares? We'll all get to see it in December anyway.
Next time: A special Hong Kong Book Fair edition.
Sources:
Cinema Today
Jinnan Shibao
Mtime 1
Mtime 2
Sina 1
Sina 2
Sina 3