Friday, March 13th, 2009
Man, times are tough: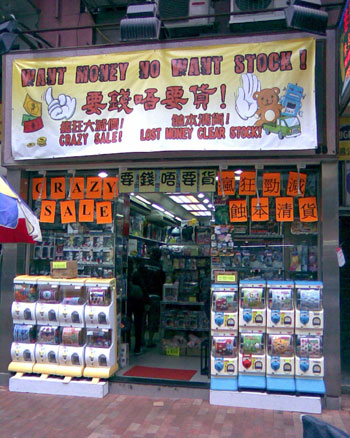 Action figures for only US$2
Actually, I have no idea if that's really the deal at the above store because I have yet to walk in and shop. I should, though, because nothing makes a person feel better in times of economic crisis than adding more useless crap to your apartment. Either way, the sign and its superb Engrish kicks ass.
If you're paying attention, you'll notice that we've just added a new blog, Ronin on Empty from longtime site reviewer Sanjuro. Now that his blog is here, I'll let him handle all the personal stories and tangential topics, while I use my blog to cover official site business, e.g. dish on the LoveHKFilm Awards, plus installments of Kozo's Mailbag and even some minor film-reviewing - some of it from writers who are not me.
This week, I'm featuring two reviews from some guy named Koh So who writes for YesAsia.com. You can find his work on YumCha!, YesAsia.com's content platform. It's a place where reviews, news, and other assorted Asian Entertainment goodies can be collected for use by people who use the fancy Internets. Koh So is impossibly more upbeat than I am, so whenever he reviews something, he spins it positive.