February 6th, 2009
Happy Lunar New Year, everyone!
Rather, Happy Late Lunar New Year. I'm forever getting behind. I'm so behind, in fact, that I'll post up this celebrity Lunar New Year photo from last year: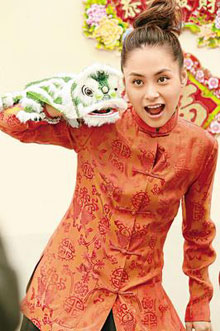 "I think this is going to be a good year!"
Yes, this photo was taken before…uh, that thing that happened.
We're now in the Year of the Ox, which means a number of things. One, this is my year, a fact that reveals my age and pretty much invites the Gods of Aging to do a number on me. Two, it means lots of cool photos of celebrities posing with Lunar New Year paraphernalia, like stuffed oxen, New Year's Couplets, etc., etc. In Andy Lau's case, he poses with his "children" a.k.a. a couple of marketable fluffy characters just ripe for merchandising.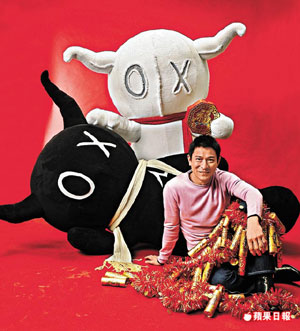 Afterwards, they sat on Andy and suffocated him
Or, if you're like Kelly Chen, you can pose with a cute stuffed golden ox.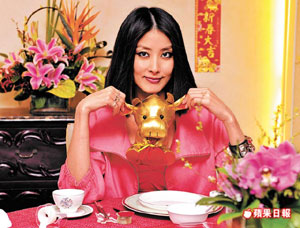 This picture is better than EMPRESS AND THE WARRIORS

Or, if you're like Fama, you can pose with their benefactor and the world's most unpopular person.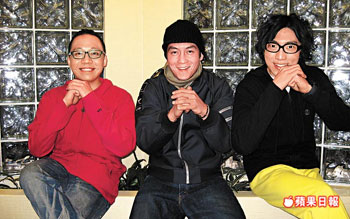 "This year, we'll destroy even more careers!"
Photos like this are commonplace around Lunar New Year time, and as always we must thank the good and not-so-good people at Apple Daily for publishing them all online. This is probably my favorite picture, because it was taken at Louis Koo's private toy museum.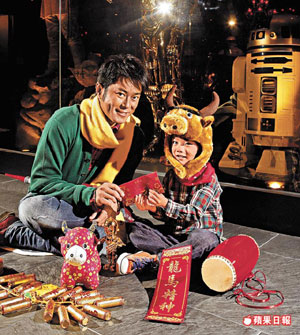 "Hey kid, I'll give you the red pocket,
but DON'T TOUCH R2-D2!"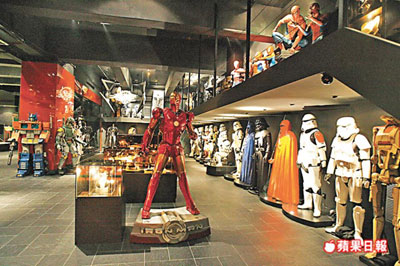 Louis Koo owns this place. Really.
After seeing a few pictures of Louis Koo's private museum, I've decided that my main goal in Hong Kong - besides the oft-threatened meeting with Ekin Cheng - must be a tour of that place.  Frankly, if I had the money, the space or the time, I'd probably build something similar. As it is, I have to settle for a toy display like this: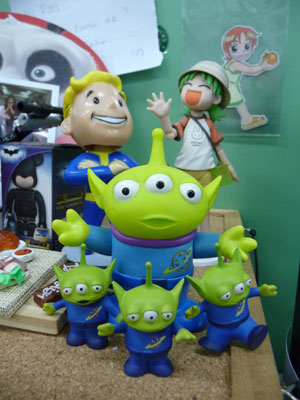 My desk at work is a fun place

Besides wishing everyone a Happy Lunar New Year, I would like to list the Top 5 things people can look forward to at LoveHKFilm.com in the new year. We'll do this in reverse order to manufacture suspense.
5. More blog entries, maybe without pictures.
True to form, there are a lot of things that I wanted to blog about this year, but lacked either time or energy. Besides celebrity photos and the tiresome Life with Kozo stuff, I now have a backlog of Kozo's Mailbox entries to attend to. I'll get to them, I promise, though I may choose to nix pictures on some of them. Oddly, that may take me more time than the actual rambling.
I'm guessing I'll write maybe twenty blog entries this year. In the meantime, check out this cool Hong Kong-produced DVD you can buy at YesAsia.com: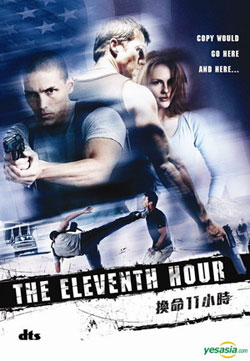 Specifically, look at the marketing copy on the DVD cover: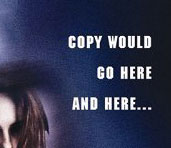 I should write something about the ridiculously low standards for English in Hong Kong, but to tell the truth, the English-literate population on the Internet is really not much better. Just visit any forum or talkback and you'll see what I mean.
4. Kozo eats a bug
In my last blog entry, I mentioned that if LADY COP AND PAPA CROOK did not rock, then I would eat a bug. The remark - like many made on this site and blog - was offhand and throwaway, but sadly the movie far from rocked and people started asking me when I would eat a bug.
So, I did some research and decided that this was the bug to be eaten: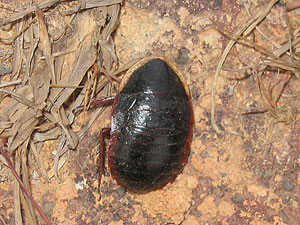 Yummy!
It's a ground beetle, it's used in Chinese medicine, and according to the shopkeeper, IT WON'T KILL ME. I'm thinking of barbecuing this guy.
As for why I'd choose to eat a bug after some stupid offhand comment: I said I would, so I will. Makes sense to me.
3. Fewer reviews of movies that people care about
Besides my recent pledge to let other people start reviewing the key movies (i.e., the ones from Hong Kong) on this site, I also decided that I should cut down on my reviews of Pan-Asia movies. This realization occurred during last year's insane film fest run where I basically knocked myself silly watching a ton of movies that weren't from Hong Kong. I may still stay within that gray China zone, meaning I'll place more weight on China and Taiwan cinema than Japan or Korea.
So yeah, I'll be seeing more movies with scenes like this: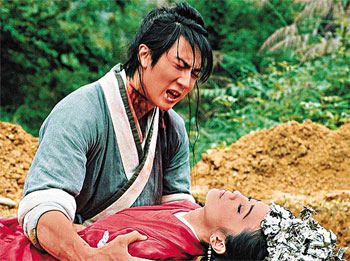 "Oh god, why is he still reviewing our movies?"
To answer Wu Chun's question, I actually don't know why I'm still reviewing Hong Kong movies when I could be reviewing movies that people actually give a crap about, like THE GOOD, THE BAD AND THE WEIRD, which I saw a couple of months ago but decided to not write about. I figured that movie would be covered to death by everyone online, and indeed you can find reviews out there already. I would link you to them, but there's this thing called Google and it works pretty well. You should check it out.
Of course, sticking with Hong Kong Cinema may not be so hot an idea considering that Hong Kong Cinema is largely considered to be in decline and Japan and Korea are still perceived as being of greater quality. That debate is subjective so I won't weigh in on it, but regardless I'm going to concentrate on Chinese films to the detriment of the my Pan-Asia film reviewing. It won't be so bad - I'll still be able to see this movie: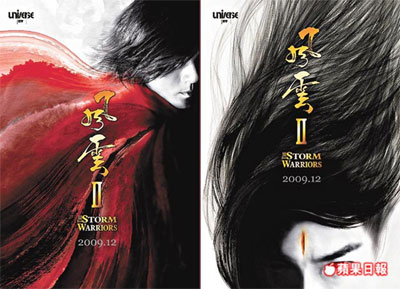 Only ten months away!
Actually, since STORM WARRIORS is guaranteed to be salivated over by every geek movie website online, I may end up passing on it. It'll still get reviewed on LoveHKFilm.com, but maybe not by me. It's not like I have to review every Hong Kong movie around.
But I'll review this one: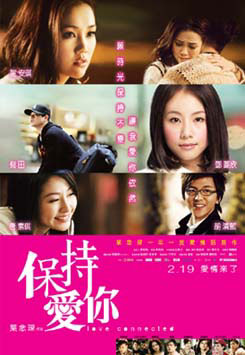 Oooh! Stephy! And, uh, some other people.

And this one: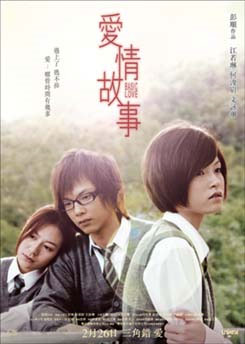 This movie also has ninjas
And maybe even this one: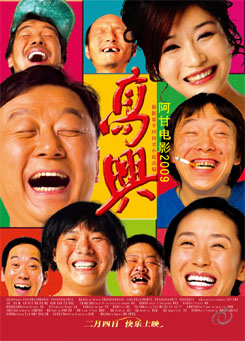 Clearly the ugliest poster in the history of cinema
I think I just lost 30% of my site traffic.
2. The LoveHKFilm Awards
That's right, the LoveHKFilm Awards are back. And so's this guy: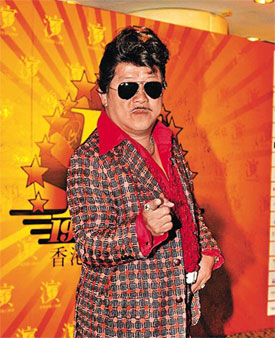 "I'm wearing THIS to the LoveHKFilm Awards!
It's what they deserve."
There have been some hiccups, but the LoveHKFilm Awards will be happening as scheduled. Expect a list of nominations later in February, with a final list to be announced on March 15th, 2009. The venue will be my flat in Tai Kok Tsui, and the guests of honor will be a stuffed monkey and 1/6 scale plastic replicas of the cast of THE DARK KNIGHT - minus Edison, that is.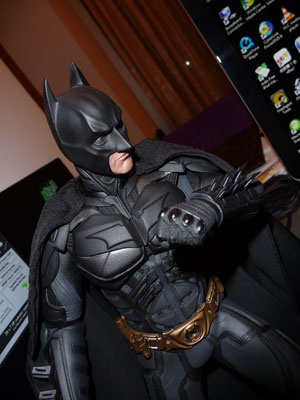 F*cking professional

Actually, a post about these awards will probably be the next thing that occurs on Damn You, Kozo. If not, then I'm hanging this thing up for good.
1. More Blogs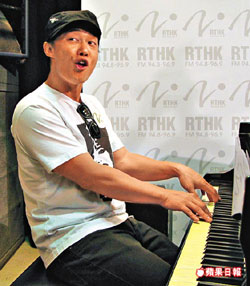 "New blogs, you say? I'm suddenly interested!"
It's not going to happen tomorrow, but LoveHKFilm.com will hopefully get some new blogs to once again refresh this place. It certainly needs it; proof of our stale creativity can be seen in the sad state of this very blog, which has been around for over a year and has yet to find an identity. I would quit Damn You, Kozo, but it seems I have a problem quitting anything.
Actually, we shouldn't lump THE GOLDEN ROCK and THE HOUSE WHERE WORDS GATHER into our mess because both have identities and are visited by Internet luminaries who are so powerful and blinding that I'm afraid to even mention their names. Hopefully, those awesome people will continue to drop by when the one or two new blogs are installed.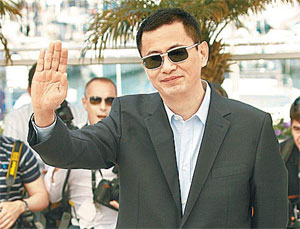 "I visit your blogs, Sanney and Kevin Ma!
That Kozo guy…not so much."
Adding two extra blogs presents a slight layout problem, however, because that means there will be five blogs crowding the blogroll on the LoveHKFilm.com homepage. The solution will likely be to drop Damn You, Kozo off that thing and reduce it to a text link. This makes sense because I don't update very much and my content is inconsistent and spends too much time rambling incoherently. Maybe I shouldn't get drunk when I write these things.
Regardless, we'll have new blogs this year. Hooray!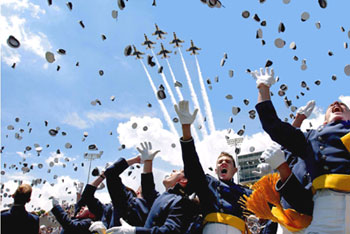 Everybody likes new blogs. And bacon.
Anyway, that's it for our look at the Year of the Ox at LoveHKFilm.com. What, were you expecting something substantial? Sorry, this is a review website, not a Web 2.0 publication bringing the latest and greatest in Asian Cinema to people around the globe. That's a job reserved for better blogs - or maybe download sites. We'll just continue doing what we're doing and hope that we won't get downsized.
More than anything, we just hope that this year - 2009, the Year of the Ox, Cow or Bovine - is a hell of a lot better than last year. Our fingers are crossed and we've knocked on wood. Twice.
Charlene hopes this year is good too: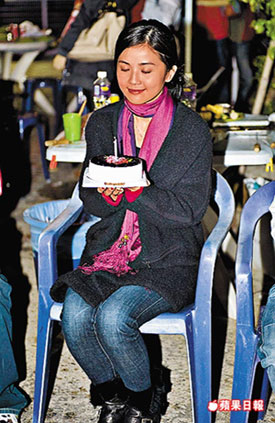 "I hope I don't have to work alone!"
Ditto.