August 11th, 2008
This is worth sharing: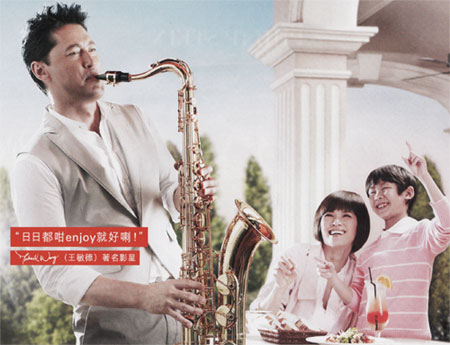 "Mommy, look! Stone Wong can play a musical instrument!"
Even though Michael Wong barely makes films nowadays - his appearance in Tsui Hark's Seven Swords could qualify as his last memorable screen role - the man is still around. Currently, he's shilling for HSBC, one of Hong Kong's two biggest banks, in print ads all over the territory.
This picture is from a magazine, but if you happen by the Tsimshatsui MTR station, you may be able to catch a larger-than-life glimpse of Wong, as this image measures a good fifteen feet high on the MTR walls. There's also an alternate ad of Wong playing the accordion. No further commentary is necessary.
In other Wong news, you can catch Michael's brother Russell in The Mummy: Tomb of the Dragon Emperor, currently losing screens all over North America.