September 7th, 2008
While writing this mini blog entry, I'm checking out the el-cheapo Chinese DVD of RED CLIFF (only HK$20 in Shamsuipo!). It's the scene where Tony and Takeshi have their homosexual sex scene stringed instrument duel. It's a pivotal scene because it demonstrates that they're passionate soulmates natural comrades-in-arms who will regard each other with the utmost desire respect, even if one day they break up find themselves on opposing sides. It's probably the cheesiest and most effective scene in RED CLIFF. John Woo, you are a master.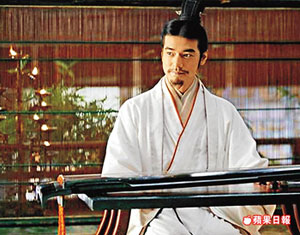 "I make love with this instrument."
Anyway, we're going dark for a while at Damn You, Kozo. Despite attempting to keep up some sort of weird schedule with this blog and the regular website updates, we've been upended by those one or two surprise circumstances that life occasionally throws at you. In this case, all my issues relate to my job, so they're unavoidable. I would drop one of my other pastimes, but unfortunately, there's not much left to do away with besides Damn You, Kozo! or LoveHKFilm.com. Despite the fact that I can get all self-absorbed on this blog, I consider LoveHKFilm.com more important, so it's Damn You, Kozo! that has to take a powder. Them's the breaks.
Recently, I've become so exhausted that I literally fall asleep at my computer or in front of the television. The latter reason is why I have yet to review either FATE or CHAOS, the two direct-to-video Hong Kong movies I talked about in my last blog entry. Nothing gets in the way of reviewing a film better than narcolepsy in front of the TV. The worst part about collapsing into sleep is that my air conditioning, television, or computer is usually left on, which means that my electric bill at the end of the month will be a staggering amount. As LoveHKFilm.com income has slowed considerably, I now regret not fighting for kickbacks from the Hong Kong film industry.
Not that the pursuit of cash has ever been my main concern. Recently, this site ran advertisements for THE MUMMY: TOMB OF THE DRAGON EMPEROR. You probably saw them if you frequented LoveHKFilm.com sometime in the past month - and if you reside somewhere in North America. The ads are geo-targeted to the U.S. and Canada, and since I live in Hong Kong, I could never see them. I only remembered that the ads were running when I saw a screen capture from a U.S. IP address a few days ago.
This concerns me because shortly after MUMMY came out, I published a review that absolutely eviscerated the film, pretty much calling it the worst thing I've seen all year. Well, maybe it's not the worst thing I've seen all year, but in terms of dollars spent by the filmmakers it's easily the biggest waste. I wonder if I would have done anything differently if I had been able to see the advertisement all the time. If Brendan Fraser and Jet Li had been staring at me every time I loaded up LoveHKFilm.com, would I have been nicer to the film? Postponed my review? Neglected to review it entirely? I'd like to think that the $$$$ wouldn't have made me compromise, but frankly, we'll never know.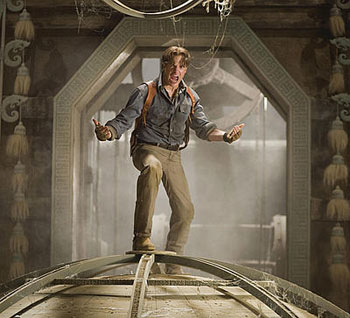 "Fight me if you want that commission check!"
I imagine this dilemma must pose a bigger problem to more popular movie fansites, namely the ones that rely on industry connection, "scoops", and spoilers. Those sites are primarily Hollywood-oriented, but that same sort of pseudo-journalism  has found its way to Asian Cinema too. Asian movies are a far different beast than they were ten years ago. The Internet was still the best way for English-speaking audiences to get information, but back then it was word of mouth and translated news reports that drove interest.
Nowadays, we have hype sites and selective coverage that can possibly skew perceptions of Asian Cinema. Hong Kong movies, in particular, get reduced to genre pictures or anything that has a "name" attached. These names, however, are only the names that have been made popular by film fests and geek sites, meaning Francis Ng, Donnie Yen, and Japanese pornstars are money. However, people like Alex Fong, Stephy Tang, or hell, even Gillian Chung don't deserve a mention. Oddly, the hype sites do pay attention to Edison Chen. I wonder why.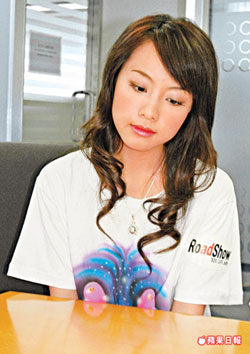 "Why doesn't anyone talk about me?"
Anyway, my original goal in writing an entry - any entry - was simply to talk about upcoming Hong Kong movies. As I doubt I'll get to any blog entries in September, I'll blow my wad via a handy list of dates and pictures:
Opening September 4th
THE LUCKIEST MAN
Director: Lam Chi-Chung
Starring: Chan Bak-Cheung, Bosco Wong, Yuen Qiu, Pinky Cheung, Monica Chan, Lam Chi-Chung, Chan Kwok-Kwan, plus lots of other people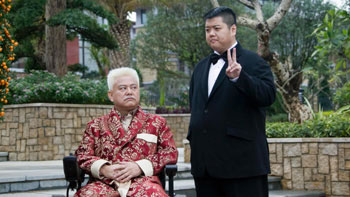 "Yesss!!! Still employed!"
Lam Chi-Chung directs a cast of B and C-listers in this return to the Lunar New Year movie formula. Except, it's September and not Lunar New Year. As this movie stars Chan Bak-Cheung, skepticism is a must.
RULE NO. 1
Director: Kelvin Tong
Starring: Shawn Yue, Ekin Cheng, Stephanie Che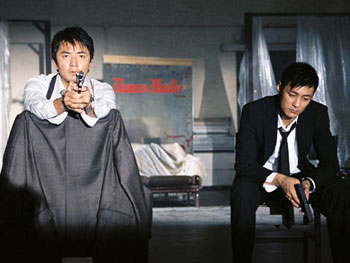 "Don't be depressed, kid. Your career can't
possibly end up worse than mine!"
Ekin Cheng and Shawn Yue co-star in this horror-thriller about cops who fight ghosts. Or something. Directed by Singapore director Kelvin Tong, this film is only now getting Hong Kong play despite being released elsewhere as early as March 2008. You can find a review here.
A DECADE OF LOVE
Director: Too many people to mention
Starring: Also too many people to mention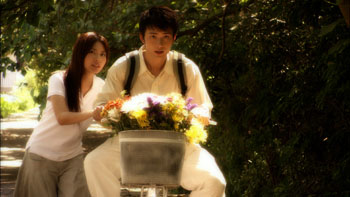 I wish my bike-riding lessons were like this

One film, ten directors, and it was already reviewed. Sending you to the review saves us some typing effort.
September 11th
OCEAN FLAME
Director: Liu Fendou
Producer: Simon Yam
Starring: Liao Fan, Monica Mok, Simon Yam, Lam Suet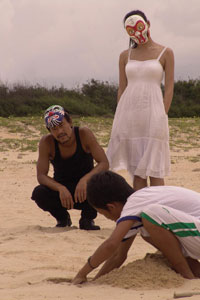 "Keep digging or we'll make you wear a mask."
I apparently liked this movie a lot more than everyone else - and I didn't even like it that much. Truthfully, I can't really recommend it unless you love pretentious movies that think intended depth equals quality. However, it's pretty and the girl gets naked. That's all anyone needs to know, I'm sure. We reviewed it here.
September 25th:
CONNECTED
Director: Benny Chan Muk-Sing
Starring: Louis Koo, Liu Ye, Barbie Hsu, Nick Cheung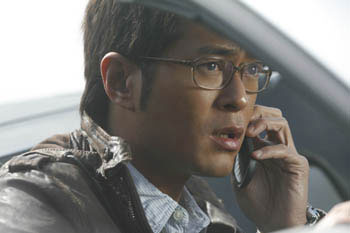 "Operator? I'm looking for the nearest In-and-Out Burger!"
Some "in the know" people have recommended this film to me, so I eagerly await it. It's a remake of the Hollywood film CELLULAR, which I unfortunately never saw. Benny Chan directs, so it should be an entertaining ride, if not a deep and insightful examination of man's slavery to technology. I predict that Louis Koo will overact.
PAINTED SKIN
Director: Gordan Chan Car-Seung
Starring: Donnie Yen, Zhou Xun, Vicki Zhao, Aloys Chen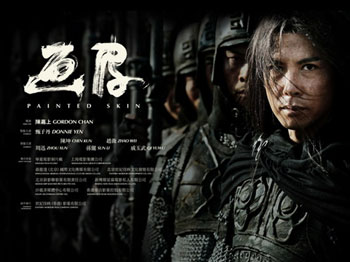 He even overacts in photos
Who cares about plot? PAINTED SKIN stars the legend that is DONNNNIEEEE, plus some other random people. On the geek meter, this is easily the #1 Hong Kong film of September.
OVERLOOKED:
Previously, I neglected to alert the rest of the world to THE PRETTY WOMEN, a Hong Kong film directed by Jon Hau that got theatrical play at like 2 screens sometime between the releases of RED CLIFF and LA LINGERIE. It stars Cecilia Yip and Ray Lui, and is about, um, some pretty women. Our good friend Tim Youngs was kind enough to point this out to us.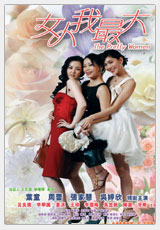 The sleeper hit of the year
By the way, it's already available on a HK$20 China DVD in Shamsuipo. According to Time Out Magazine, the film made HK$90 on opening day. That's less than 15 US dollars.
As for when I'll be getting to these movies: A DECADE OF LOVE and OCEAN FLAME were already reviewed, and if I'm lucky I'll manage to write RULE NO. 1 and THE LUCKIEST MAN reviews soon. I was also thinking of writing a much longer blog entry bitching about the sorry state of Hong Kong Cinema - that is, the business portion of it - while specifically calling out the pathetic release of RULE NO. 1, a movie starring Ekin Cheng and Shawn Yue that can't even get proper theatrical play. The movie is on a handful of screens, is playing with English, Chinese AND Malaysian subtitles, and was obviously considered a flop before it even entered theaters. Really, the climate for Hong Kong Cinema is THAT bad. Frankly, the arrival of a film starring Donnie Yen is a godsend, if only because it might generate a foreign sale or two. RULE NO. 1 has no such luck; with Tartan's Asian Extreme line shutting its doors, one wonders if there are any takers for the umpteenth variation on the pale, long-haired Asian ghost.
If I actually get to that blog entry, I expect a reaction like this: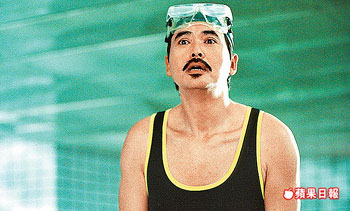 "He still wants to keep up his blog? God, I hope not!"
Sometime in September, I'll also be seeing the new Lawrence Lau film BALLISTIC, a Taiwan-set political police thriller starring Simon Yam, Taiwanese actor Joseph Chang, and Alice Tzeng from FORGIVE AND FORGET and SECRET. BALLISTIC is playing at the Hong Kong Summer International Film Festival, and in total I caught 5 films there. That's nothing like the 22 I attempted at this spring's HKIFF, not to mention the possible 30 I will attempt at the upcoming Hong Kong Asian Film Festival. If you visit the Broadway Cinematheque in October and see someone sleeping in a seat, there's a 75% chance that it'll be me. The other 25% is reserved for loiterers or vagrants.
In the meantime, I suggest you catch up on all the Asian movie news over at The Golden Rock, which has finally been freed following those pesky Olympics. As usual Kevin is much more up to date with what's going on, plus he has the energy and enthusiasm that this old, aging movie watcher lacks. I think if I were ten years younger like Kevin, I'd probably be focused on turning LoveHKFilm.com into the Greatest Asian Cinema WebsiteTM ever or, at least, a consistently updated one. If I become independently wealthy, I'll get right on it.
As always, we'll end with a photo: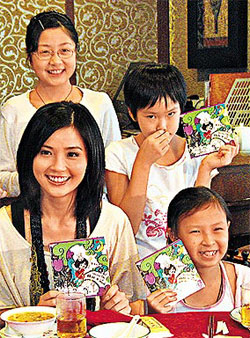 Hopefully it's not Charlene that stinks
Thanks again, Apple Daily. See you all sometime later.