March 17th, 2010
It's the third in our 23-part series of the Top 100 Hong Kong Films of the Nineties, as decided upon by actual LoveHKFilm Readers. This time, we're revealing numbers 60-41 of our Top 100. Most likely, you won't find THE FRUIT IS SWELLING here.
If you've just joined us, we highly suggest that you check out previous updates first:
Numbers 100-81
Numbers 80-61
For those keeping score: thus far Tsui Hark had something to do with 5 films, Leslie Cheung has appeared in 6, and Stephen Chow has starred in 7. Johnnie To clocks in at only 4 films. Wong Jing? He's involved in a whopping 9 out of a possible 40 films. We sense domination.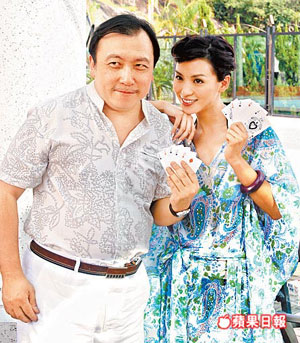 "I've got aces in my pants, too!"
Hit the jump to see what shows up!
60. 92 LA LEGENDARY ROSE NOIRE (1992), directed by Jeff Lau - 36 points - LoveHKFilm Review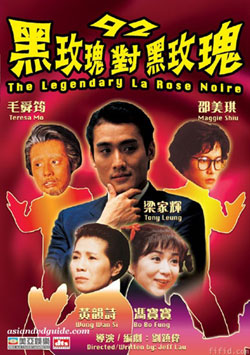 Sublime, smart nonsense from director Jeff Lau that references the classic "Black Rose" serials of Hong Kong yesteryear. Both Fung Bo-Bo and Tony Leung Ka-Fai won acting awards, and both deserved them.
59. SEX AND ZEN (1991), directed by Michael Mak - 37 points - LoveHKFilm Review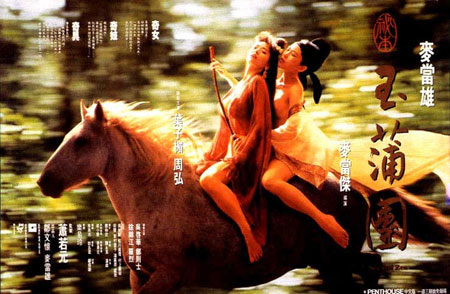 Man gets horse penis transplant and learns a life lesson — that's SEX AND ZEN in a nutshell. The opulent art direction, ridiculous sex scenes and Amy Yip's sizable assets also factor in somewhere. This movie makes SEX AND CHOPSTICKS completely unwatchable. See it with the entire family!
58. ROYAL TRAMP (1992), directed by Wong Jing - 37.5 points - LoveHKFilm Review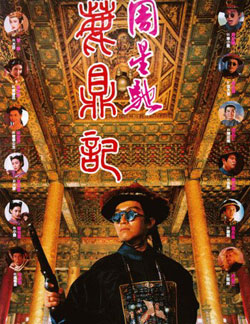 Stephen Chow and Wong Jing's DUKE OF MT. DEER adaptation pissed off more than a few Jin Yong purists back in the day, but it's earned a loyal following, probably because it's so damn funny. Another great teaming of Stephen Chow and Ng Man-Tat, not to mention Chingmy Yau and Cheung Man.
57. YOUNG AND DANGEROUS: THE PREQUEL (1998), directed by Andrew Lau - 38.5 points - LoveHKFilm Review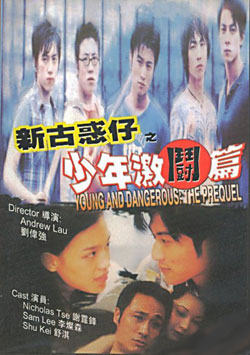 That was quick. Within two years of starting the YOUNG AND DANGEROUS franchise, Andrew Lau and Manfred Wong attempted a prequel and possible reboot. It was a good one, though, with a surprising serious edge to the expected youth gang shenanigans. Nicholas Tse and Daniel Wu showed early acting promise.
56. SUMMER SNOW (1995), directed by Ann Hui - 38.5 points, 1 first place vote - LoveHKFilm Review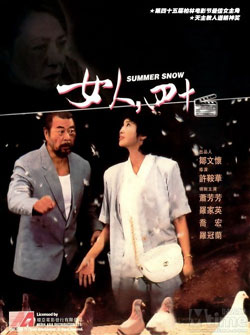 The big winner at the 15th Hong Kong Film Awards, SUMMER SNOW is one of Ann Hui's most celebrated works. Grace Chow says, "Ann Hui has a way of weaving tales about simple lives into great movies. SUMMER SNOW is the finest example; it's never less or more than what it is, and she received help from the finest actors, Josephine Siao and Roy Chiao, to keep that balance. I don't think any other actress could carry Josephine Siao's role as well as she did."
55. GOD OF GAMBLERS II (1990), directed by Wong Jing - 40.5 points - LoveHKFilm Review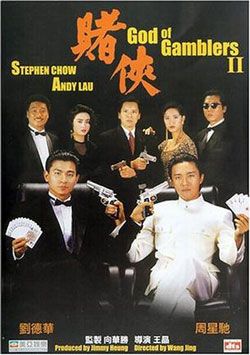 Wannabe meets inspiration in GOD OF GAMBLERS II, with Stephen Chow's ALL FOR THE WINNER character paying a visit to Chow Yun-Fat's GOD OF GAMBLER's universe. Andy Lau reprises his role as the distractingly hip "Knight of Gamblers." Wong Jing: he's taking over this list.
54. THE LONGEST SUMMER (1998), directed by Fruit Chan - 42.5 points, 1 first place vote - LoveHKFilm Review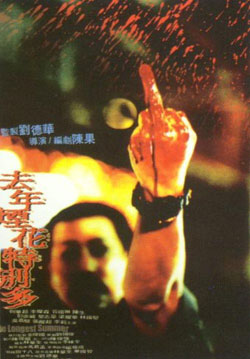 About former soldiers in the British Army fired in the lead up to the 1997 Handover, THE LONGEST SUMMER is strikingly political but also personal, using its larger subject matter to tell a story about complete, recognizable and compelling characters. Fruit Chan's powerful, darkly funny follow-up to his stunning MADE IN HONG KONG is considered by some to be even better. Awesome fact: this was Jo Koo's debut film.
53. GEN-X COPS (1999), directed by Benny Chan - 46.5 points - LoveHKFilm Review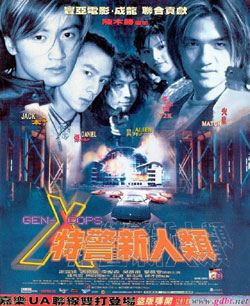 GEN-X COPS is about 12 pounds of cheese, but it's enjoyable, hip cheese with a take-no-prisoners attitude. Hong Kong's version of MOD SQUAD has hotter stars (Nic Tse, Stephen Fung, Daniel Wu, Jaymee Ong) and better action, and also features great supporting turns from Francis Ng, Eric Tsang and even Jackie Chan in a cameo. In light of GEN-Y COPS, liking GEN-X COPS gets a whole lot easier.
52. YOUNG AND DANGEROUS 3 (1996), directed by Andrew Lau - 49 points, 2 first place votes - LoveHKFilm Review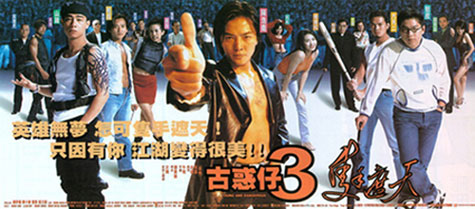 Ekin Cheng goes to Holland and fights Roy Cheung. Karen Mok shows up and charms Jordan Chan. Blackie Ko and Anthony Wong steal scenes. Some previous cast members return, some characters die, and everyone gets together for a blisteringly cool rumble at a funeral. With YOUNG AND DANGEROUS 3, the Y&D filmmaking team hit their Hung Hing stride.
51. BULLETS OVER SUMMER (1999), directed by Wilson Yip - 53 points - LoveHKFilm Review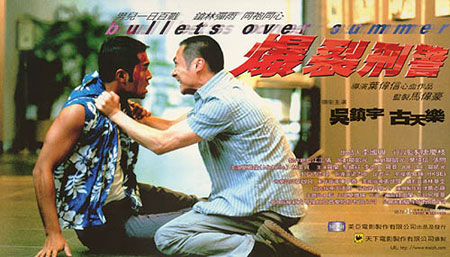 Once upon a time, Wilson Yip made movies that weren't considered good because of Donnie Yen. BULLETS OVER SUMMER was one of Yip's best, a cop soap opera with fine characters, complex emotions, and some incredible performances. According to Valerie Soe, BULLETS OVER SUMMER is "part art film, part shoot 'em up, part quirky character study, and all Francis Ng." Law Lan and Louis Koo are also pretty good here.
50. THE LOVERS (1994), directed by Tsui Hark - 53 points, 1 first place vote - LoveHKFilm Review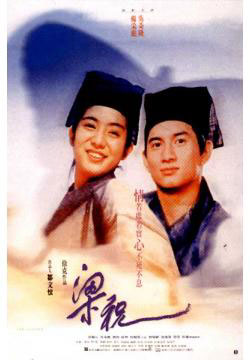 Overwrought, but with so much naked emotion and feeling that it succeeds. Tsui Hark's take on the classic tale of Cheuk Ying-Toi and Leung Shan-Pak wouldn't work without the fresh-scrubbed charm of Charlie Young and Nicky Wu. The gorgeous cinematography and sublime music play no small part in making LOVERS a nineties audience fave. Finding an English subtitled DVD now is like winning the lottery.
49. LOST AND FOUND (1996), directed by Lee Chi-Ngai - 55 points, 1 first place vote - LoveHKFilm Review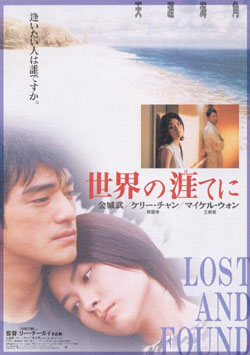 Takeshi Kaneshiro turns in one of his most winning and effortless performances as a young dude who makes it his business to find lost things, among them Kelly Chen's heart. Much of its charm has since become cliché, but Lee Chi-Ngai's touching, lyrical drama still gets us in all the right places. LOST AND FOUND is so endearing that it even makes Michael Wong into a decent actor.
48. ALL FOR THE WINNER (1990), directed by Jeff Lau - 56 points - LoveHKFilm Review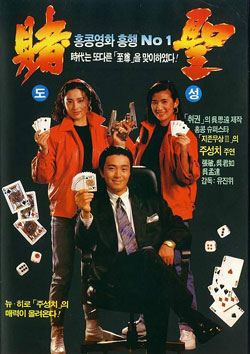 Jeff Lau took the gambling genre to new heights — or lows, depending on how you look at it — with ALL FOR THE WINNER, about a psychic mainlander who arrives in Hong Kong and proceeds to bamboozle the locals with his dopey but unbeatable card sharking ways. A funny film no matter how you slice it, but since they cast some TV actor named Stephen Chow, this silly wackfest went on to become Hong Kong's highest-grossing film ever. That Stephen Chow guy never went back to TV.
47. THE HEROIC TRIO (1993), directed by Johnnie To and Ching Siu-Tung - 59.5 points, 1 first place vote - LoveHKFilm Review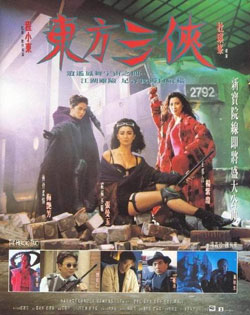 Johnnie To and Ching Siu-Tung successfully teamed up for HEROIC TRIO, the first of two fighting female flicks featuring the best actresses Hong Kong had to offer: Anita Mui, Michelle Yeoh and Maggie Cheung. Site reader KL says, "The absurd cheesiness of this "cult classic" is forgiven because how could anyone reject Yeoh, Cheung, and Mui? Forget that CHARLIE'S ANGELS flick, this is way cooler." Agreed.
46. ONCE A THIEF (1991), directed by John Woo - 62.5 points - LoveHKFilm Review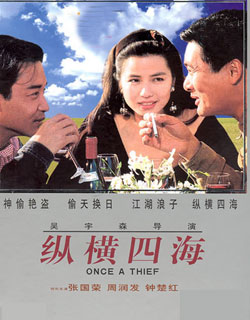 Chow Yun-Fat, Leslie Cheung and Cherie Chung give ONCE A THIEF star power to spare, with elegant action, fine international settings and wacky laughs doing the rest. Light for John Woo, but is it better than PAYCHECK? You bet. Please try to forget that they ever made that TV series.
45. THE UNTOLD STORY (1993), directed by Herman Yau - 65 points - LoveHKFilm Review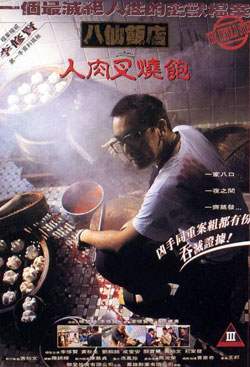 Dim sum is yummy, but not in Herman Yau's based-on-a-true-story THE UNTOLD STORY. Anthony Wong won a Hong Kong Film Award as the twisted restaurateur who fills meat buns with people parts, while Herman Yau adds smart satire amidst the Category III carnage. Valerie Soe calls it "a horrible story told in riveting style, with an indescribable performance by Anthony Wong. Herman Yau makes it all watchable."
44. FULL CONTACT (1992), directed by Ringo Lam - 65.5 points - LoveHKFilm Review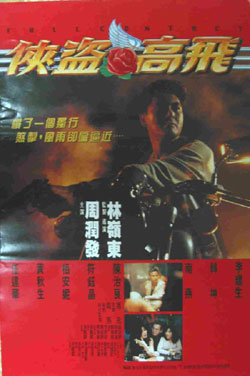 There's plenty that makes Ringo Lam's FULL CONTACT a B-movie classic. It's got a vicious Chow Yun-Fat, a dopey Anthony Wong, a flamboyant Simon Yam, plus the bullet-cam and the infamous kiss-off line, "Masturbate in Hell!" Reader WillJayRod calls it "One of the most kinetic action films ever made." We call it a good time at the grindhouse.
43. CENTRE STAGE (1992), directed by Stanley Kwan - 69.5 points, 2 first place votes - LoveHKFilm Review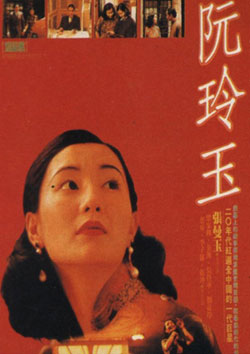 Silent film actress Ruan Ling-Yu and her tragic story are the basis for Stanley Kwan's docu-drama CENTER STAGE. Also known as THE ACTRESS, the film is justly acclaimed for its period detail, experimental craft, and most of all its lead actress, the luminous Maggie Cheung, who won her second Best Actress Hong Kong Film Award for her performance.
42. FORBIDDEN CITY COP (1996), directed by Vincent Kok - 70.5 points, 1 first place vote - LoveHKFilm Review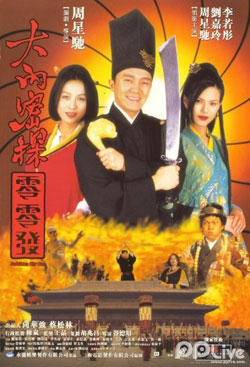 Notch up another one for Stephen Chow. The period spy comedy FORBIDDEN CITY COP is one of his best films, and Chow's turn as a loving husband and inventor of kickass devices counts among his most winning. Terrific set pieces, great comedy, and a superb supporting cast (especially Carina Lau and Carman Lee as the female leads) add to the fun.
41. LOVE ON DELIVERY (1994), directed by Lee Lik-Chee - 73.5 points - LoveHKFilm Review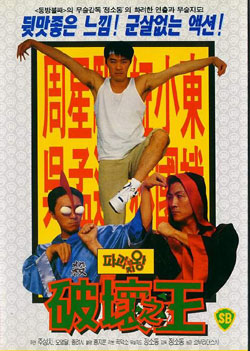 Yes, a silly comedy about a delivery boy who apes Ultraman is considered better than a Stanley Kwan film about the tragic life of a beloved silent film star. That's Hong Kong Cinema for you. Oh, by the way, LOVE ON DELIVERY rocks. Says Grady Hendrix about the film, "Maybe because it's the first Chow movie I ever saw, maybe it's because it's the best pairing he ever had with Ng Man-Tat, but I like to think that I love it so much because in the end he doesn't achieve his victory by training, or by being good at anything. He wins because he cheats."
Finally, a couple of YOUNG AND DANGEROUS movies! And even more Stephen Chow and Wong Jing. Next time: hopefully less from both.
3/17/10 UPDATE: After realizing that we had forgotten to count a single ballot, this entry had to do a little rejiggering. Honestly, it didn't make that much difference. LOST AND FOUND and ALL FOR THE WINNER switched places, FORBIDDEN CITY COP moved up four places from #46 to #42, and the original #42-45 all moved down a slot. That's what happens when we juggle a job, a review site and a part-time job as an amateur statistician.