January 12th, 2012
Hey everyone, it's a blog entry! Remember when we used to do this every two weeks or so? Now we're looking at a two year gap. It's simply awful, but now we're back. Yay!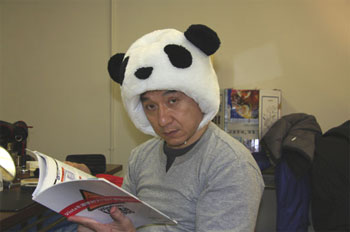 "Do I look like I care about your stupid blog?
When Jackie reads, nothing else matters!"
Since I haven't done this in a while, this will be a big blog entry with highlights of what's coming up on the site, plus some "how did we end up here" navel-gazing. Since self-reflection is undoubtedly tiresome, the promises and other highlights come first. Even better, it'll happen in bullet points. If I could draw up an infographic, I would.
Here then are the major points of interest:
LoveHKFilm.com will turn 10 years old in 2012
Holy crap, has it been that long? The domain "lovehkfilm.com" was officially registered on January 18th, 2002 and the actual site went online sometime in February or early March. Needless to say, this is a huge occasion for about five people worldwide, so I'll be bringing out the cake, champagne and a series of posts looking back at the last ten years. There's lots to talk about: the rise of China, the fall of Hong Kong and the pesky trend of China and Hollywood working together. You care what I think about this stuff, don't you? Sure you do!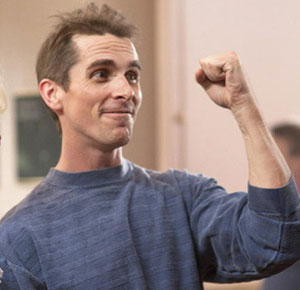 "Yeah! You go, Kozo! THIS IS A HOUSE OF THE LORD!"
I'll also post up plenty of silly photos, talk about self-indulgent website history, and thank a trillion people. Alphabetically. I'll probably get to "F" sometime around October.
LoveHKFilm.com's review output
will slow even further in 2012
Last year this site only published 99 reviews, and that number will go way down this year. I myself wrote only 71, which is way lower than the 120-180 I used to write per year. This had to happen, as I'm older, have more responsibilities and have less time to spend on personal pursuits like this website. Also, besides me there is now only one site reviewer and he owes the bulk of his reviewing effort to his freelance and day jobs. So, that's less movies, less reviews and less updates. Guaranteed.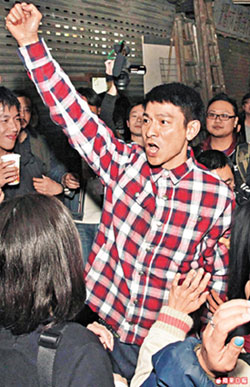 "Yes! There will be less LoveHKFilm.com!
This is the greatest news since Botox!
Hong Kong, are you with me?"
Fewer reviews or not, you can probably still come by here for an occasional dose of Asian Cinema reviewing and dishing. There will just be much less.
There will be a huge reduction in Pan-Asia film reviews
Originally this site wasn't even supposed to review Pan-Asian films, but it happened because A) there are so few new Hong Kong films to review, and B) it allowed for more writers to have a voice on the site. Those writers are now gone and HK/China productions are trending up in number, meaning if I have extra time to review films, I'll probably choose a China or Taiwan film and not something from Korea, Japan, Thailand, Malaysia, etc. Anyway, English language coverage of international cinema is now so common that you don't need me to tell you that THE YELLOW SEA is a rip-roaring action drama with lots of stabbity-stab-stab.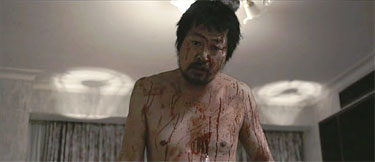 Imagine this scene with an axe , repeat 37 times
and you've seen THE YELLOW SEA.
Just kidding - THE YELLOW SEA is actually pretty damn good and isn't just a 160 minute bloodbath of run, run, stab, jump, trip, stab, bleed, hide, bleed, run, stab, bleed, bleed, bleed. So if you've seen THE YELLOW SEA and are upset that I dare mock such a modern masterpiece of run-stab-bleed-kill, don't bother to write in to set me straight.
We'll announce the 2011 LoveHKFilm Awards

Sometime in March, LoveHKFilm.com will announce its yearly awards, given out by 7 individuals living in Hong Kong who see the vast majority of local releases. It's always a fun exercise made all the better by the fact that everyone who's in our jury makes an effort to see most if not all the eligible films. This is meant to be a representative set of awards and not just a fanboy high five, so I hope people actually pay attention, even if we do give out silly awards like "Waste of Space" and "Career Suicide." Even though we take the Best Picture and Best Director awards seriously, we do try to have a bit of fun. I don't think anyone minds.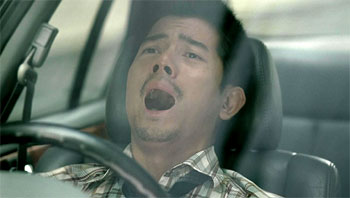 "They're making fun of me again!
Why must I suffer this horrible ordeal every year?"
Actually, after CITY UNDER SIEGE, there may not be any more awards to give to Aaron Kwok.
An aside about this latest edition of the awards: because of the pesky China issue, the rules will change this year and we'll be opening up the awards to any Hong Kong or China funded film that was released theatrically in Hong Kong in 2011. So yep, LET THE BULLETS FLY is a candidate!
I'll post up a full list of nominees later this month. I'll also take some time to highlight the members of the jury because they've been doing this since 2007. They deserve a little more than just a hot pot dinner for their reward.
We'll conduct a new Reader Poll
of the Top 100 Hong Kong Movies Ever
Who remembers the two Reader Polls we did for Top 50 Hong Kong Films of the 2000s and the Top 100 Hong Kong Films of the 1990s? I sure do, because they were probably the most popular thing this site has done EVER. Yep, even more popular than review KING OF SPY.
Both of those Reader Polls were popular features on the site with good reader response, and I'd like to do one last poll to pit the 2000s versus the 1990s versus every other decade. I figure this is my last shot at doing this sort of thing, what with the site turning 10 and Carpal Tunnel Syndrome destroying my fingers.
This will likely happen around end of March or early April, but we'll publicize it for weeks ahead of time. Hopefully 150+ people participate, which is around the number of people who participated last time, way back in 2010. Fan faves like THE MISSION, CHUNGKING EXPRESS or INFERNAL AFFAIRS will still place high, but that's fine. At least they'll go up against A BETTER TOMORROW, ROUGE and PEKING OPERA BLUES.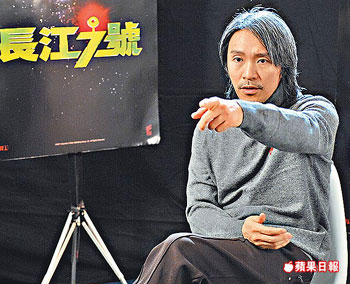 "One of my movies is winning this time. No, I'm not asking a question.
One of my movies is winning this time. Repeat after me, 'One of my–'"
No promises, Stephen. If you made more movies maybe you'd have more chances to win random reader polls on dinky HTML-only websites. You know, like this one.
We'll come up with a
new mission statement for LoveHKFilm.com
This is probably the last thing anybody cares about, but it matters to me. Hell, I don't need to call it a "Mission Statement," I can just call it "What this site is supposed to be about." Basically, the site needs rules and goals because without them, people get the wrong idea.
For example, I read somewhere online that this site is "reviewing (for the most part) HK action movies." Nothing could be more wrong about that statement. Also, another helpful netizen said that our reviews are "virtually always negative." That is a complete load of crap. People, get some perspective.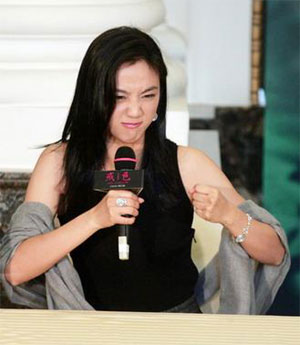 "But the reviews are always negative!
I'm going to throw a fit if someone doesn't pay attention to me!"
About that "virtually always negative" statement, I get that a lot and it's totally wrong because, you know, I do like movies. And everytime I like a movie, that's a positive. So even if I dislike 70% of all movies and like only 30%, that is not "virtually" always negative. It doesn't even come close.
Anyway, even if I post a mission statement that explains (or excuses) some of those perceptions, people are still free to have their opinions because hey, it's the Internet and everyone either has an asshole or is one. Frequently they have an asshole and are an asshole. I sincerely hope that latter category never visits this website.
I'll review THE DARK KNIGHT RISES
even though it's not a Hong Kong movie
Because that's what I did back in 2008 for THE DARK KNIGHT.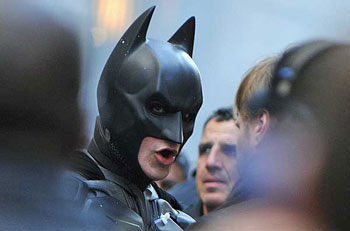 "WTF? Why? That Edison POS isn't even in this one!"  
So yeah, that's what we'll be doing this year. If you don't stop by to read it, I'll never know and I also won't be offended.
So, that's it for the upcoming stuff. Now it's time for the navel-gazing portion where I talk about not posting for eighteen-plus months.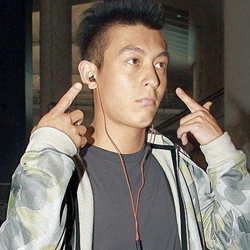 "What's that Kozo? Can't hear you - I'm listening
to Mr. Sandman. It's by some POS rapper."
"Why this blog stopped" or "You don't have to read this"
There are many reasons why Damn You, Kozo went away for so long. One is I got married in 2010 and the before and after of such an event is pretty time consuming. Here's a photo from my wedding: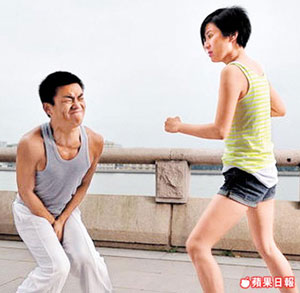 "I'm all right! Really!"

However, the main reason I shut things down is that I wanted to talk about myself less on the website. I had this weird idea a few years back that the site could do a lot more than simply review movies from a dying film industry, so I diversified and opened up blogs to have outside voices come in and give the site new life. My blog and its navel-gazing entries had become kind of an eyesore.
I did manage some helpful posts back then (the Reader Polls, for example) but by and large this blog was still personal BS, and I wanted the site to be better than that. When it became clear to me that I had nothing to offer the blogsphere beyond my personal crap, well, time to shut it. I figured if I had to run a personal blog, I should move to Blogger and not bore people who visit this site.
However, with the slowdown of the site and the lack of updates to the site blogs (two have slowed considerably, one shuttered itself emphatically and the last one is still active), I'm going to loosen the restrictions. I'll still keep the personal stuff to a minimum but talking about the site and its many issues and evolutions is something I'd like to do. The site went through ups and downs over the past decade, and nowadays I feel like sharing some of it.
Also, I need a place to post pictures of my toys: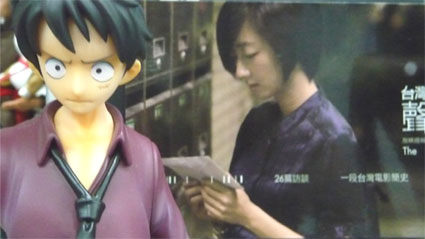 Monkey D. Luffy meets Gooey
So yeah, I'll spit out a couple of posts on that subject before 2011 is said and done. It kind of makes sense to take stock of things in the site's 10th year. It's been a good run and LoveHKFilm.com is never going to get bigger, so a little thought on the matter would be fine.
A warning: it could be boring.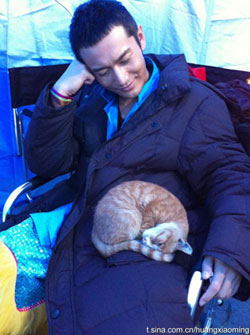 Huang Xiaoming and his cat have been asleep since the third sentence.